I think you'll love these Dairy Free Banana Ice Cream Sandwiches. They are gluten free,
dairy free, Vegan, egg free, peanut free, tree nut free and free of the top 8 food allergens. The
filling is pure banana, nothing else. Overall, a healthy cool treat just in time for summer.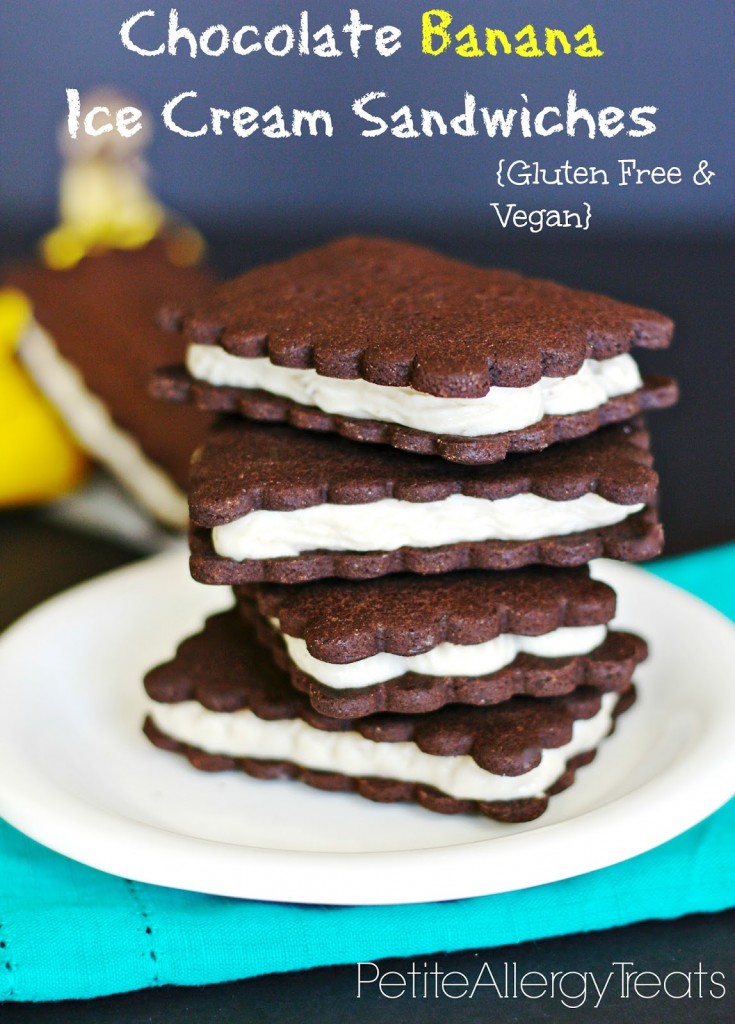 Food allergy awareness week is over but I wanted to share some more thoughts and feelings regarding food allergies in general. I usually only post things that are positive and encouraging. But let's be honest. Food allergies can be downright depressing and very upsetting. Another great word is UNFAIR. Certain times it becomes overbearing and I can't help but cry and feel sorry for my sons.
This whole food allergies week has been a double edged sword.
Yes, it's wonderful to hear all the other stories of families managing food allergies. Yes, it's great to read some success stories and learn some great tips. Yes, it gets people talking about food allergies and hopefully educates more awareness.
But…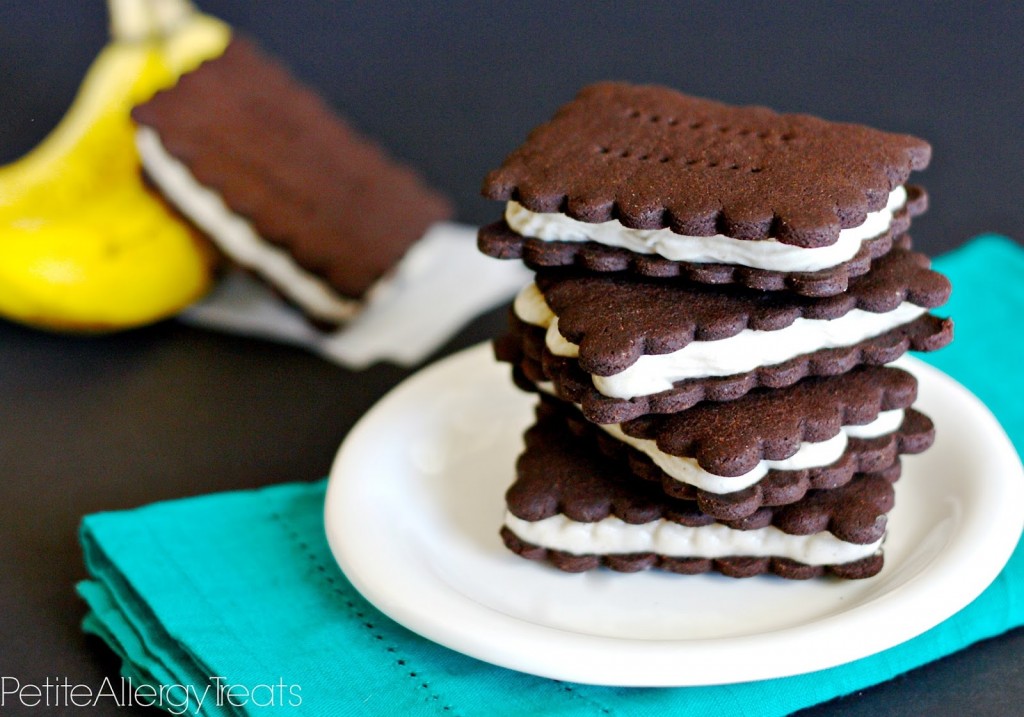 Some the stories are down right sad and infuriating all at the same time. The stories that upset me are about family members that do not understand/accommodate/care about child's known allergy. Family in my opinion, should be the first and most supportive of any special diet requests. And by requests, I don't mean personally expecting others to cook safe food, but merely not serving the anaphylactic foods that the child is allergic too.
All of this got to me the other day while grocery shopping. I was trying to find a peanut free and sunflower free safe pumpkin seed. I've literally been searching for almost 5 years. The worker was annoyed and oblivious as to why I asked questions regarding the manufacturer and didn't seem to understand the importance of asking for this information. It was one of those moments when you realize your normal way of living is much, much more difficult than those who don't have food allergies. Over 95% of all food at a grocery store isn't suitable for my son. I know that. But sometimes it's just overwhelming the amount of work it is to eat safely. I have to cook almost every. single. meal. What I wouldn't give some days to have the luxury to stop at any McDonalds.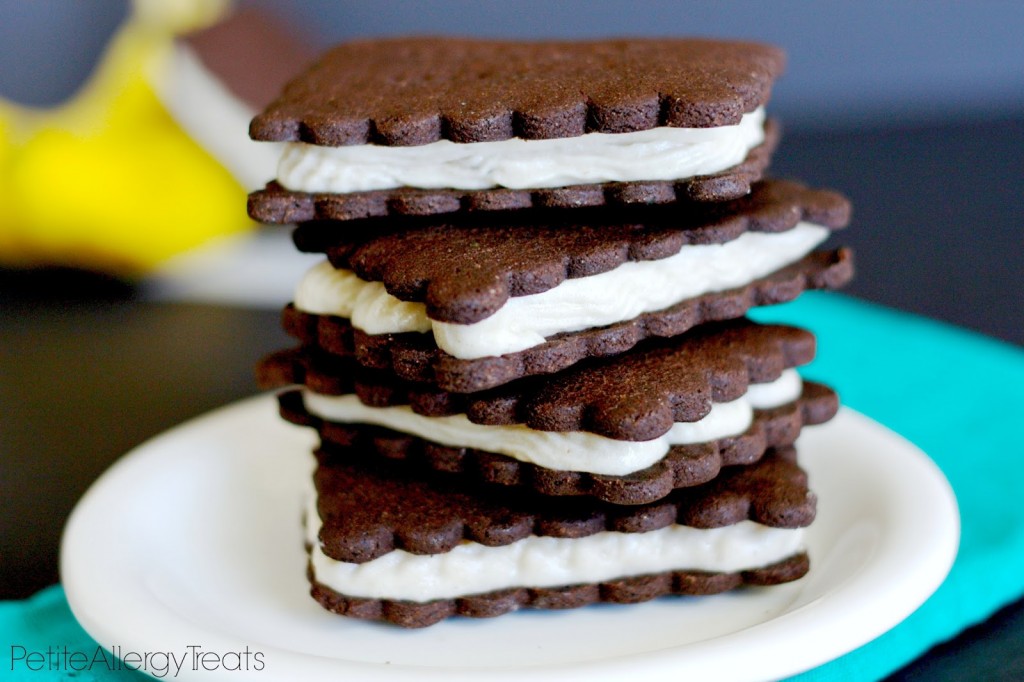 I want to you to know that as a parent dealing with food allergies, that it's OK to have these moments. It's OK to be mad…. or sad. And you shouldn't feel bad about any of these things. Food Allergy Parents are always on the defense with so many things. It's exhausting. It's OK to cry and feel really sorry for yourself and your child. But know this, all parents go through it too. You aren't alone… Be sad and mad… But also be so proud of yourself. You are doing so much for your child and it's all out of love.
We only want the best for our children. When something as basic as eating become complicated, life has overwhelming moments. If you ever feel like this, you're totally normal. 🙂
Speaking of normal… It's weather is getting warmer (finally). These dairy free ice cream bars are perfect for a hot day. Make them ahead and freeze for up to a month. You could even make the dough ahead of time and pull out as you need it.
Dairy Free Banana Ice Cream Sandwiches
Author: Laura @ Petite Allergy Treats
Ingredients
preheat oven to 350 degrees bake for 9-10 minutes
3 1/4 cup gluten free all purpose flour
3/4 cup cocoa powder
3/4 cup non hydrogenated organic palm shortening
3/4 cup organic sugar
1/4 cup + 2 T milk of choice
1/2 cup apple sauce
3/4 tsp xanthan gum
1/2 tsp baking powder
1/2 baking soda
FILLING
4-5 large frozen bananas
Directions
Combine all dry ingredients in a bowl and mix well.
Beat shortening, applesauce, milk, and sugar for 2-3 minutes.
Add dry ingredients. Dough should be thick but not dry and crumbly.
Roll out between 2 sheets of parchment paper.
Cut into rectangle shapes ( I used a rectangle cookie cutter). Transfer to baking sheet.
Use a fork to gently dock the cookies to remove air. Bake 9-10 minutes. They will harden a little after they cool on the pan.
For filling freeze bananas overnight or at least 4 hours.
Puree in a food processor or blender. Scoop the mixture into a bag and place back into the freezer for 10-15 minutes to help firm up.
Pipe banana ice cream on cookie and cover with another cookie on top. Enjoy!
Other posts you might enjoy: