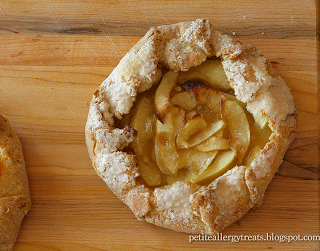 Fall is headed this way.  It's my favorite time of the year!  I think the weather is perfect.  A little cooler and not too humid.  Honestly, I get so excited when fall starts because of all the wonderful outdoor activities.  I can't wait to go pumpkin picking and go on a hay ride!  And of course don't forget the costumes!  My kids are still pretty young so I definitely need to go with them.  But you know what?  I don't mind.  In fact, I love it!  Seeing a bunch of children dressed up enjoying themselves is always a good time.
Apples are another thing I love and look forward to in the fall.  I didn't have much time but I thought I'd make an attempt at a galette.
I'm not entirely sure what specifies a galette vs crostata vs a pie.  I chose the galette because of the free form (not to mention I do not own an tart pan or true pie pan).  Less mess to clean in the end too.
This recipe is for 2 smaller sized galettes.  Each one should serve 2-3 people.  Feel free to leave it just as one giant galette.  Just be sure to increase the time by a few minutes.
The best thing about this dough is it's very pliable for being gluten free.  Overall, I didn't have too many problems with cracks or breaks in the dough.  Be sure the check on them a few time in the oven.  One decided to be naughty and started to unfold it's crust, but I caught it with a fork and put it in it's place.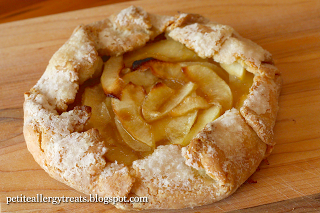 Be sure roll the dough out parchment paper and move before you fill, to avoid cracking.   If a crack happens, don't panic!  Gently place the dough where you want and fix the crack by pressing back together with wet hands.  Try not to touch the crust once it's been folded.  Don't over load these or they will leak.  I ended up with few extra apple slices to munch on while they baked.
Ingredients                          preheat oven to 400 degrees
1 1/4 cup all purpose flour (whole grain)
4 apples small(organic granny smith's are in season)
1/3 cup milk of choice (slightly less if non using whole grain flour)
4 T palm shortening
1 1/2 tsp xanthan gum
1 T sugar
TOPPING
4 T sugar
2 T palm shortening
1T canola oil to brush tops
Directions
Mix dry ingredients together in bowl.  Prepare a baking sheet lined with foil and parchment paper.  Cut the parchment paper in half and set aside.
Wash, dry and peel apples.  Cut into 1/2 inch slices.  Set aside.
Cut in shortening with fork or pastry cutter.  Mixture will not be very crumbly.  Try and break up all the shortening
Add milk and mix.  Dough will come together quickly.  It should be thick and similar to pastry containing gluten.
Divide the dough in half and cover unused portion in plastic wrap.
Using one half other parchment paper, place dough and flatten by hand into a circle.
Continue flattening using a rolling pin.  Try and maintain a general circular shape.  Roll to slightly less than 1/8 of an inch.
Move dough and parchment paper to baking sheet now to avoid breaking from the weight of the filling.
Add 1 T shortening to cover the bottom; break up with fingers and drop in small dots.  Leave 1-1/2 inch border to fold the crust up.
Add apple slices starting from the center.  Overlap them slightly since they will shrink once baked.  Make only 2 layers of apples.
Gently lift the border of the dough fold up to form the crust.
Brush entire galette with canola oil
Add 1 T shortening to the top of crust and apples.  Break shortening up into small dots and spread evenly.
Sprinkle crust and apples with sugar.
Repeat steps with remaining dough.
Bake for about 15-18 minutes.  Allow to cool for 5 minutes before slicing.
Enjoy!