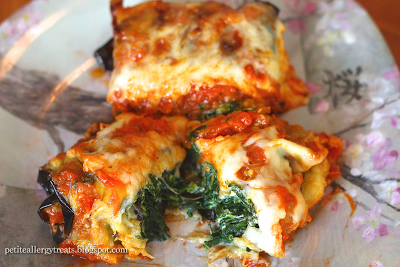 Eggplant is such a versatile vegetable. I call it the chameleon vegetable. Half the time you won't even
notice it's there. I love that it takes on whatever flavors you combine it with. Another great thing is you can find it year round.

The kids were still on a vegetable strike, so I needed to find something to aid me in hiding all the wonderful nutrition. Eggplant was ready and willing to help. Now if I could sneak in some spinach… Have I told you how much I love spinach? It rocks! Spinach is high in iron, magnesium and folate. Pair it with an acid like tomato and it'll absorb all the goodies.
Enter spaghetti sauce.
I have a love/hate relationship with spaghetti sauce. I love it for it's ability to make anything taste better and it always helps in hiding vegetables. I hate it because of the mess and the sodium content. The thing is, I haven't been able to find an organic low sodium spaghetti sauce that does not contain soybean oil. Even Whole Foods Brand contains soybean oil. I know I could make my own sauce but it just takes too long and then it takes up space in the freezer. Convenience over excess salt (at the moment at least). I only use organic sauces and have found luck at Trader Joe's.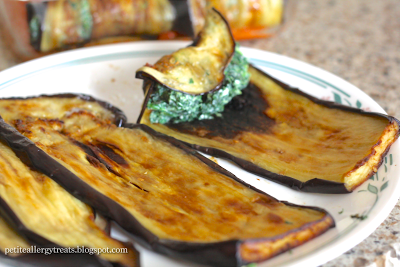 For this recipe the eggplant will be the "noodles" and spinach will be the filling. You'll notice I did not add any additional salt to the eggplant or spinach. The pre-made spaghetti sauce has more than enough sodium to add flavor to the eggplant. The cream cheese also contains a large amount of sodium and will be enough for the spinach.
Eggplant soaks up moisture like a sponge. If you rub it with water first and then oil, it'll absorb less oil and end up healthier.
Enjoy this now or save and freeze for later!
Ingredients preheat oven to 400 for eggplant bake roll ups at 350 for 30-45mins
1 large eggplant or 2 small ones
1 package frozen organic spinach
4 oz cream cheese
1 jar of favorite spaghetti sauce
1/4 tsp garlic
1/2-1 cup shredded mozzarella
1-2 T water
2-3 T oil
Directions
Wash slice eggplant lengthwise in 1/4 inch slices. Place on baking pan lined with parchment paper. Rub front and backs with water and then oil.
Bake at 400 for 20 mins or until soft.
While the eggplant is baking, defrost frozen spinach. Place thawed spinach on paper towels and wring extra water.
In a bowl, mix spinach, cream cheese and garlic powder.
Allow eggplant strips to cool before handling.
On one end of the eggplant place a 2 heaping spoonfuls of filling. Gently roll up.
Repeat with other strips and filling until gone.
Place a layer of spaghetti sauce in an 8×8 baking dish.
Place rolls into sauce in a single layer.
Cover with sauce and cheese.
Bake at 350 for 30mins or until bubbly.
Enjoy!