Mmm… smells like apple pie. This apple pie cake is gluten free, egg free, soy free, peanut free and tree nut free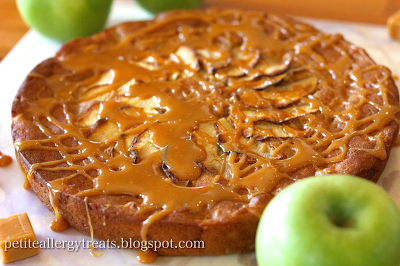 Apple season is in full swing. We have so many apples this time of year
in Wisconsin. It's great to spend quality time with the family, picking apples by hand at a local apple orchard.
My favorite apples, by far, are Honey Crisps. Have you ever tried one? Sweet. Crisp. Refreshing to eat. They're a relativley new addition to the world of apples. They are more common recently, but still expensive! This is the best time of year to find them.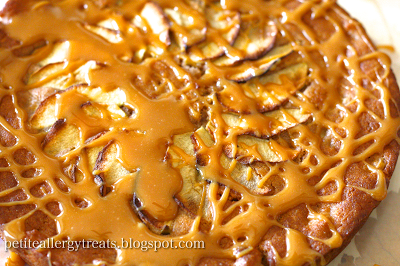 This apple pie cake uses granny smith apples which turned out great! Look at how pretty the top looks…. yummy! It was a shame to cover it up with caramel. But it tasted soooo good!
This truly reminded me of an apple pie. The texture is dense like a cake but it plays tricks on your mouth. It's because the flavor tastes exactly like that of an apple pie. You know how the filling of some apple pies are more moist because the juices come out of the apples? That's it. It's just like that! The whole cake is the filling with out the crisp high calorie crust.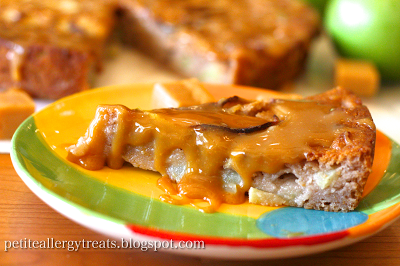 My toddler went crazy for this. He kept screaming, "Pp-eye, pp-eye! Haat! Pp-eyeee!!" Translation: "Pie, pie. Hot, pie!" He was not happy waiting while I let it cool. He was even more impatient while I was taking pictures.
I don't think I really need to tell you, but the cake is GONE. It only lasted 2 days…it really never had a chance in this house 😉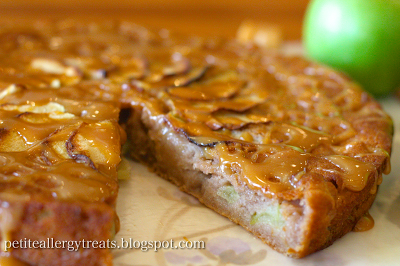 Another great thing about this recipe is it's a one bowl mix. (I always try to save time with clean up if possible.)
So now that I've got you drooling, here's this wonderful recipe!
Ingredients
preheat oven to 375 degrees
2 cups gluten free all purpose (whole grain)
1 cup applesauce (or 2 eggs if not allergic)
3/4 cup sugar
1/2 cup palm shortening
1 cup yogurt (use soy for vegan)
1 tsp cinnamon
1/4 tsp baking soda
1/2 tsp baking powder
3/4 tsp xanthan gum
4 granny smith apples cored and cubed, reserve 1/2 apple for top
TOPPING
1/2 bag of caramel chunks (to make it vegan use vegan caramel)
1-2 T milk of choice
Directions
Combine all dry ingredients and mix well.
Peel and core apples. Reserve 1/2 apple to accent the top.
Cut apples into small cubes.
Add yogurt, shortening, and applesauce to bowl and mix well. Batter should be thick but spreadable.
Fold in apple cubes and pour into a greased 8×8 round pan.
Cut remaining 1/2 into thin slices. Create a fan of apples only slightly overlapping until a complete circle is made. You may not use the entire apple.
Bake for 20-25mins. (This cake is hard to tell when finished because it is so moist. Check
before time is done with tooth pick in the center. Tooth pick should be dry when removed.)
Allow to cool completely before flipping and covering with caramel.
Melt caramel in microwave and mix in milk. Adjust amount depending upon how thin you'd like the caramel to be.
Eat and enjoy!
If you are not going to eat this today, I suggest waiting to add the caramel. This cake is best enjoyed the day it was made. Freeze any uneaten cake.