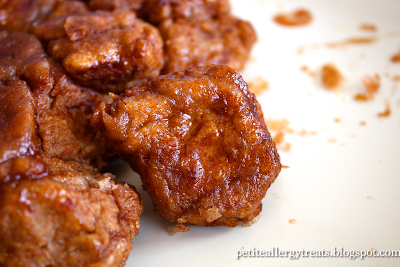 This literally was meant to be. I didn't plan on baking today but ended up finishing dinner early. Mr.
Naughty decided he was finally tired and took an hour nap (a very rare and precious occurrence). Mr. Sir had also fallen asleep on the couch during his quiet time. Win-win!
The stars aligned and thus I was given an extra 30 mins! Should I clean the house, research baby monitors, look into my life insurance policy or bake?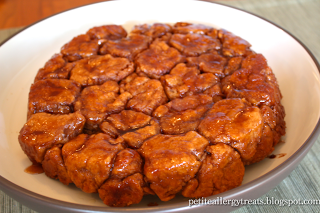 Well, you know what I did. And I think you'll be happy. I am. I wanted a gooey, sweet, give me more now dessert. And this is it.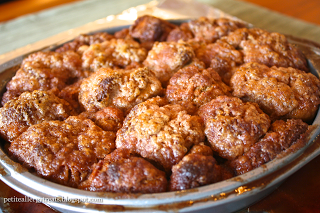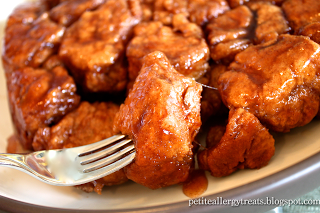 I think it turned out well :0) The best part is how easy it really is. No mixer or waiting for the dough to rise. The kids can help make it too. Make it today!
Palm shortening is dairy free but can be difficult to find. The brand I use is organic and non-hydrogenated which can be found on Amazon. Spectrum Organic Palm Shortening
Ingredients preheat oven to 375 degrees
2 1/2 cup gluten free all purpose flour
3/4 cup warm milk of choice or water
2 1/2 tsp instant yeast
1/3 cup sugar
4 oz apple sauce
2 T melted palm shortening
1/4 tsp salt
1 1/2 tsp xanthan gum
TOPPING
1 1/2 cup sugar
2 1/2 tsp cinnamon
8 T melted palm shortening
Directions
1. Heat milk in microwave to 100 degrees. Add yeast and sugar and mix well. Allow to sit for 5 mins.

2. Combine the GF flour, salt, and xanthan gum in a large mixing bowl. Add applesauce and 2 T melted shortening.

3. Pour yeast mixture in and mix by hand. The dough should be more like a thick batter consistency. You shouldn't be able to make a dense solid ball in your hand. It should and will be soft. If dropped, it should flatten. Add more milk if batter is too thick.

4. For the topping: In a separate bowl melt shortening. In another separate bowl, combine sugar and cinnamon. Grease an 8 or 9 inch round pan with extra shortening. Lightly sprinkle pan with 1 T of cinnamon sugar mix for the topping.
5. Scoop a spoonful of dough into the melted shortening. Make sure to coat the entire ball. Transfer dough from the shortening into the cinnamon sugar topping. Once coated in sugar, place in the pan.
6. Repeat steps until dough is gone. Try and make a single layer of dough balls or else it will affect your baking time. Place on a lined cookie sheet and put in the oven for 18-20mins.
7. Allow to cool for 5 mins. Bread will be HOT, so be careful.
After 5 mins of cooling, flip onto a serving platter and enjoy! It's best fresh but tasted great 2 days after I made it. Freeze any left overs for instant treat when you need it 🙂