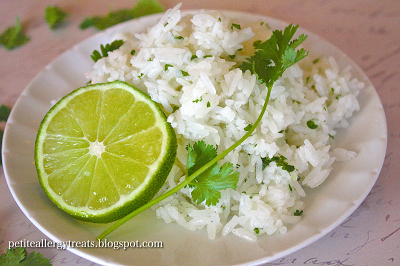 It smells so good in here… Fresh steamed rice. A very common smell in our house, but today it's going
to get a serious kick in the pants.
I love jasmine rice. So simple and yet always good. We take our rice very seriously since it's our go to grain for allergies. Naturally gluten free and so easy to cook: measure, wash, push a button and forget about it. It's that easy.
Well, today I got an urge to be creative with the rice. In the past, I've tried to spice things up and the results were less than great. My husband looked at me with a slight panic in his eyes. He slowly and calmly said, "Leave… the… rice… alone."
But I told him, "You like Chipotle rice, right? It's just like that, I promise." He reluctantly went back to entertaining our kids while I started to cook dinner. Sometimes I think my husband is a saint. I know he was screaming inside "Nooooo!! You'll ruin it." But he remained calmed and composed. In other words, he's learn to keep his mouth shut. 😉
Any rice could be used to make this. I've read the restaurants use basmati rice. If you aren't familiar with basmati rice, it's the typical rice used in Indian dishes. It has a long grain and is drier when cooked so it doesn't stick to itself.
I ended up using good old jasmine rice. Jasmine rice is fragrant and fills your house with a wonderful smell. It tends to be a little sticky when cooked if the regular amount of water is used. Because of this, you can use it the next day because it's soft. You know the kind of rice you get from the Asian restaurants? Nothing like that hard dry inedible texture the next day.
This was seriously addicting when it was done. I could not stop eating it! I always thought the restaurants used butter to make their rice taste so good (they may indeed add butter but it isn't necessary). Turns out, it's just the lime juice! I ended up using a touch of canola oil to help the rice not stick.
I probably ate 4 cups of it before dinner. I couldn't stop eating and be impressed at how it really tasted like the restaurant rice! My tummy ached by the time dinner came.
You know I can't help myself with good food. Dinner came and went. I wasn't interested. I was bursting with too much rice…
But I was happy 😀
Make some happiness in a bowl!
Ingredients
3-4 cups uncooked jasmine rice
1 lime
1/2-tsp salt
2 T canola oil
1 half bunch fresh cilantro leaves
Directions
Wash rice throughly. Add just enough water to cover rice. Place a flat hand on the level rice, water should reach just past the nail touching the first bend of your middle finger (Anatomy geeks: DIP joint).
Steam rice in a rice cooker. When button pops to signify it is done, wait another 10 mins to open lid and check. Do not open or else you'll allow all the steam to escape and rice won't be cooked enough.
Pour cooked rice into a large mixing bowl. Gently fluff and allow to cool until warm to the touch.
Wash cilantro. Pull off only the leaves and coarsely chop.
Squeeze lime into small bowl and combine with salt and oil.
Add cilantro to lime mixture and pour over cooled rice.
Gently mix to coat all of the rice.
Enjoy!