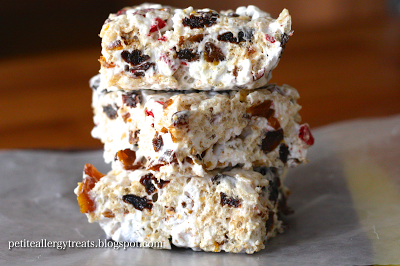 Today was a really fun. My toddler is starting to get a sense of humor. It all started when we were
sharing a snack. He always says "bite" and I'll share. He got this look in his adorable brown eyes and quickly ran off to find something.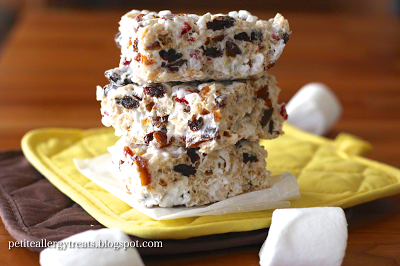 He returned with a very large toy semi-truck . He lifted it towards me with a big grin and said, "bite!" He started laughing and then ran away.
It was really cute. I could tell he wasn't done thinking about it because a moment later he returned with another handful of cars.
We played the "bite game" for almost 15 minutes with all his different toys. He couldn't get enough. He'd squeal with laughter every time and grab a new toy. By the end of the morning, he had expanded his vocabulary to include the word fun-nah (funny).
Speaking of funny things… Have you seen the lip-sync off on Jimmy Fallon Live show? It. Is. Epic. It's hilarious! I can't stop watching it… This battle is seriously one of the funniest (and fanily appropriate) things I've seen in a long time. Joseph Gordon-Levitt can really entertain a crowd.
(Updated 11/2013- My 5 year old is now impersonating Joe's first song "Tiny Dancer". He's got the whole falling to his knees and throwing the microphone included in his act.)
But back to my post…
We had a great day expanding our vocabulary and exploring our sense of humor. We even had fun making rice krispie bars with popcorn and dried fruit.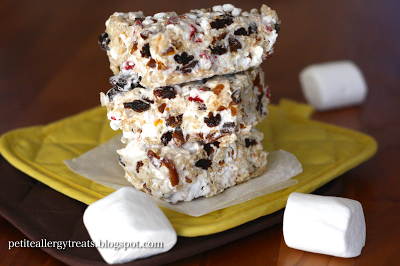 I think the bars turned out really well. They're not as crisp as plain rice krispie bars but if you live popcorn, you'll love these. My older son begged me to put one in his lunch for school. I used freshly popped popcorn made on the stove. I don't suggest using microwave popcorn due to all the preservatives and other artificial flavors. From an allergy standpoint, foods with a long list of ingredients and preservatives means more opportunity to hide allergens as well as cross contamination during the manufacturing phase.
Just a word of warning if you have small children, be sure to remove any un-popped kerns. Popcorn is consider a choking hazard and should only be given under adult supervision.
My popcorn of choice is White Hulless popcorn. It has a thinner softer kernel that is easily digestible. Regular popcorn is too hard to chew for my toddler.
I hope you like these!
Ingredients
3 cups gluten free rice krispies
3 cups fresh popcorn
1 cup raisins
1 cup dried apricots
1/2 cup freeze dried strawberries
10 oz package of marshmallows
3 T palm shortening
1 T canola oil
Directions
Make 3 cups of fresh popcorn. Set aside and allow to cool.
Melt shortening and marshmallows in a pan on low heat and add canola oil.
Coarsely chop dried apricots and freeze dried strawberries.
Combine fruit and Rice Krispies and add to marshmallow mixture. Mix well.
Press into a 13×9 pan and allow to cool before cutting.
Enjoy! These also freeze extremely well.