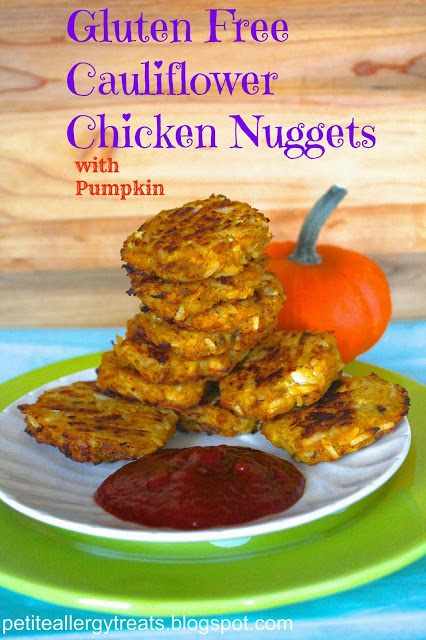 I have a confession. I have a crush. It sounds a little silly but I have a huge crush on cauliflower! It
has swept me off my feet and as has me constantly think about new ways to use it.
I think it my new favorite vegetable. (Ssh. Don't tell zucchini or eggplant, they'd be crushed.) I've used it for so many things like pizza crust, creamy smashed califlower and now I've used it in a nugget form. Hopefully these can slowly replace pre-made "chicken part nuggets".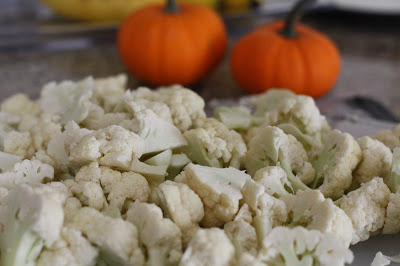 Have you read the article by NPR and the truth about what's really inside chicken nuggets? If you haven't had a chance you can read it here. Essentially, the study found that only 50% of the "meat" inside is actually, well meat. The other 50% ranges from fat, to blood vessels, to nerves, connective tissue and other really gross NON "chicken-meat" parts.
Honestly, I wasn't too surprised by the findings. The main objective of companies is to make $$. The thing that upsets me is these are staples for most families. Not just because there easy to prepare by simply microwaving, but a larger problem is the kids insist on eating them. They don't know any better. Maybe the parents don't either. Once in a while anything is alright, right? At least that's what I tell myself. Processed foods in general are not good for our families, especially our children. There's so much excess sodium, sugar and fat in all processed foods.
These are just my opinions.
Here's a recipe for a healthier vegetable chicken nugget. I only had white rice but you may add brown rice for extra fiber and nutrition. I ended up roasting the cauliflower plain since I already had my oven ready for dinner. See my roasted cauliflower post for directions just omit spices.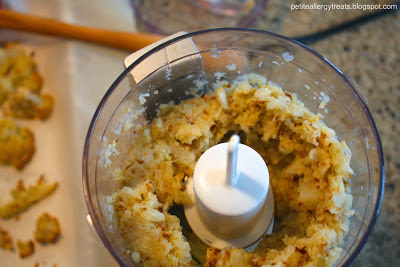 Food process the cauliflower until smooth. Mix with chicken and other ingredients to form your nuggets.
I hope you enjoy them!
Ingredients
1 cup cooked cauliflower
1 cup cooked rice
1 cup cooked rotisserie chicken (check to make sure it's gluten free, i.e. no malt seasoning)
1/2 cup pumpkin puree
1/2 tsp onion powder
1/4 tsp salt
2 T oil
Directions bake at 350 for 15-18 minutes
Place cooked cauliflower in a food processor and processor until smooth. Add to a large mixing bowl.
Mince cooked chicken with a knife and add to bowl.
Combine remaining igreidents and mix well.
Drop spoonfuls on to parchement lined baking sheet.
Form into a ball and gently press to flatten.
Bake only 15-18 minutes and check.
The nuggets will be a little soft until they cool off. Be careful not to over cook or else the rice will dry out too much and become hard and inedible. They will be much more fragile than a processed and packed nugget.