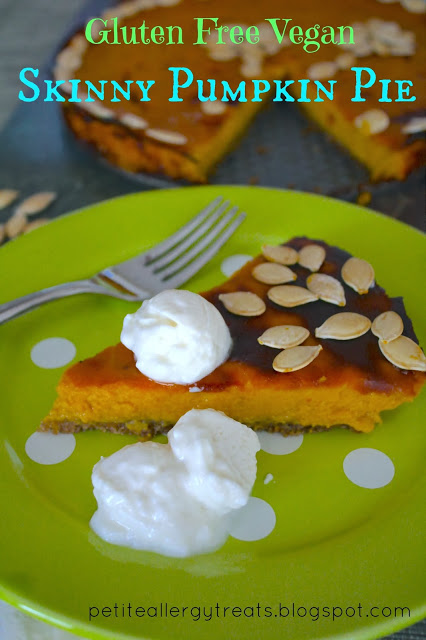 If you haven't noticed already, I really love anything with pumpkin. So of course, I needed to make a

pie!
In my previous post, I mention my in-laws are here visiting us for a week. It's been so much fun catching up with my Mom. It's nice to sit and talk about the kids and what we've been up to. My mom is so easy to talk. She's just so nice and approachable. The kids just adore her and my dad whenever they come up to visit.
Sir was also excited for all the extra attention! He would not stop talking about all his books and favorite games he plays. He is a huge fan of Angry Birds! He loves them so much, in his free time at school, he draws different the levels in the game.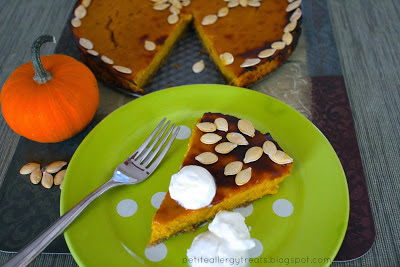 My mom had absolutely no idea why Angry Birds was so popular. Sir tried to explain everything and finally ended up teaching her how to play. This. Was. Hilarious! Imagine an excited 5 year old boy teaching his retired grandparents about a video game on an iPad mini. Their older eyes couldn't see most of the birds and actually ended up launching them backward off the screen entirely! Sir was so serious about the game, and kept showing and explaining how to correctly play. In the end, the birds still somehow ended up being launched backwards. Everyone was laughing and having a good time. It's already a great memory.
Another added bonus of them visiting is more time to do things around the house. I had more time to experiment with new recipes and I wanted to try more pumpkin recipes. I really wanted a cheese cake but with all of the allergy problems with Mr. Naughty, I thought a pumpkin pie would be safer.
This pie is almost like a traditional pumpkin pie but without the eggs. The crust is obviously gluten free but also Vegan. I still haven't found any gluten free graham crackers that meet out allergy needs. I should have plan ahead and made some, but I wanted the pie for dinner. (or for my breakfast… and my snack… and my lunch 😉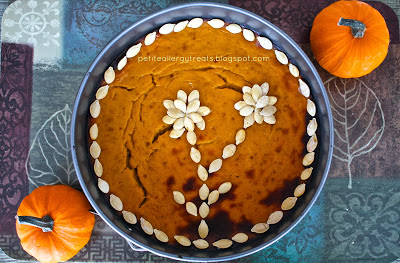 The texture is not as dense as a traditional egg based custard pumpkin pie. It's a little more fragile but honestly tastes the same.
I'm going to be completely honest about the crust. It turned out a little gummy. I think it's a combination of the the high moisture content of the filling and the fact that it's eggless. I remember the traditional pumpkin pies always had a raw like consistency in the bottom crust. Maybe I should have tried para-baking the crust first.
I tried making this pie again without the crust and found it still tasted wonderful. Trying to serving the pie without a crust was a little problematic. The pie was too soft when I tried to lift a piece out of the pan. The presentation wasn't exactly pretty but the kids didn't care. Either way you bake it, crust or without, it's going to taste great!
I hope you enjoy this!
Ingredients
CRUST
2 1/2 cups crushed Rice chex cereal
3 T melted palm shortening
Directions preheat oven to 350 bake for 1 hour then at 375 for an additional 20-30 minutes.
Prepare the Crust: Crush or food process cereal. Unprocessed cereal measured out to a little more than 4 cups.
Combine shortening and cereal crumbs mixing well. Make sure all crumbs are coated with shortening.
Evenly press mixture into a 9 inch spring pan.
Prepare Filling: Combine all ingredients in a bowl and mix well.
Pour filling over crust and bake for at least 1 hour at 350 degrees.
After 1 hour, increase the temperature to 375 degrees for at least 15 minutes.
Check center with toothpick. If the toothpick comes out very gooey, continue to bake an additional 15 minutes. Recheck.