Get ready for school snacks with these gluten free crackers that are a wheat thin copycat and vegan.  You won't even know these gluten free crackers are full of whole grains.  Make these copycat wheat thins for school lunches and snacks.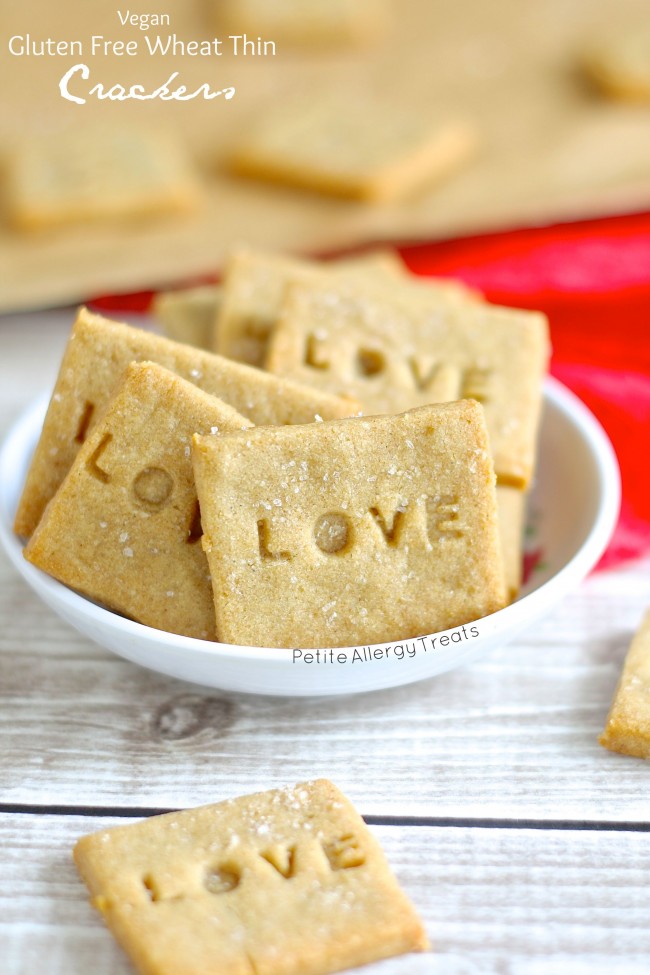 The count down to school begins…I not going to lie, I'm not looking forward packing lunches and getting up super early (I don't know anyone that does).  On top of that I'll be attempting to making more snacks and bread.
Summer will officially be over in a little less than one week.  The realization is both happy, sad and scared.
I'm happy since Sir will finally be back on a routine and schedule.  While playing virtually all day long without time commitments has been freeing, it has also been exhausting, we've run out of things to do!  It's lots of fun a games but I've been trying to keep up with some math and reading activities but it's tricky to teach.  The common core math is sooo beyond different with draw the picture, find the double, subtract to find the ten and then add the new equation to find the answer seems like more work than anything.  Luckily I don't have to worry about Sir with math.  He's taken it upon himself to memorize the multiplication table up to 12.  And no I didn't teach him any of it.  School didn't either.  We bought a math placemat and within 2 weeks knew them all… He also uses the cash register toy as his calculator.  He even loves to spout out BIG multiplication numbers.  While I'm half awake in the morning he'll drill me with questions like what's 268 x 268?
How the heck am I supposed to know that?!  At least give me a cup of coffee before asking that… btw the answer is 71,824 which he memorized.  #futuremathwhiz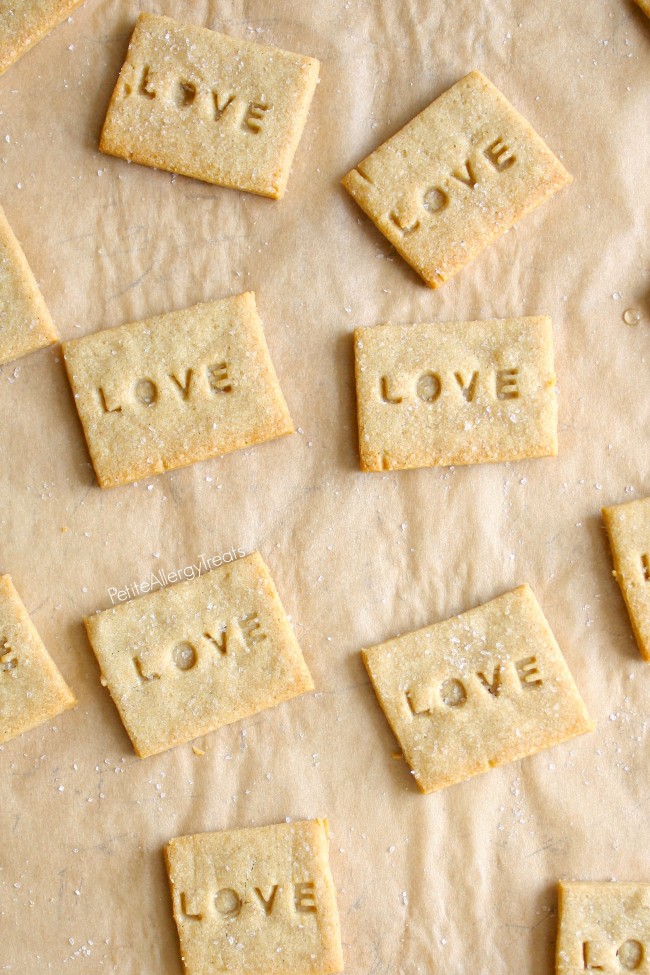 I'm sad since I will miss all of his silly sounds and games.  We're huge American Ninja Warrior fans so we build mini courses throughout the day… out of hot wheels tracks.  Our 'contestants' are cars and there's an obscene amount of contestants that fail out…causing nothing but laughter, noise and mess.  But it's totally fun. 😀
I'm scared since every school year I have to start worrying about his safety in school.  Sir has a peanut allergy.  One allergy.  But it's still enough for any parent to go a little crazy with worry when sending them off to a place you know will have peanut butter or other nuts in the lunch room.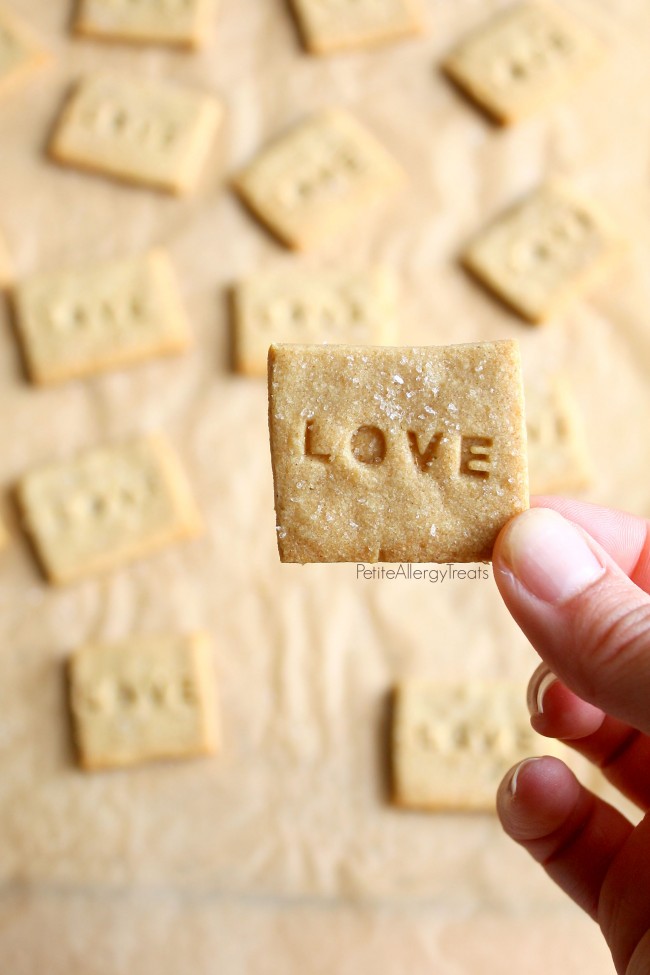 This year the regular worry about nuts is the classroom has virtually been taken care of.  I was so happy to read our school has changed the peanut/tree nut free classrooms into an official school policy.  That's right.  Parents of nut allergies don't even have to ask for a nut free zone in the classroom.
This helps me not worry as much… but I still worry.  Even now I don't let Sir eat the snacks brought in from other students due to the possibility of cross-contamination.  He'll stick with bring his own snack, like these gluten free crackers.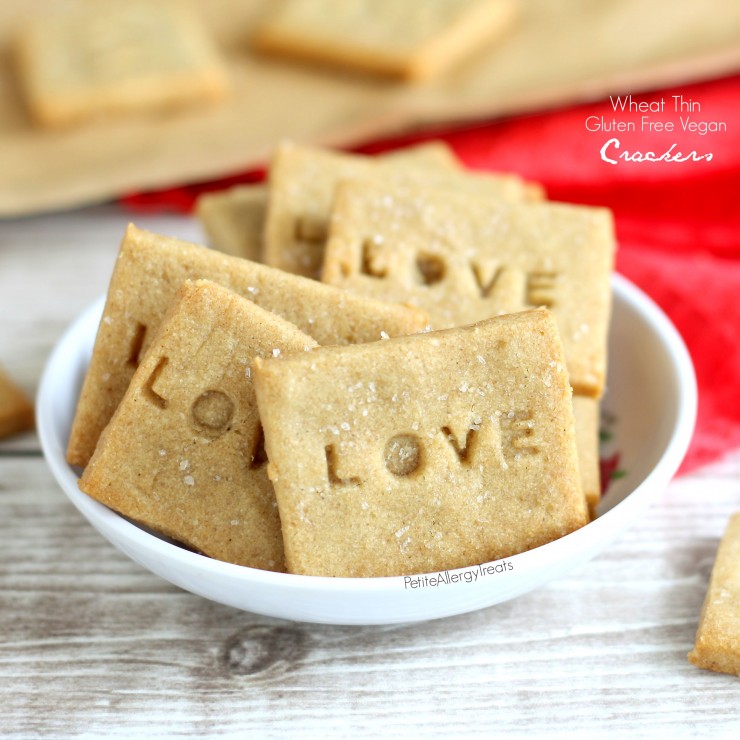 They taste just like a copycat wheat thin crackers minus the wheat and dairy.  I also love these since they contain whole grains packed with more fiber, minerals and a little extra protein.
You might have noticed this recipe a long time ago.  I decided to repost/rephotograph since the older pictures were a little blurry and the recipe is such a great snack cracker.  I still really loved using my cookie message stamps and decided to recreate the original photos.
Enjoy!
Adapted from Gluten Free On a Shoestring

Gluten Free Vegan Crackers (Wheat Thin Copycat)
Author:
Laura @ Petite Allergy Treats
Ingredients
¼ cup sorghum flour
¼ cup millet flour
2 T sugar
4 T palm shortening or coconut oil
½ cup (1-2 T more if needed) milk of or water
¼ tsp onion powder
⅛ tsp garlic powder
½ tsp salt + more for sprinkling
¾ tsp baking powder
¼ tsp baking soda
½ tsp guar gum or xanthan gum
Instructions
Combine all dry ingredients and mix well. Melt oil in microwave and mix with liquid of choice. Combine with dry ingredients. Mix by hand until dough forms. Chill in the refrigerator 15-30 minutes.
Take half of mixed dough and roll out between parchment paper to 1/16 inch thick . Use a pizza cutter or any cutter shape you'd like. Save the scraps and roll out the rest of dough.
Gently place dough on a parchment paper lined baking sheet in a single layer. The crackers won't spread so you can fit all of them on 2 baking sheets.
Bake 350 for 11-13mins. Watch for crackers to just turn golden brown around the edges. Allow to cool. Store in an air tight container for up to 1 week or freeze for grab and go snacks.
Notes
The dough is a little sticky and rolls best between parchment paper. A reader commented that chilling the dough before rolling helped. I've made these with regular palm shortening and coconut oil. The coconut oil based dough seemed to be more sticky and melted quickly causing some frustration (of course the weather was 90 degrees outside).