Need a fast easy weeknight meal?  Keep things nutritious without making a huge mess with an easy one pot Gluten Free Skillet Lasagna.  No extra boiling or baking required for the noodles. Use a dairy free cheese and plant based protein to make this gluten free skillet lasagna Vegan.
Thank you Jovial Foods for sponsoring this awesome skillet meal!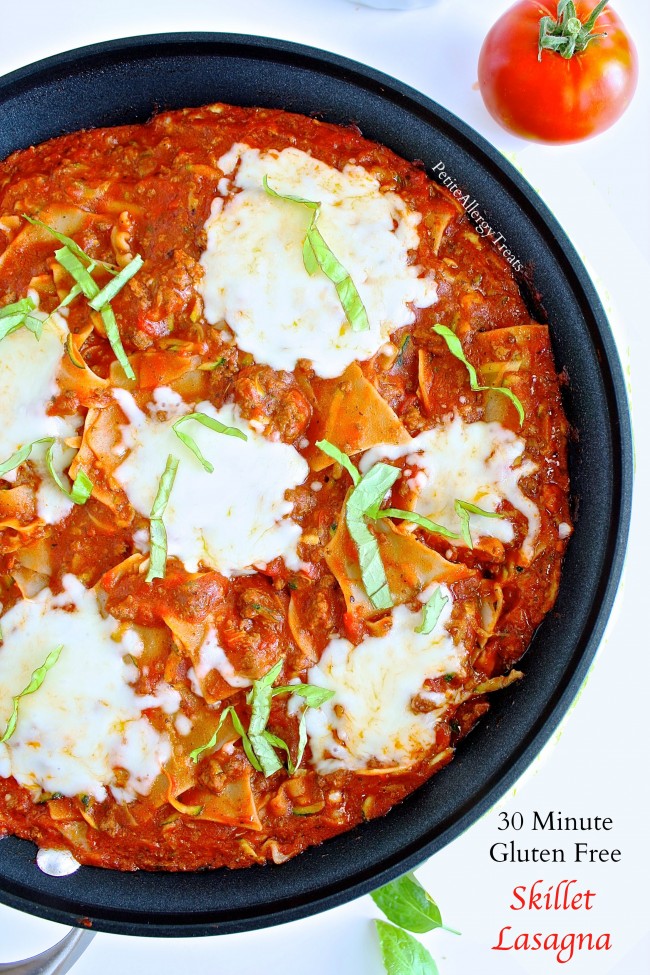 Holy moly Summer is done… I can't be the only one wondering where the time went.  School starts on Monday.  Monday!!  Eeek…  Back to school has me feeling elated and excited but also a little panic stricken.
Just thinking about the daily grind causes some anxiety… From packing a lunch, waking up at 6 am, driving to and from school (not on the bus line), to rushing for piano and other activities, it is a ball of chaos the first week.   The adjustment is painful for everyone.  Everyone is overtired and on the edge of a breakdown in the first week.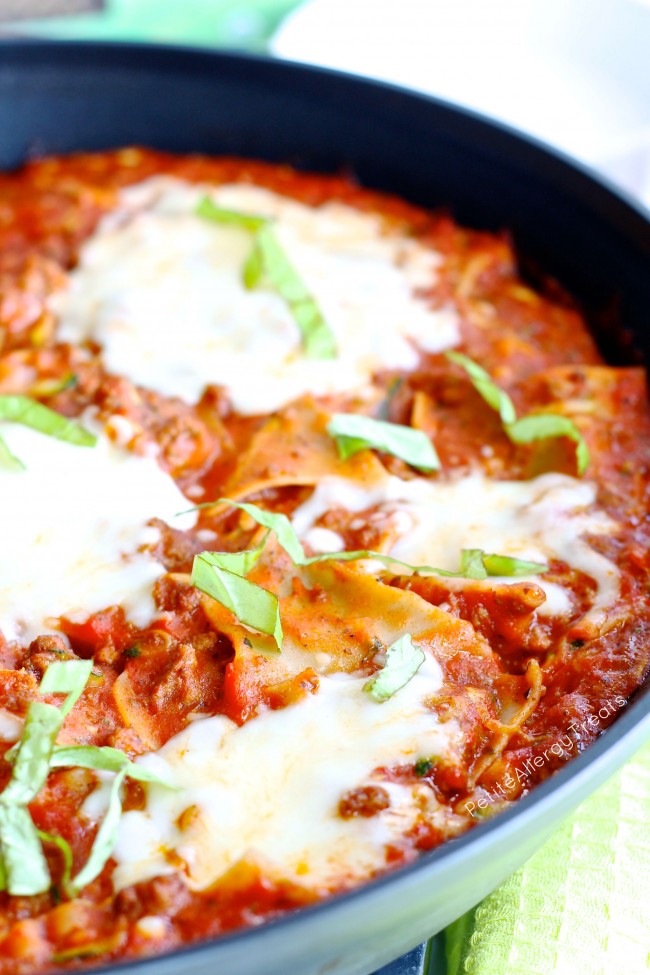 Whenever I get stressed, I do two things:
1. Stuff my face with some chocolate (usually brownies)
2. Go for a very long run.
And I've been running a lot lately, it's a great way to combat stress (and negate all that chocolate eating).  The runs are starting to get a little out of hand… I mentioned waaay back in Spring I was thinking of running another half marathon (crazy, I know),  That half marathon is rapidly approaching in September, already past the one month countdown.  Talk about panic!  Add the back to school stress into the equation and I found myself running 10 miles on Sunday.  It's without wonder that I'm also suddenly loving all things carbs and pasta.  At least pasta is an easy weeknight dinner.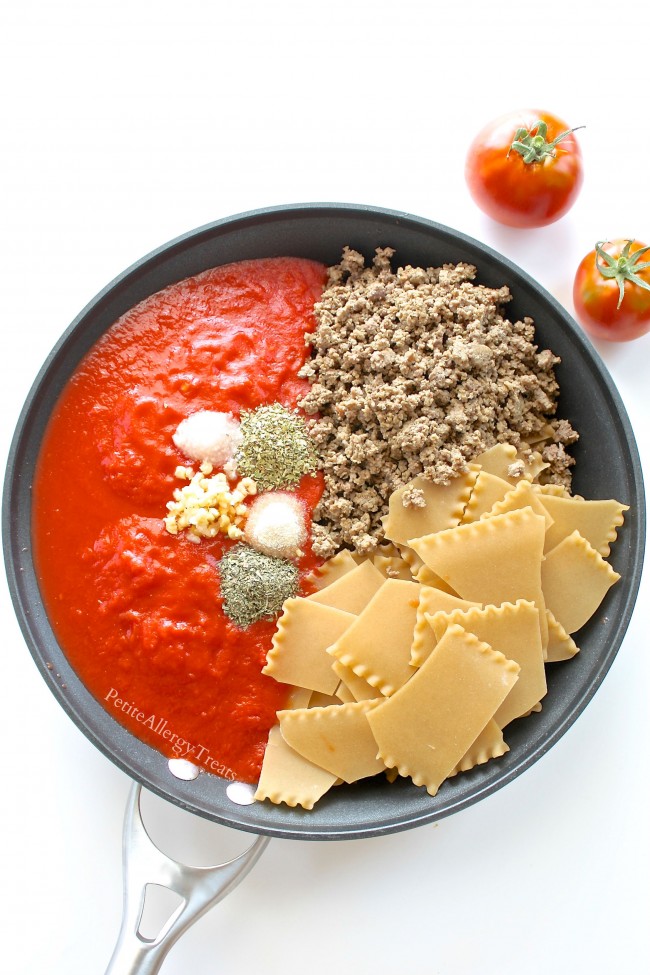 Somewhere within the busy school day and between running on the weekends, a thing called dinner also needs to be prepared.  What I wouldn't give some days to make a run for fast food on the way to our way out.  Our extensive allergies prevents us from of 'livin' dream of on the go convenience.
But…
There are many new break through allergy friendly foods that sure do make life a tad simpler.  Like these no boiling required Gluten Free Brown Rice Lasagna Noodles and Organic Crushed Tomatoes from Jovial Foods.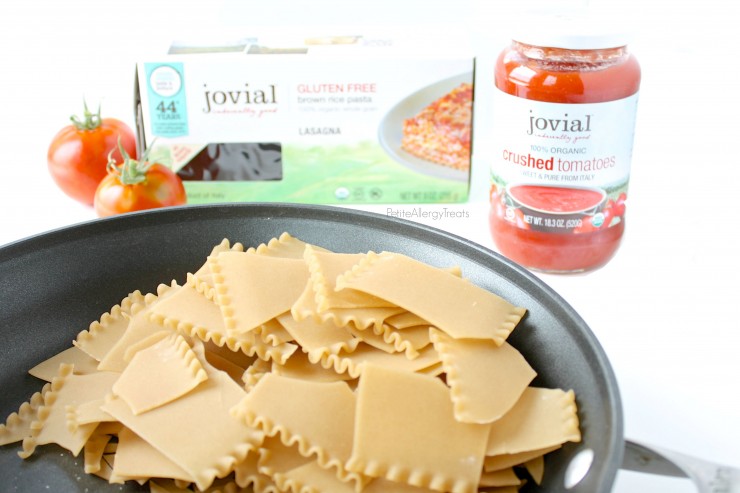 Everyone loves a good gluten free lasagna but not all the work.  These hearty gluten free noodles require no extra boiling for use in the oven or in the skillet.  None.  It saves extra time for boiling the water, the noodles and clean up of that extra unnecessary pot.   The box even has an amazing recipe for a traditional baked lasagna that requires no boiling.  I had no idea a 'no boil gluten free noodle' existed until we tried these. We tried it.  Loved it. Left us wanting more…
The kids would request lasagna everyday if possible and if had time to bake it I would.  To meet them half way, I easily made  a gluten free skillet lasagna meal.  It's a one pot wonder ready in about 30 minutes.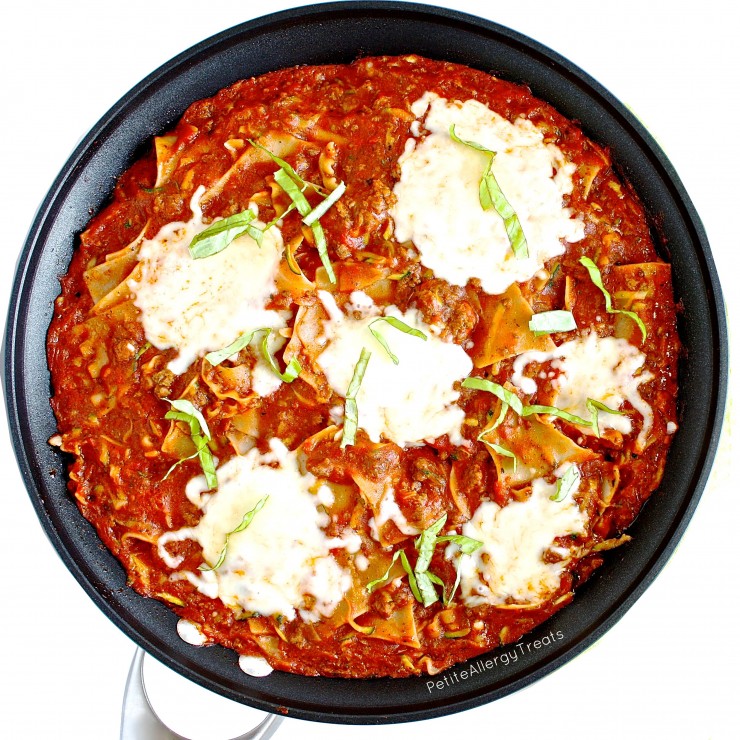 Have you seen all those easy skillet one pot meals floating around on Pinterest?  Dinner is ready in about 30 minutes.  Sign me up! But…they all use wheat pasta.  So what do you do with a recipe you've found but isn't allergy friendly?
Convert it.  Swap gluten free noodles for wheat noodles.
But not just any gluten free noodle will work…
These gluten free noodles from Jovial Foods, work just like wheat based noodles and could be substituted in a pasta recipe.  It's because they don't release a ridiculous amount of rice starch.  You know what I mean.  Rice sludge as I call it.  I was afraid a gluten free skillet lasagna meal wouldn't be possible because of this. And it isn't, unless you use right noodles.
Less mess means more time for other things clean… like the 793,499 lego pieces that lay scattered around the playroom or train for that half marathon…
You might remember when I first gushed about Jovial Foods with my Gluten Free Avocado Pasta.  Not only is their pasta great for meals,  Jovial Foods is an allergy based company with dedicated facilities.
The brown rice pastas are made in dedicated facilities free of wheat, egg, casein, tree nut and peanuts.  Their egg based brown rice tagliatelle pasta is created in a separate facility so no worries of cross contamination.  This beautiful sauce as also thrown together from the organic crushed tomatoes packaged in glass jars instead of cans lined with BPA.  They are the ONLY brand that packages their tomato products this way.  Very unique.  I think that's part of the reason the sauce is such vibrant red.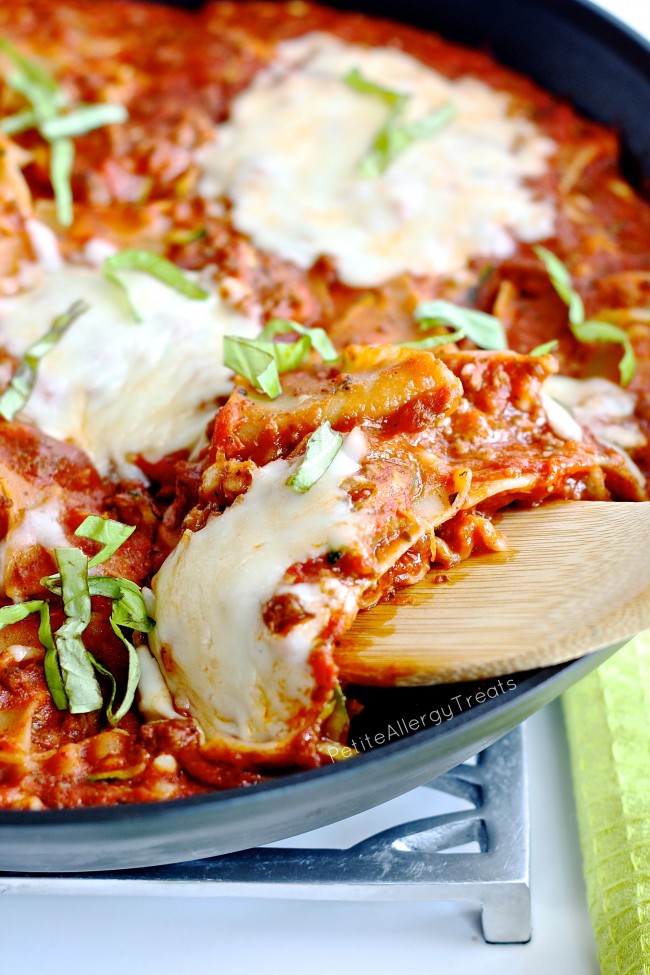 Kids can't resist a good tomato sauce, so why not add some grated zucchini for more veggies?  It cooks down so much they won't notice or care it's in there.  I actually forgot to include more zucchini for the photo but trust me, it's in there.
Lasagna is such a versatile dinner.  Make this gluten free skillet lasagna your way. You could easily make this dairy free and Vegan by omitting the cheese and meat.  In the past I used to make a veggie lasagna from silken tofu and spinach.  The sky's the limit.

Gluten Free Skillet Lasagna
Author:
Laura @ Petite Allergy Treats
Ingredients
1¼ cup water + more if needed
1 lb lean ground beef or favorite protein
3 Tbsp oil
4 garlic cloves crushed
1 medium zucchini grated
1½ tsp dry basil
1½ tsp oregano
½ tsp onion powder
1¼ tsp sea salt
1 cup mozzarella cheese or dairy free cheese
option fresh basil for garnish
Instructions
Cook ground beef in a large 12 in skillet with oil.
Add tomatoes, water, spices, salt, grated zucchini and garlic into same skillet as ground beef. Break lasagna noodles into manageable 2 inch pieces. Bring to a boil, gently mixing.
Cover the skillet with lid and turn heat down to simmer for about 18-20 minutes. Gently stir pasta and mix to avoid pasta from sticking every few minutes. Use a fork to help separate any noodles. A little more water might been needed if noodles seem dry
Remove from heat and add cheese and fresh basil.
Best served immediately.
Notes
This meal is best served immediately. Regular stiring will help prevent noodles from sticking together. Check noodle tenderness toward the end and add extra water if needed.
Learn more about 
Jovial Foods
  and find the latest news 
Facebook
Twitter
This is sponsored post by Jovial Foods.  Thank you for allowing me to work with brands that meet our allergy needs.
Some other things you may like: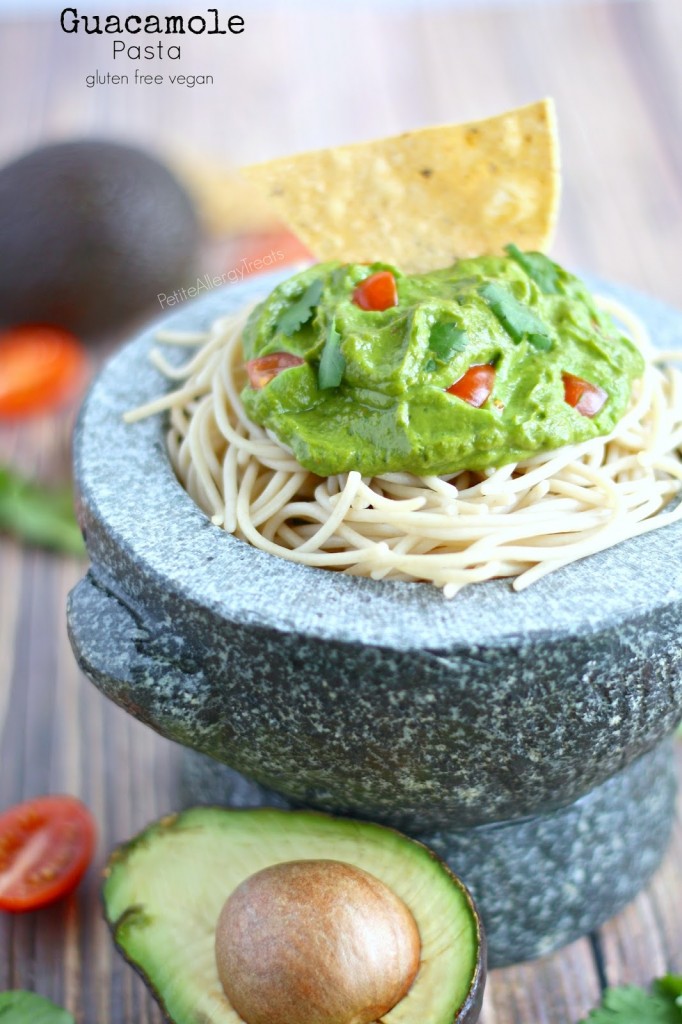 Gluten Free (Avocado) Guacamole Pasta