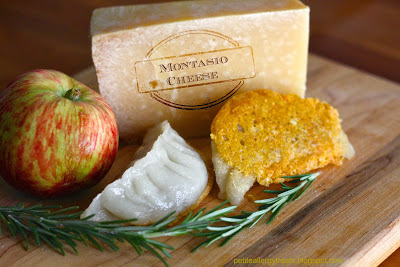 Have you ever heard of Montasio cheese? I had never heard of it until just recently. It's part of a group
called the Legends From Europe. It's an elite group of artisan cheeses and meats that have very specific and strict standards of production. They're running a recipe contest that recently ended. I decided to try my luck and have fun in the process. I love creating new allergy friendly recipes.
Montasio was a little hard to locate, but I was lucky enough to find it at Whole Foods. I was even luckier that it was on sale!
Montasio cheese is a hard aged cheese with a full flavor that is almost nutty and intensifies when fried. It's very bold alone but pairs up wonderfully with fruit and herbs. I think it's tastes very similar to Parmigiano Reggiano; very rich in flavor and delicious. I looked up traditional recipes for Montasio and found the most common use is to make Frico- fried cheese with a filling in the middle.
I wanted to keep some tradition but with a new twist. (There really isn't anything traditional about a gluten free diet.) I don't know why, but I thought the fried crispy cheese would work great as a potsticker. Crispy and crunchy textures are sometimes difficult to achieve on a gluten free diet.
These were pretty simple to make. I know, you're probably thinking, "Potstickers are too hard and time consuming to make."
Really, they're not.
This is only the second time I've ever made them. The first time I made them, I didn't take any shortcuts. As usual, this time I made some changes to be more efficient. (You know I'll always skip unnecessary steps make less mess or decrease the cooking time). No rolling the dough out or using a mixer. I was able to make these from start to finish in under 1 hour. The only prep was to grate the cheese and although its best fresh it could be done the night before.
I thought a combination of sweet apple sausage, onion and rosemary would balanced out the rich deep flavor of the cheese.