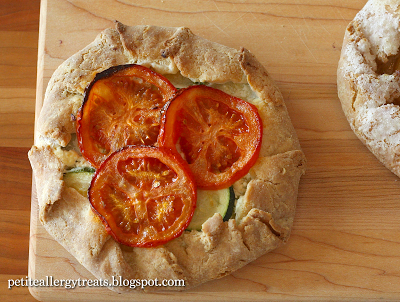 Galettes are one of my new favorite quick meals. It's really fast to prepare and no mixer is needed. The
best part about them is the free form. You don't need to make it perfect and it still looks pretty.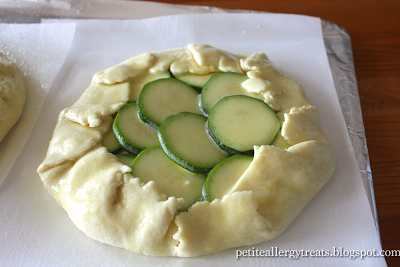 Zucchini is one of my go to vegetables for the kids. It's always available and has a mild enough flavor they forget they're eating vegetables.
This is the same dough I used for the apple galette. The recipes make 2 small galette which serves 1-2 people. Make dinner and dessert at the same time.
See the apple galette.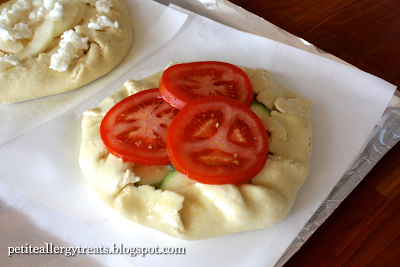 Makes 2 small galettes or one large
Ingredients preheat oven to 400 degrees
1 1/4 cup all purpose flour (whole grain)
1/3 cup milk of choice (slightly less if non using whole grain flour)
4 T palm shortening
1 1/2 tsp xanthan gum
1 T sugar
TOPPING
2/3 cup cream cheese
1 small zucchini
sprinkle of garlic powder
Mix dry ingredients together in bowl. Prepare a baking sheet lined with foil and parchment paper. If making 2 small galettes, cut the parchment paper in half and set aside.
Cut into zucchini 1/8 inch slices. Cut tomato into 1/4 inceh slices. Set aside for later use.
Cut in shortening with fork or pastry cutter. Mixture will not be very crumbly. Try and break up all the shortening
Add milk and mix. Dough will come together quickly. It should be thick and similar to pastry containing gluten.
Divide the dough in half and cover unused portion in plastic wrap.
Place dough on parchment paper and flatten by hand into a circle.
Continue flattening using a rolling pin. Try and maintain a general circular shape. Roll to slightly less than 1/8 of an inch.
Move dough and parchment paper to baking sheet now to avoid breaking from the weight of the filling.
Add cream cheese to cover the bottom. Leave 1-1/2 inch border to fold the crust up.
Add zucchini slices starting from the outside. Overlap them slightly since they will shrink once baked.
Add slices of tomato.
Gently lift the border of the dough fold up to form the crust.
Brush entire galette with canola oil
Repeat steps with remaining dough.
Bake for about 15-18 minutes. Allow to cool for 5 minutes before slicing.
Enjoy!