These candy bars are my version of Gluten Free Twix Bars. Great combination of a
cookie, chocolate and caramel. They are gluten free, soy free, peanut free, tree nut free,
and egg free.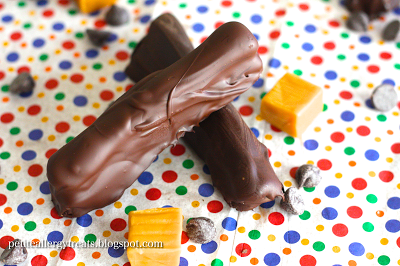 Stores are packed with candy this time of year. I see all of my old candy bars that are off
limits. 🙁 One of favorites was Twix candy bars. It's a simple but great combination. A
cookie. Caramel. Chocolate. Perfect!
As usual, I'm trying to make my own recipes with the help of using some pre made foods
that are safe. As much as I love natural and homemade, I make. every. thing. I'm a realist is
using all available resources. 😉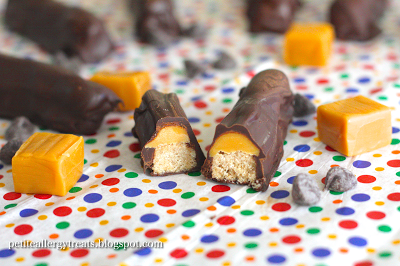 I thought it was time I tried to make my own. Here's my version. I changed it to be gluten
free cookie and chose dark chocolate instead of milk chocolate.
I think they turned out fantastic! I didn't even have to melt the caramel and clean up that
sticky mess. They freeze well but… they're so good you won't want to freeze them!
Ingredients
1 bag of pre-made caramels
1 lb dark chocolate
Short Bread Cookies
1/2 cup palm shortening
1/2 cup sugar
1 cup gluten free all purpose flour (1/2 cup white, 1/2 cup whole grain)
1/2 tsp vanilla extract
1/2 tsp xanthan gum
Tips:
If you can find store bought cookies you like go ahead and use them! You'll save yourself time and mess. You can skip ahead to step 8, you'll need to gently warm up the caramels in microwave to put together.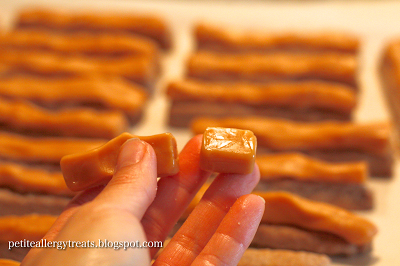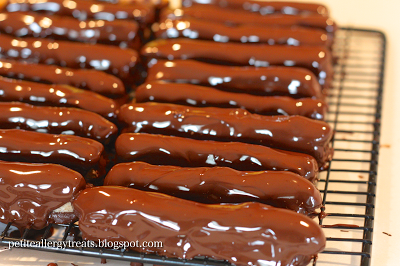 Directions
preheat oven to 375
Mix all dry ingredients in a bowl. Add in shortening, vanilla and mix. A crumbly dough should be formed. Knead a few time with your hands
Line an 8×8 pan with parchment paper. Press half of the dough into the bottom. Make sure it is even and level.
Lift out the parchment paper and dough to cut with a pizza cutter. Cut into 1/2 inch x 6 inch strips. Repeat steps 2-3 with remaining dough.
Carefully peel cookie strips and place on cookie sheet lined with parchment paper.
Bake for 12-14 mins or until slightly golden brown. Take out and allow to cool.
While the cookies are baking, open caramel squares and remove the wrappers.
Cut each square in half. I lined up a 5 caramels at a time and used my old dough cutter to speed up the cutting.
Once the cookies come out of the oven, place 3 caramels pieces on each cookie. (a total of 1 1/2 caramels is used for each cookie.)
Allow the caramel to warm up on the cookie for about 2 minutes
Once the caramel is warm, take all 3 pieces and press them together in the shape of a log. Stretch to fit the length/width of the cookie and place on top.
Dip each cookie in chocolate and place on parchment paper and wait for chocolate to set.
Eat and enjoy in moderation (if you can). Freeze leftovers to enjoy whenever!
Some other things you may like: