Gluten free pumpkin pancakes are for all the true pumpkin spice lovers out there.  These pancakes are packed full of nutrient gluten free grains, is dairy free and egg free!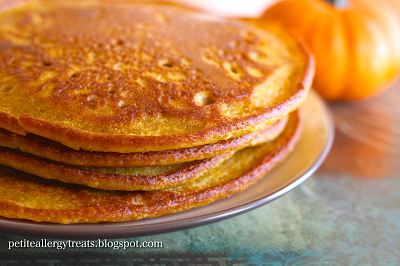 Going gluten free has been an adjustment for many foods.  Everything.  Except… pancakes.  These gluten free Vegan Pumpkin Pancakes really takes like regular wheat pancakes.  The texture is the same too.  This recipe also is AWESOME since it doesn't require eggs.  It's still light and  fluffy and holds together.  It's the sorghum flour.  Sorghum has rapidly become my favorite GF flour.  It bakes up fluffy and light.  What I really love about it though, is the fact that it's a whole grain flour with lots of nutrients and fiber.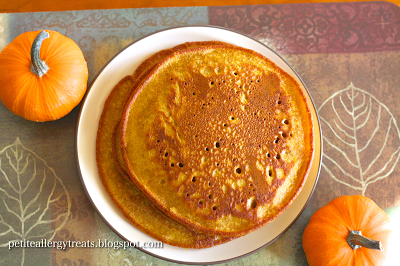 Pancakes have rapidly become a staple in our house.  Seriously, they saved us from starving.  Hence my
life saving pancakes.
  Those took bit of practice to create. Pancakes were the first gluten free egg free recipe I ever tried.  If I'm completely honest though, I failed horribly when I was searching for an easy recipe.  The one I chose only had brown rice flour, white rice flour and water.  Umm… missing the most important things like starch and a binder such as an egg, gum or pectin.  Big mess and small blow to my confidence.  Fast forward to these lovely pancakes.  Regular pancakes are always good, but pumpkin spiced are much better!
These are based off of my regular pancake mix. ( I know I still have to post the original recipe).   I just adjusted to account for the pumpkin puree and added spice.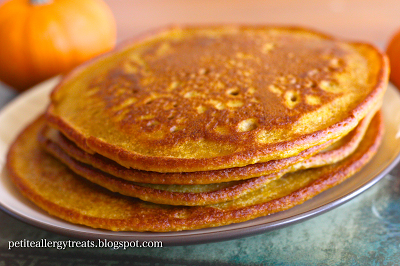 I hope you enjoy these as much as we do!
Ingredients
1/2 cup sorghum flour
3/4 cup brown rice flour
1/2 cup potato starch
1/2 cup sweet rice flour
1/4 cup sugar
1/2 cup pumpkin puree
1/4 tsp pumpkin spice
1 1/2 tsp baking powder
1/4 tsp xanthan gum
1 T egg replacer
1 cup milk of choice +1/4 cup water
Directions
Combine dry ingredients in a bowl and mix well.
Combine remaining ingredients and mix until smooth.  Batter will be thick.  Add more water or milk if necessary.
Drop a large spoonful on a heated oil pan.
Cook for about 2-3 minutes on each side.
Serve with your favorite syrup!