Here's my version of an Outback Steak House Bloomin' Onion that is gluten free, Vegan, dairy free, eggless, soy free, peanut nut free and tree nut free. You can enjoy a safe and healthier version in the comfort of your own home and not worry about cross contamination in the fryer.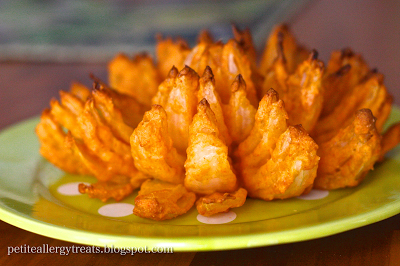 It is very important to note the pictures outlining how far down to cut the onion. If you don't
leave enough of the onion uncut at the base, it will fall apart. No biggie, just try again 🙂
The solid black lines are the first main cuts. The red circle on the bottom will be where you
need to stop cutting. The black dotted lines are the additional cuts to create the petals.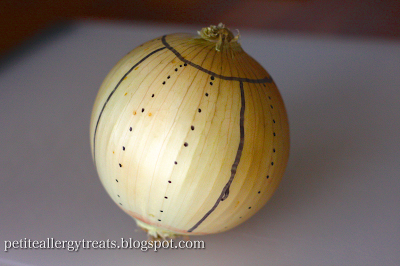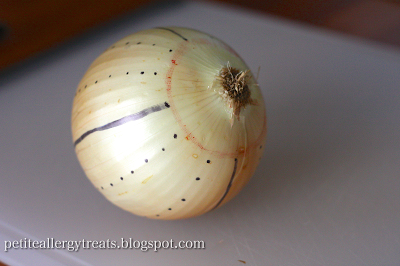 Ingredients
Preheat oven to 375 degrees
1 large onion (Vidalia is best but any onion will do. I used a regular yellow onion)
1/2 cup gluten free all purpose flour (whole grain)
1/2 cup milk of choice
2 T canola oil
spray oil
1 tsp paprika
1/4 tsp garlic powder
1/4 tsp baking powder
1/4 tsp xanthan gum
1 large ziplock bag
Directions
Cut 1/4 of inch off the top of the onion. Peel off outer skin. Turn onion upside down, roots up.
(BEFORE you cut, make sure to leave at least 3/4 inch from the roots for all cuts).
Make 4 equal cuts or quarters. Start your cut at the top (near roots) where the red circle would start.
Cut each quarter 2 more times. A total of 12 sets of petals will be created.
Gently spread the petals to open the bloom.
Combine all dry ingredients in ziplock bag. Add onion and gently shake to coat.
Take onion out of bag and shake off excess flour in a bowl.
Pour remaining flour from ziplock into bowl; add oil and milk.
Batter should be fairly thick. Add extra flour if batter is runny.
Use your hands to coat all individual petals with batter.
Place on a pan lined with parchment paper. Lightly spray entire onion with oil.
Bake for 18-20 minutes. Allow to cool before moving and serving.