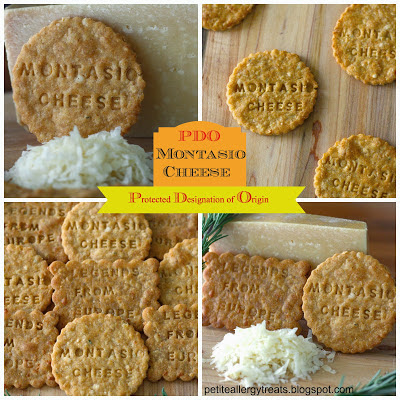 Things are finally returning to normal in our house. Mr. Naughty's arm is healing nicely and he's in a

removable splint. I can tell he's feeling much better since all he wants to do is run and climb. Another fun stage has just started… tantrums!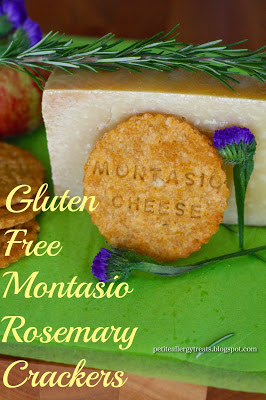 Really, you should come over and see the show. The all out wailing and lying on the floor. If I'm lucky, I also get to see him on the hard wood floor, lying face down with one arm up and legs spread (think a crime scene pose). Yes, he's feeling much better.
If you saw my post yesterday, I mentioned the Legends From Europe. I had plenty of left over grated cheese that could
not
be wasted. One the thing that impressed me about the cheese, was the crunch. Cruncy textures can be difficult to find with gluten free diets. I don't know about you by crunchy makes me think about crackers.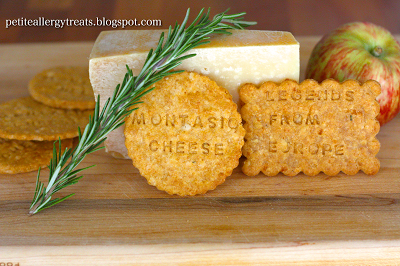 I miss crackers. I think I may miss them more than bread (it's probably a tie). When I grew up, I always had crackers on hand for an easy snack to grab. I practically lived on them in college.
A good gluten free cracker is hard to find. A good gluten free cracker free of egg, soy, tree nuts, sunflower, cotton seed, sesame seed and poppy seed is even harder. Or near impossible, since I haven't found one yet. 🙁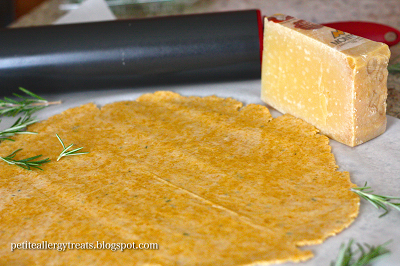 My allergy motto (and yours too I imagine) is: If you can't find it… make it. I used to love cheddar crackers so this was great for me too. You have to try these, crackers they. are. awesome.
These have a buttery crisp texture with an awesome crunch factor. These are for cheese lovers. Montasio provided a deep nutty flavor that was balanced with just a touch of rosemary. I had fun using some of my forgotten
cookie stamps
and
biscuit cutters
. Don't worry any shape will taste great.
You can just hand mix the shortening to create crumbs and gradually add the milk until it forms a dough. I rolled them out and cut 2 inch crackers from biscuit cutters. If you don't have a round cookie cutter, you can cut them into squares with pizza cutter. Carefully transfer crackers to a baking sheet and bake until golden brown along the edges.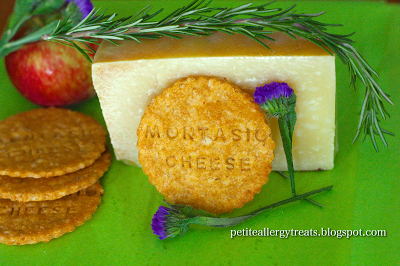 I hope you love the cheese as much as I do.
Ingredients
preheat oven to 350 bake for 8-10 min depending on cracker size
1/2 cup freshly grated Montasio cheese
3/4 cup all purpose gluten free flour*
1/2 cup sorghum flour*
1/2 cup sweet rice flour*
1/2 cup milk
6 T palm shortening or butter
1/2 tsp fresh minced rosemary
3/4 tsp paprika
3/4 tsp salt
1/4 tsp onion powder
1/4 tsp garlic powder
3/4 tsp xanthan gum*

Directions
Combined all dry ingredients in a bowl and mix well.
Cut in shortening until pea size or smaller.
Add minced rosemary and milk. Mix until dough forms
Roll out dough between parchemnt paper.
Cut into 2 inch circles using a biscuit cutter
Bake until golden brown along edges. Best enjoyed the warm from the oven.