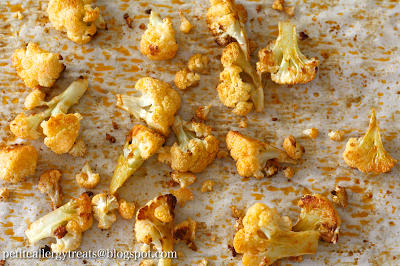 I know it's little late but cauliflower is still in season. Our grocery store was bursting of locally grown cauliflower. Not only was it super fresh, it was on sale too.
The kids don't particularly enjoy cauliflower plain but I thought I would try it again since its in sale.
I struck gold with! The kids were begging for samples before the cauliflower had even cooled. This ended up being their snack.
They ended eating so much, barely had enough left over a picture. I think they liked it.
1 medium to large cauliflower
3 T canola oil
1/2 tsp salt
1/2 tsp paprika
Directions
Wash and chop cauliflower into bite size pieces.
Mix oil, salt and paprika in a small bowl.
Use your hands to rub and coat cauliflower
Bake for 30 minutes. Check after 15 minutes and flip.
Allow to cool and eat immediately!