These Gluten Free Oreos look and taste like the real ones but are also dairy free, egg free, soy free, peanut free and tree nut free.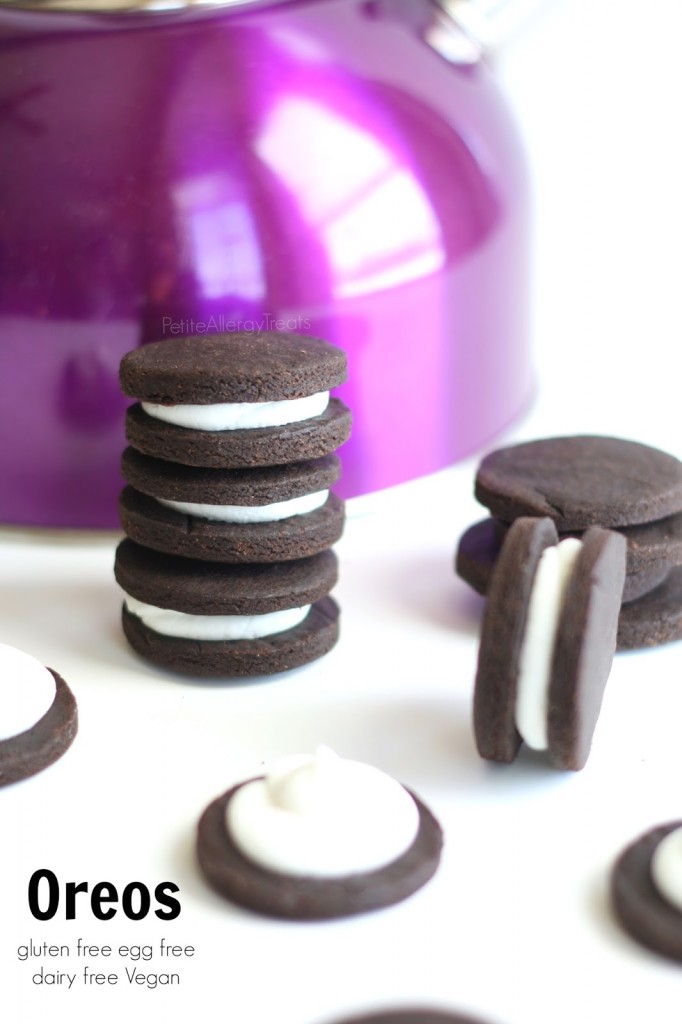 I've recently seen some prepackage gluten free Oreos that looked pretty good.  Of course, they all
contained either soy, egg or sunflower oil.  And this means off limits.  
*sigh*
 Doesn't matter.  I. will. fix. this.
Everyone loves a good chocolate cookie.  I'm a cookie fanatic.  Or should I say cookie monster?  Seriously.  It's like an addiction.  I even have a board on Pinterest named
Gluten Free Cookie Monster
.  It was only a matter of time before I had to make my own version of  gluten free Oreos.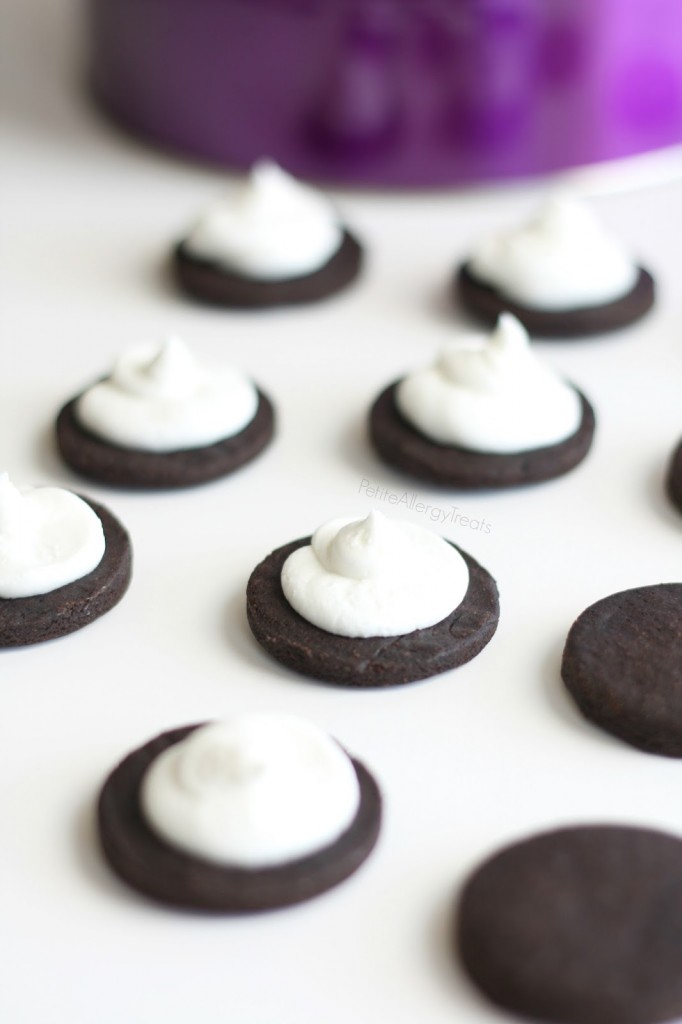 The cookies alone are pretty awesome.  Add the filling and you won't even realize it's gluten free or vegan. 🙂  This recipe
really
tastes like the Oreo's I remember.
I'll be honest, the texture is slightly off but nothing major.  I could fix that by adding only white rice flour and other light non-nutrient based flours, but I can't do it.  I know a cookie isn't healthy at all, but I can try and make it "better".
The dough was easy to roll out between parchment paper.  It held up surprisingly well while transfering to baking sheets.  The cookies didn't spread at all, so I was able to cram almost 30 on a sheet.  That may sound like a lot but divide that in 2 and you'll only have 15 cookies per sheet.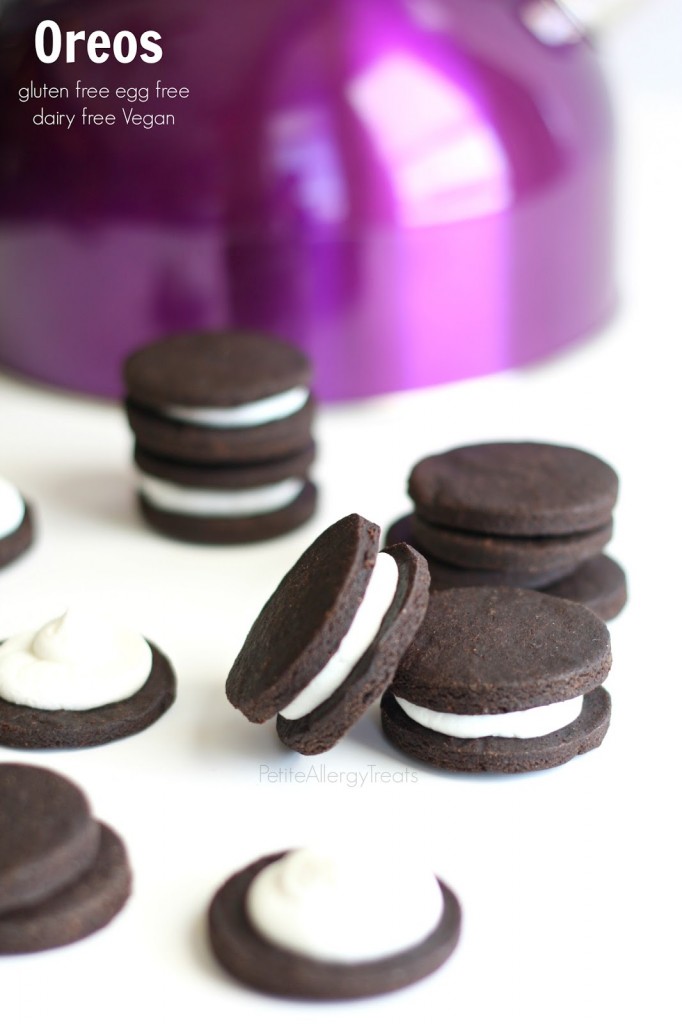 I had bit of an oops moment with these.  I didn't realize I needed an emulsifier for the missing eggs.  You'll notice some of the measurements are little strange and that explains it.  I'll keep working on this and get a revision the next time I make these.
Author Laura @ PetiteAllergyTreats
Ingredients
preheat oven to 350 degrees bake for 9-10 minutes
1 cup sorghum flour
1 cup +  1 T teff flour
1 cup + 2 T sweet rice flour
1/4 cup white rice flour
3/4 cup cocoa powder
3/4 cup non hydrogenated organic palm shortening
3/4 cup organic sugar
5 T milk of choice
1/2 cup applesauce
3/4 tsp xanthan gum
1/2 tsp baking powder
1/2 tsp baking soda
FILLING
2 cups organic powdered sugar
1/2 cup non-hydrogenated organic palm shortening
1 tsp vanilla
Directions
Combine all dry ingredients in a bowl and mix well.
Beat shortening, applesauce, milk, and sugar for 2-3 minutes.
Add dry ingredients.  Dough should be thick but not dry and crumbly.
Roll out between 2 sheets of parchment paper.
Cut into small circles.  Transfer to baking sheet.
Bake 9-10 minutes.  They will harden a little after they cool on the pan.
Filling Directions
Beat shortening until fluffy and add in vanilla.
Slowly add in powdered sugar.  Scrape sides of bowl and continue to beat until fluffy.  Filling will appear slightly dry.  You may add more shortening or milk if you want a smoother texture, however, the cookies may get soft if there is too much moisture.
Scoop filling into ziplock bag and cut off one corner to pipe filling on to center of cookies.
These freeze extremely well.  They were still crisp after I pulled some out after a few weeks.

Some other things you may like: