This easy Gluten Free Triple Berry Galette is bursting with berries.  It is also dairy free, Vegan, egg free, soy free, and peanut free/ tree nut free.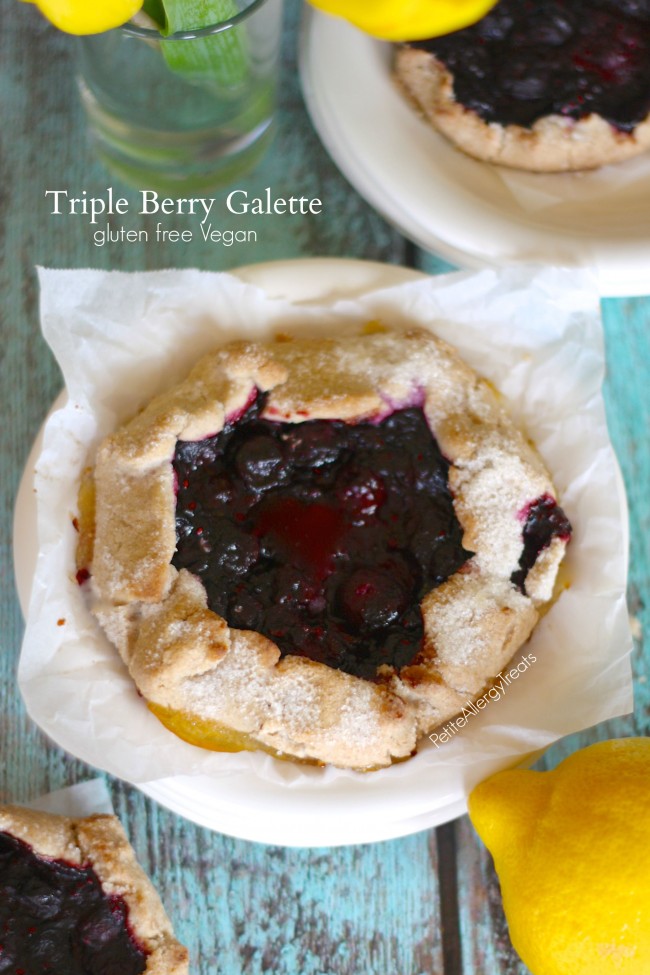 I think spring might finally be here.  This Gluten Free Triple Berry Galette will have you thinking ahead towards summer.  Berries are just one of those things that are great alone, but in a pie. is. just. GOOD.  Beautiful and vibrant in color, kids love them.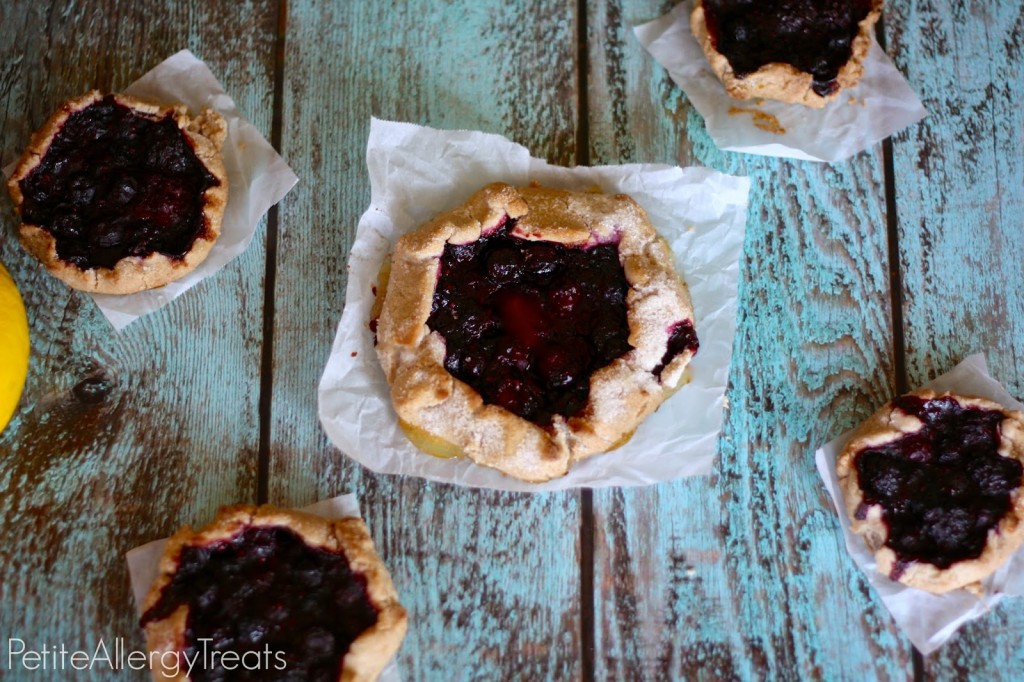 Have you tried making a rustic galette?  Or really I should be asking, have you tried making a gluten free galette?
Don't be scared.  I'll hold your hand and walk you through this simple version of a pie.
First, don't worry about messing this up. There will be cracks, not going to lie, but it will be ok.  Second, it's supposed to be rustic or 'not perfect'.  : )
Can you handle those?Ok.  Good.  Let's first talk about gluten free flours.
I'll be the first to admit, I don't like when recipes just state use a gluten free all purpose flour.  You and I both know this could mean the difference between fabulous or fail.
I make my own blends and always I try to be specific as to which one I use.  For this, Millet flour is key.  Sorghum would be another great flour to use.   I used my whole grain mixture.  (We have banned sorghum since Mr. N cannot tolerated it.)  If you don't have access to these flours, the results WILL be different.  It will probably be gummy and not have the best finished texture.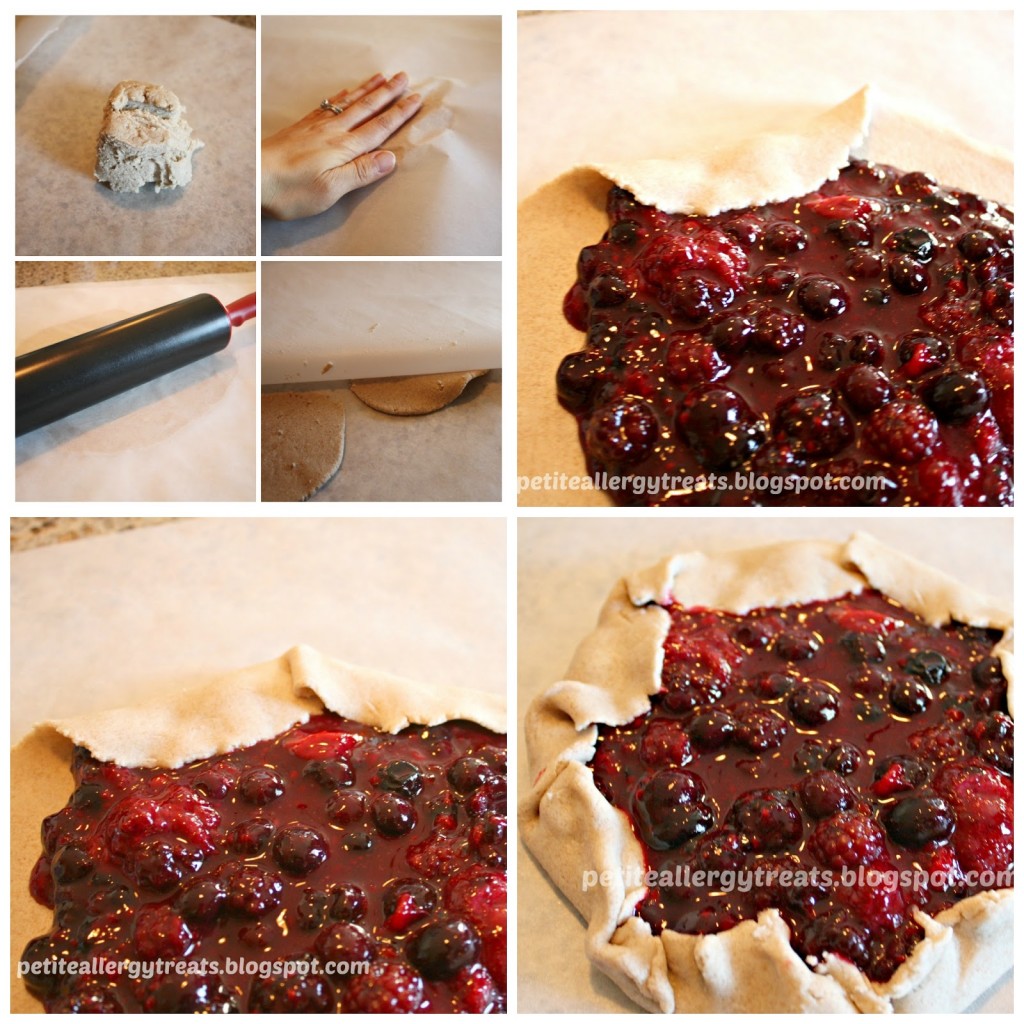 Could you use an off the shelf all purpose flour?
Of course.  But it will be different.
Either way, it's getting the courage to fold a gluten free dough, right?   I love this dough because it can be used for a savory or sweet pie.  I've made a dinner and dessert at the same time using just one dough.   My Zucchini Galette and Apple Galette were created together. Love a 2 for one deal don't you?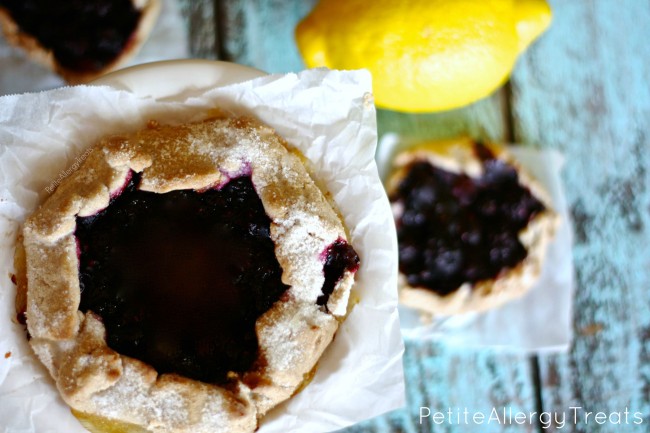 I hope you enjoy this Gluten Free Triple Berry Galette.  I'm still a little sick, so the extra antioxidants found in the berries are a great boost to immunity.  That and of course, pie is good anytime. : )  If you love galettes see more recipes.  Zucchini Galette and Apple Galette
Gluten Free Triple Berry Galette
Author: Laura @Petite Allergy Treats
Ingredients
Preheat oven to 425 and bake 10-12 minutes for mini galettes or about 18-22 for one large galette.
6 T non-hydrogenated palm shortening
1/3 cup milk of choice (use water only if needed)
1 1/2 tsp guar gum
1 T sugar + more for sprinkling the crust
Filling
2 10oz bags of frozen berries thawed
1/4 cup organic sugar
1-2 T fresh lemon juice
2 T cornstarch

Directions
Combine all dry ingredients.  Cut in shortening using a fork or pastry cutter.
Add milk and to form a dough ball.  Place in refrigerate covered in plastic to chill at least 30 minutes.
Start the filling by gently thawing berries in the stove top.
Once berries are thawed, add lemon juice, cornstarch and sugar.
Gently stir and bring to a boil.  Remove from heat to cool.  Berries will thicken.
Roll out dough between 2 pieces of parchment paper.  Peel off top layer and replace.  Flip dough over and repeat.  Move dough to baking sheet.  (You can't safely move this will the filling.)
Place dough on sheet and fill center will cooled filling.  Leave at least 1- 1/2 inches for crust.
Start by folding one flap of dough.  Continue until all folded.  If a crack happens- DON'T PANIC.  Just gently push crack together.  Rustic.  Imperfect.  It's ok.
Sprinkle crust with addition sugar a bake.  Allow to cool before moving or cutting.
Enjoy!
Some other things you may enjoy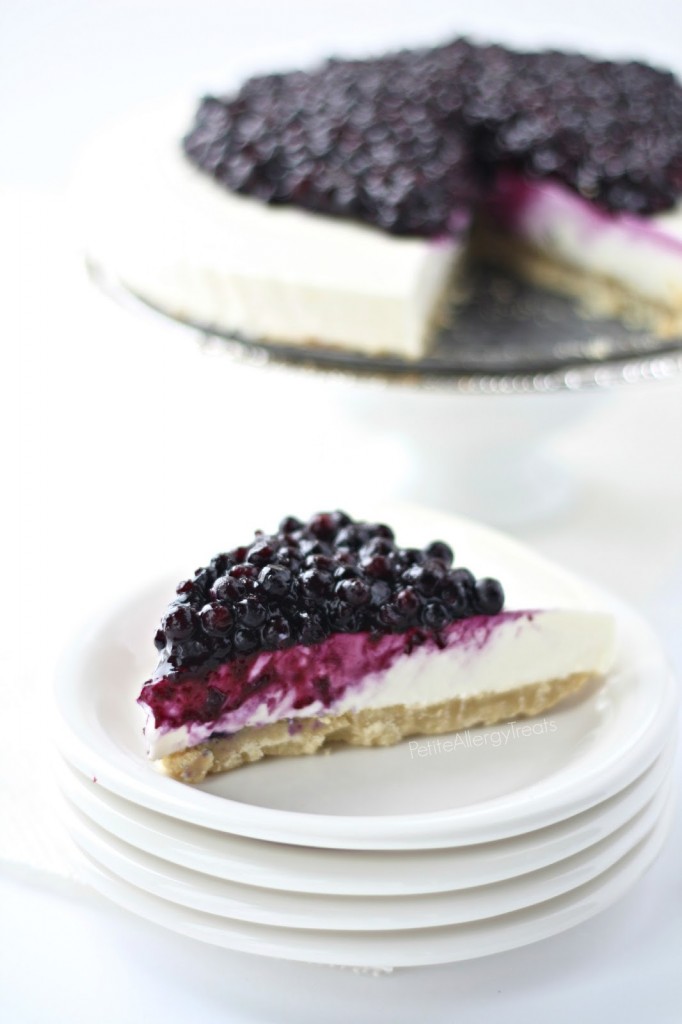 Gluten Free Blueberry Cheese Cake (egg free)