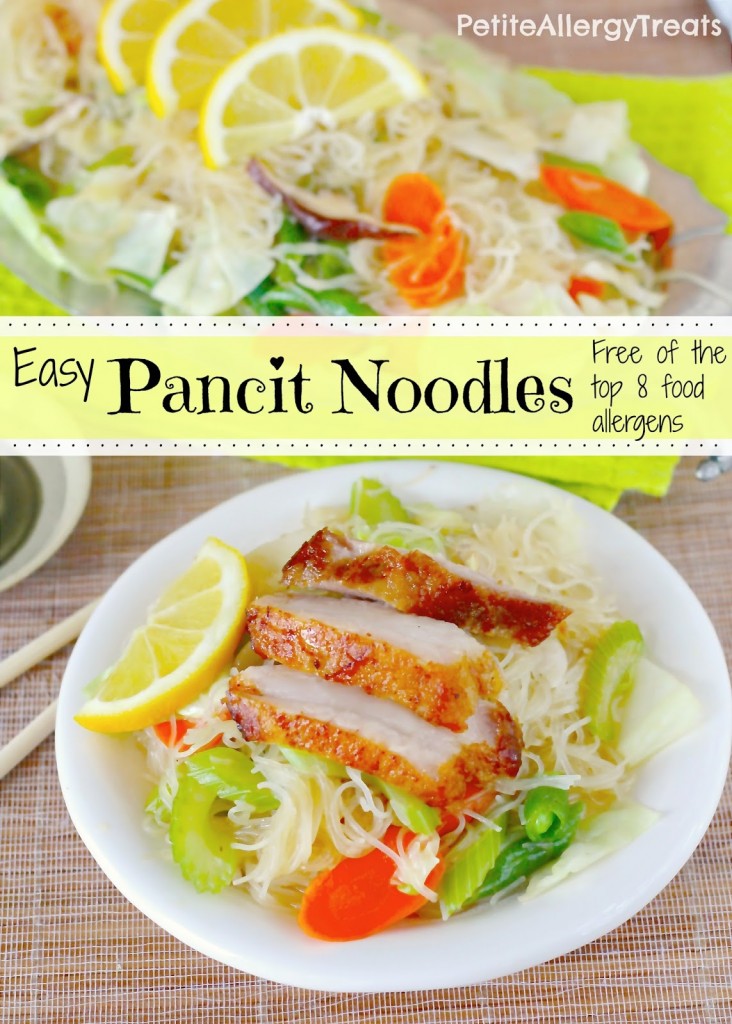 This Pancit Vegetable Stir Fry is another super easy dish that is naturally gluten free.  Traditionally it's considered a Filipino dish.  Grab your favorite vegetables and pair it will a protein to make this meal complete.
I told you all about my love for noodles the last time I told you about how much I love my local Asian grocery store.  You can see it here if you missed it.  Pancit noodles are another favorite of mine and similar to my Chap Chae Glass noodles.
Pancit is the Filipino word for Noodles.  It is recognized as the national dish of the Philippine Islands.  There is a vast variety of different versions depending upon the region.  I've heard of recipes calling for coconut milk or fried shrimp.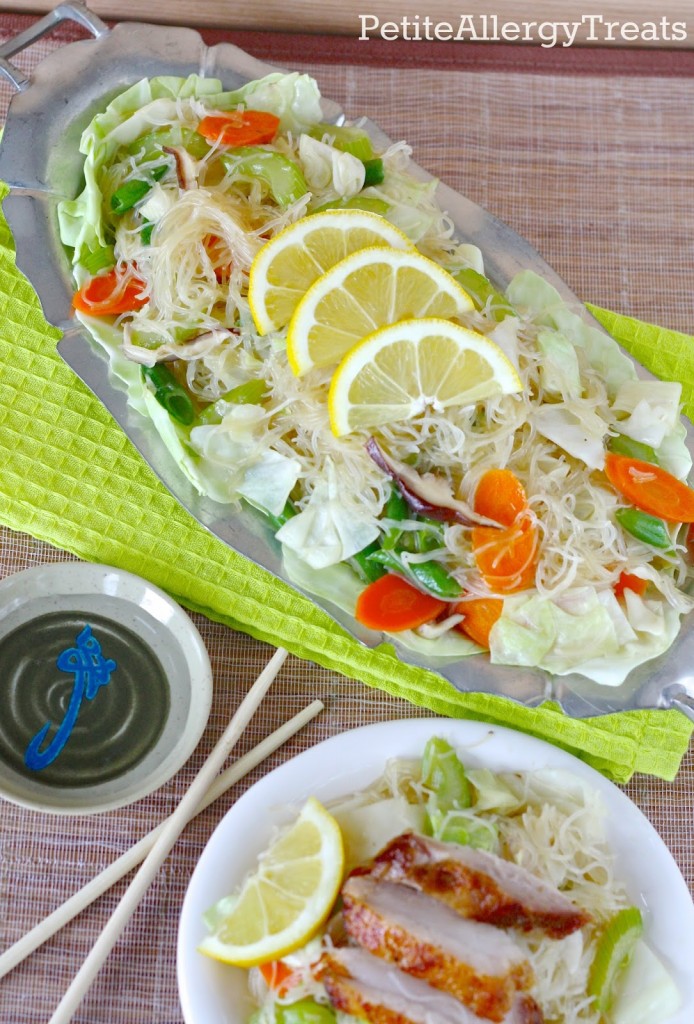 Our family's version is really my father in law's.  I had to modify it slightly to fit our allergy needs but it's pretty close.  The original version called for 2 different types of noodles.  One is made from mung bean vermicelli and the other was a wheat noodle that was similar to a straight ramen noodle.
These noodles look like a regular rice noodle commonly found in any grocery store, but be warned they are not the same.  Rice noodles will inevitably break apart and become mush.  Trust me.  I've learned this from personal experience.  They could work in a pinch but don't over cook them.  If you have other noodles you can use them too.  The most important thing to note is with mung bean or pancit noodles, you do not need to cook them ahead separately.
That's why I love this recipe.
This can literally throw this together in under 15 minutes using one pot.
I use my cheater method for the quickest easiest preparation.  Just boil the broth and add garlic powder instead of garlic.  Add a bag of your favorite frozen veggies.  Bring it back to a boil and add the noodles all in the same dish.  Stir while the noodles start to soften and absorb the moisture.  Once almost of the broth is absorbed, remove from heat.  The noodles will continue to cook little and will absorb the rest of the liquid.
The following is the 'fancy' or more traditional recipe (minus the soy sauce and wheat noodles).  The only real fancy part is chopping real carrots and celery on a diagonal cut.
I ended up using ready made pork belly I found at Trader Joe's.  It listed just four ingredients; it's fully cooked, just brown and serve.  Think bacon on steroids.  Extra thick and meaty with tons of flavor.  Serve this with your favorite protein.
Ingredients
4 cups chicken broth
1 package of  pancit noodles or mung bean noodles
2 garlic cloves
2-3 T oil
10 oz frozen bag of broccoli
1/4 head cabbage
1/2 onion
2 celery stalks
2-3 carrots
1 T molasses
salt to taste
fresh lemon juice
(Cheater Recipe and Method)- No chopping invovled
Bring broth to a boil and add frozen vegetables and garlic powder.  Add noodles and stir until moisure is almost all absorbed.
Directions
Thinly slice celery and carrots on a slight diagonal, set aside.  Coarsely chop cabbage to bite size pieces.
Smash garlic cloves and add to heated large pot to infuse the garlic.  Keep temperatures low so you don't burn garlic making it bitter.  Remove after 5 minutes.  Turn up heat.
Add chopped onion and carrots.  Stir fry for 1 minute.
Add broccoli next and stir fry 1 more minute.
Carefully pour the chicken broth and molasses and bring to a boil.
Add noodles and stir.  Noodles should soak up almost all of the liquid and will begin to break (breaking is good, normal).  Keep mixing.
When most of the liquid is gone, add the cabbage.
Serve immediately with lemon juice squeezed on top.  If you won't be serving immediately, add 1-2 T oil to help noodles from sticking.