These Crispy Baked Zucchini Sticks are a healthy side to any meal that are also gluten free, dairy free, egg free, peanut free, tree nut free, and soy free.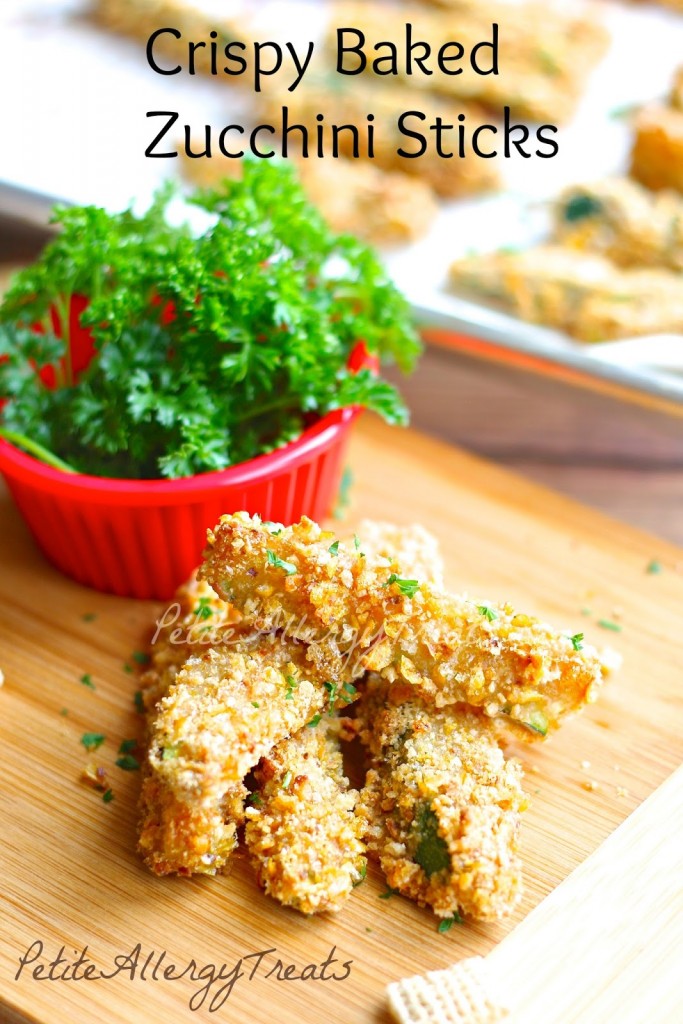 Summer is almost over but zucchini is still here.  I love going to the local farmers market and getting loads of fresh veggies for cheap.  I ended up buying two very large zucchini for only $1!  I couldn't resist.  It was close to three regular size squash.
What do you do with 6 lbs of fresh zucchini?!  Really, I'm all ears.  It won't last forever and the kids (Mr. Sir and Mr. Naughty) don't particularly care for it if they can see it.  My husband tolerates most vegetables with a polite look and no comment.
When in doubt find a way to "fry" it.  Anything tastes better fried right?  Every year our Wisconsin State Fair has a category for items that are fried on-a-stick.  Soo NOT even close to healthy…but still really good.  (Once in a while, right?)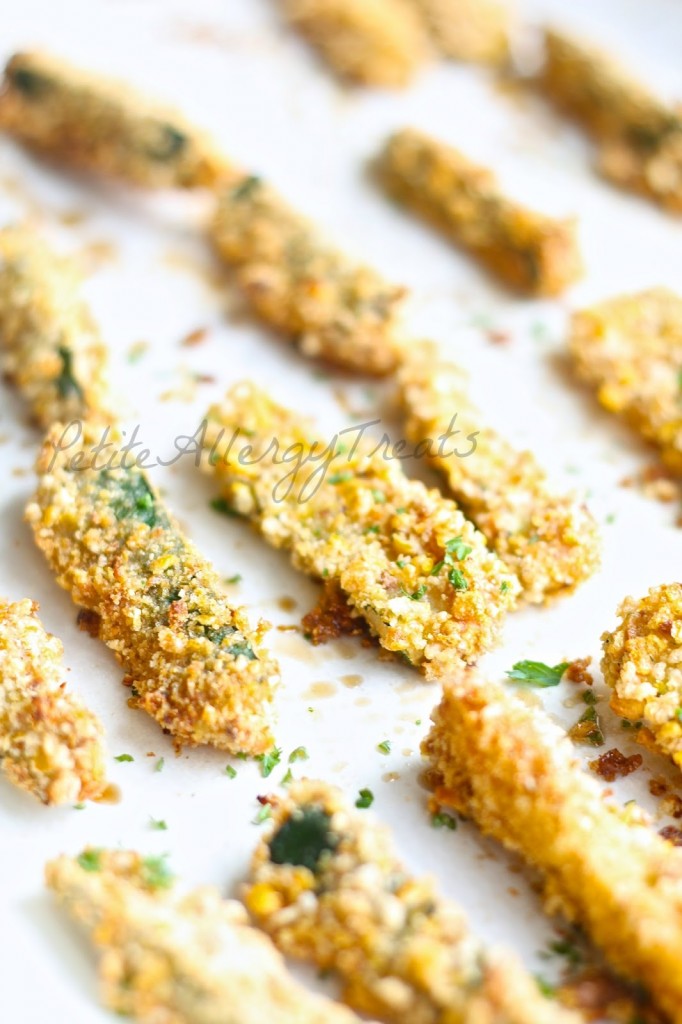 But back to my zucchini…  I decided to bread and bake it.  Much healthy and less guilt to finish the entire pan.  I use a whole grain based all purpose mix to boost nutritional values.  I found that it help absorb some moisture and the breading came out nice and crisp.
Gluten Free Vegan Breaded Zucchini Fries
Author:
Laura @ Petite Allergy Treats
Ingredients
2-3 small zucchini
1-2 cups rice chex cereal
½ cup dairy free milk of choice
¾ tsp salt
¼ tsp garlic powder
¼ tsp paprika
Instructions
Wash and cut zucchini into ½-1/4 inch sticks leaving the skin on.
Crush cereal in a bag and set aside.
Mix gluten free flour and spices together in a small bowl.
Create an assembly line with separate bowls of gluten free flour, milk, and crushed cereal.
Dip zucchini in milk and dredge in flour. Then re-dip into milk and into cereal.
Place on an oiled baking sheet.
Bake at 350 degrees for 15-20mins until golden brown.
Serve with your favorite marinara sauce.
Some other things you may like: