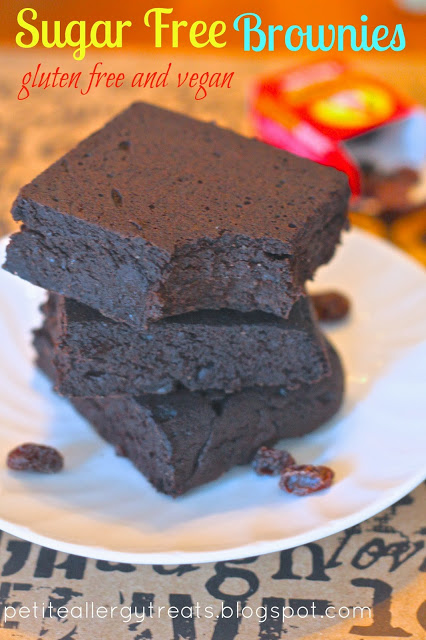 I'm excited to share some of my experiments! I've been trying to bake with less sugar and fat to make
things healthier but still tasty and delicious. I used a secret ingredient to make these brownies. They're loaded with iron, fiber, and no added sugar! As an added bonus, it acted as a binder and emulsifier too. The best part is you probably have these in your pantry right now. It's…. Raisins!
I'll be the first admit, I'm not a huge fan of raisins. I can take them or leave them. The kids love them, so I keep them on hand for snacks and lunches. I was packing Sir's lunch the other day, I started nibbling on some. I had forgotten how sweet raisins were. That's when I got the idea to use them as the sweetener. Complete bonus that raisins contain pectin to emulsify the fat in place of egg.
I ended up pureeing 2 cups worth so I could try a few different recipes. Just an FYI, did you know that raisins are very, very sticky? So sticky in fact, it can burn out a food processor's motor.
Yep. Mine died. I mean reeeally died. The poor thing was smoking and everything! I guess you shouldn't fill it all the way to the top with food. I'm sure it says this somewhere in the direction manual but that's another thing about me. I just can't seem to follow directions… No. I can. Really. I do. Just not always in the kitchen. If I think I know better, I'm going to try it my way. This would be the second mini food processor I've killed. Needless to say I haven't learned my lesson 🙂 But another good thing about it being so sticky was I was able to omit the xanthan gum and egg replacer. Double bonus.
Since the processor ended up dying before I was done, I wasn't able to achieve a smooth puree. It had some coarse chunks throughout. It actually made the texture better. Not quite like chocolate chips but it added a little something. I didn't use a mixer and thought mixing the batter by hand would be good because:
1. I never like to make more dishes/things to clean if possible.
2. My arms needed a workout (not really but with my luck, my hand mixer would be the next thing to start a fire).
3. Simple is the theme for these (minus the darn food processing part).
These turned out to be like a fudgy brownie. The 2 T of shortening does wonders for the texture. I'm tempted to try these again with only 1 T. I'll get on that first thing tomorrow. Oh wait. I can't. I don't have a food processor…
Anyways, they turned out great! A rich chocolate brownie that you can sink your teeth into. My kids didn't mind the raisin flavor either. You won't feel guilty giving these to the kids or eating them yourself.
Try making these today! Just don't burn your house down by overloading your food processor.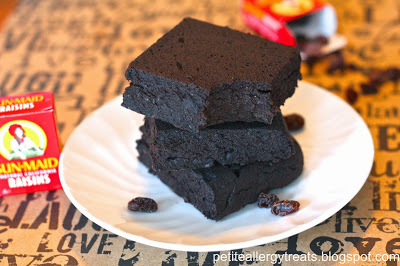 Ingredients
1 cup pureed raisins
2 T shortening or oil of choice
1 1/2 cup all purpose flour
1 1/2 cup milk of choice
3/4 cup dutch processed cocoa
1 1/2 tsp baking powder
Directions preheat oven to 375 bake for 13-20 minute or until toothpick comes out clean.
Chop raisins in a food processor until smooth. You may want to do it in 2 or 3 batches. The raisins are VERY sticky and caused my mini food processor to overheat and die 🙁
Mix all dry ingredients in a separate bowl.
Combine pureed raisins with shortening. Mix well. Slowly mix in milk.
Add dry ingredients until a thick batter forms. If it's too thick to stir, add an extra 1-2 T milk.
Pour into an 8×8 pan for extra thick or 13×9 for thin brownies.
Bake until tooth pick comes out clean, about 13-20 minutes depending upon thickness.
Just a follow up note: If your raisins are extremely dehydrated (hard) you might want to soak them in water first. How long? Eh, it depends. But not too long because you don't want them to absorb too much water or else the ratios will be off.