These Gluten Free Pumpkin Spice Donuts are perfect for breakfast anytime of the year. They are egg free, Vegan, peanut free, tree nut free and soy free.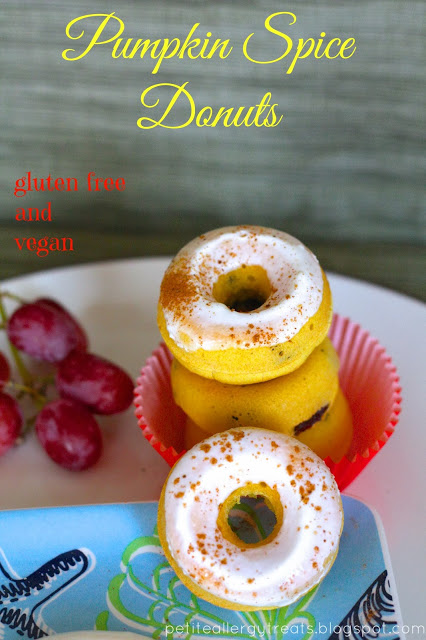 My in-laws have finally gone home and I really miss them. Things are slowly getting back to normal.
While they were here, I was actually able to get out of the house.
My husband and I were able to go on not just one, but TWO date nights! This is a very rare and special occurrence. We never go out alone. Never. Ever. EVER.
It was 3 years after our first son was born that we had our first date night. 3 years. Not because we didn't want to but for a number of reasons. The main reason being, our parents don't live close by and we have a hard time trusting complete strangers with our children.
The first date night was more of trial run since we ended up leaving the house around 9:40 pm. Most restaurants close at 10 pm and it was a Wednesday night. We ended up getting takeout and going back home by 10:15 pm. (I know, we're 2 crazy adults aren't we?)
The second time was better. We planned ahead and left around 9pm. We went to an Asian fusion restaurant. I was so excited! And for so many reasons:
I was out on a date with my husband! (always a win in my book)
I had the option of ordering a beer.
Soy sauce.
Wheat.
Dipping sauces.
Sometimes it's the small things that make all the difference. That and the fact that I never get out.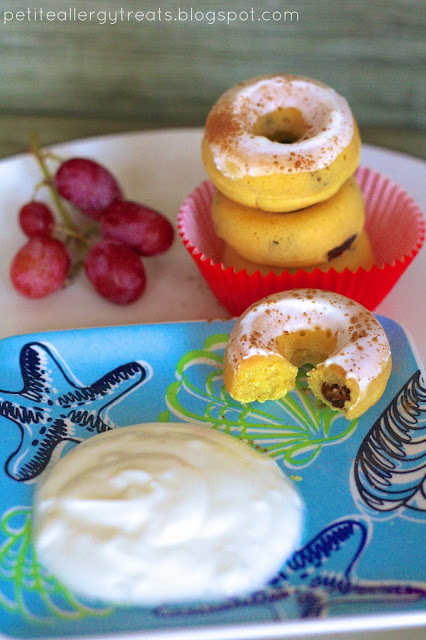 Yes, I cheated. But an important thing to know about me is, I personally don't have any food allergies. It's true. I switched my diet while nursing and up to this point haven't have the opportunity to cheat. And it was good. I won't be making this a habit though.
With my husband's parents around, I was also able to cook and bake more. Here's another great pumpkin recipe.
This are basically pancakes baked into a mini donut shape. There's hardly any added oil and sugar is optional. I opted not to add any sugar since I used yogurt as a frosting/dip.
Ingredients
3/4 cup brown rice flour
3/4 cup sweet rice flour
1/2 cup tapioca starch
1/2 cup potato starch
1 cup milk of choice
2 T canola oil
1/2 cup pumpkin puree
1/4 tsp pumpkin spice
1 1/2 tsp baking powder
1 T egg replacer
1/4 cup raisins (optional)
2 T sugar (optional)
Directions
Preheat oven to 350
Combine all dry ingredients in a bowl and mix well.
Add in remaining ingredeints and mix to form a thick batter.
Carefully pour spoonfuls of batter into donut pan.
Bake for 8-10 minutes. Repeat with remaining batter.
These freeze well and are great for on the go breakfasts!