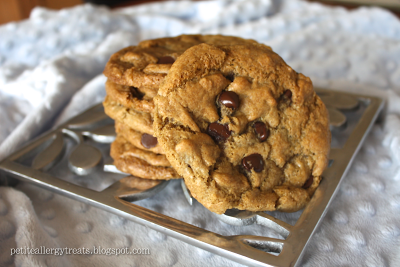 This started it all… Cookies. Ah, a nice warm cookie with the slight crunch on the outside. Soft and chewy inside. The chocolate chips still melted and gooey. So good. This is what I craved, after going gluten free. I dreamt of cookies. Good cookies. Not the gross store bought ones.
I tried several boxed mixes and recipes with "all purpose" flours. The results were less than tantalizing. Gritty textures, strange flavors, and big glycymic index. I literally could feel my blood sugar spike.
The boxed all purposed mixes were allergy friendly but lacked flavor and had the wrong textures.
Don't get me wrong about all purpose mixes. I like them. It saved my sanity at the beginning of going allergy free. But… Cookies need some extra love and attention, at least for me.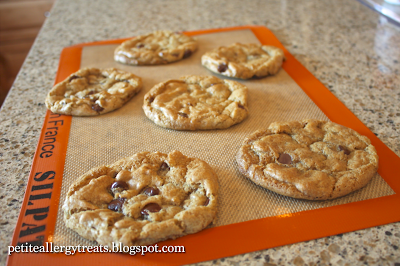 So the search for a good cookie became an obsession. I needed to find a chocolate chip cookie that really tasted and had the same texture that a gluten based cookie would have. I spent nights drooling over gluten cookies and the gluten free alternatives. I found some promising recipes only to be disappointed with the vague "all purpose" flour again. All purpose could mean anything. There was no desciption of the texture or flavor. I found that many of the other successful bloggers posted "suggested" pre-mixed flour. Just tell us what kind of flour was used to make the recipe. Right?
Well, after all that talk about mixes, in the end I used my own all purpose mix. Don't be mad. My is whole grain and has nutrition as well as fiber! Here's the
ratios
. I truly think these cookies could pass as regular cookies because of the texture the teff and millet create. So, you may chose to use any flour blend but you will not have the same results.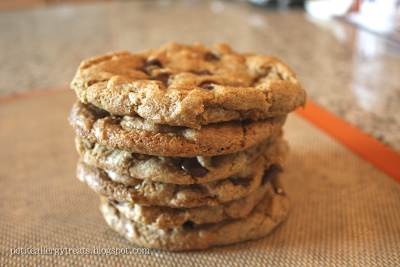 Ingredients preheat oven to 350 degrees. Bake 9-12 mins depending on size.
2 1/2 cup all purpose flour
3/4 cup vegetable shortening
1 cup sugar
1 T molasses
3 T milk of choice (milk, not water to add browning and moisture)
1 1/2 tsp baking soda
1/2 tsp salt
1 tsp xanthan gum
1 T egg replacer + 1/4 water
Directions
Mix flour baking soda and salt in a bowl, set aside
Cream sugar, molasses and shortening for 2mins with mixer. Add egg replacer and water. Mix an additional 2mins. *Add in Xanthan Gum and milk, mix another 2 mins (I like to add it now to help active it more effiecently with the most moisture.)
Immediately start adding flour or else the xanthan gum will absorb too much moisture. Mix 3-4 mins.
Add chocolate chips. Ideally, cover and chill in refrigerator for 30mins. Can't wait can you? (no worries, I couldn't the first time either :0)
Scoop dough on to parchment lined cookie sheet. Cookies will spread slightly so leave space. They'll spread more if your dough was not chilled.
Bake until edges turn golden brown.
Allow to cool on the sheet for 5 mins.
EAT and enjoy!