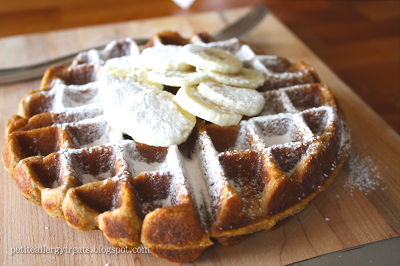 Breakfast fave! I love the first bite of a piping hot fresh waffle. Crisp on the outside. Chewy and soft
inside. So good you don't even need syrup to eat. It's hard not eat these before you're finished making them. Waffles have been the easiest transition to going gluten free.
For this recipe I decided to use some left over sweet potatoes I need to use to make space in the freezer. I simply baked them the day before and mashed them when I had the time to make waffles. They freeze rally well too for quick eats. Try them. You'll love 'em!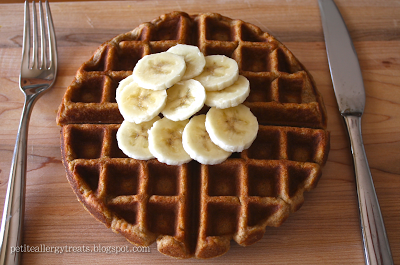 Ingredients
1/2 cup sorghum flour
1/4 cup brown rice flour
1/4 cup millet flour
1/2 cup sweet rice flour
1 cup cooked mashed sweet potatoes
1 cup milk of choice
1/4 cup canola oil
4 oz applesauce
2 tsp baking powder
1/4 tsp (slightly heaping) xanthan gum
1 T egg replacer
Directions
Preheat waffle iron to medium to high setting. Spray with cooking oil.
Combine all dry and ingredients and mix well.
Add mashed sweet potato, applesauce, milk and oil. Mix well. Batter will be thick. If too thick add 1 T of milk.
Pour batter and spread slightly to edges of waffle iron.
Cook for 4-5 mins. Waffle will be HOT. Carefully remove and allow to cool on cooling rack to avoid them getting soggy.
Enjoy!
These freeze extremely well and are a great quick breakfast for during the week. If freezing, allow waffles too cool completely first. Wrap individual waffles in a paper towel to prevent freezing together.