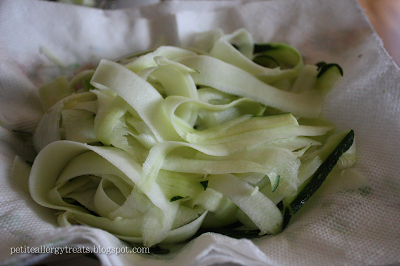 Getting the kids to eat green things can be challenging. Most kids love spaghetti because of the sauce
and noodles. I made this lasagna with zucchini as the main ingredients and told them it was noodles. Not once complaint. Nobody noticed it really wasn't noodles! My toddler loved it and kept asking for more "new-nes".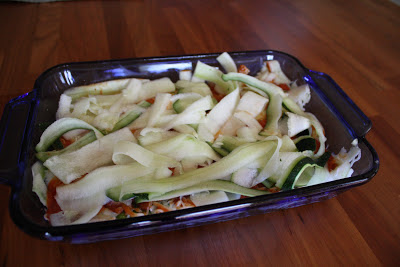 I made this ahead of time and baked later in the day. Another great thing is, it last a couple of meals and still tastes great warmed up. I used shredded cheese but I'm sure cottage cheese would work great too. So simple and easy to make. You may omit the cheese or add vegan cheese to make it dairy free and vegan.
Ingredients preheat oven to 375
2-3 small zucchini
1 half jar of favorite spaghetti sauce
1 1/2 cup shredded mozzarella cheese (reserve some for top)
Directions
Wash and peel zucchini into thin strips.
Place on paper towel and squeeze to remove extra moisture.
Layer a small amount of sauce in 13X9 baking pan.
Build a layer of zucchini followed by a layer of cheese then sauce.
Repeat layers and cover with reserved cheese.
Cover with foil and bake for 45-1hr or until cheese is melted and bubbling.