The following is a sponsored post from #CollectiveBias, Inc and its advertiser #
MyPicknSave
. All opinions are mine alone.
Get ready for the Big Game with these lighter Korean BBQ (Bulgogi) Lettuce Wraps. A delicious healthier dish that's also gluten free and soy free.
Korean Bulgogi or Korean BBQ is something you need to try. The unique sweet marinade has the perfect balance of soy, garlic, and a little sesame oil. That little key ingredient adds a huge depth of flavor that isn't overpowering. If you don't have a sesame allergy this is a must have ingredient. (More on allergies in a bit.) These small bites are great as an appetizer or for dinner.
Now that it's just about time for the last and final big game of the football season, I'm finding it difficult to keep my new year's resolution of eating healthier with all the parties. Food is always such big focus at parties and it's sooo easy to give in an indulge on pizza, chips and drinks. Love the atmosphere of friends, good food and watching the game, but not the all the calories associated with it.
Salads are typically the dieter's go to lighter healthy meal option but honesty, who serves just a salad at a party?
But then again, why not? Oh, that's right… because real men don't eat salads.
When it comes down to it, what kind of food do men like?


Meat. And lots of it.
What foods should they eat, yet usually don't?
Salad and vegetables. Am I right?
So let's pull a sneaky one. It's all in the presentation. I personally have no problem being sneaky finding new ways to get kids and husbands to eat more vegetables. (And if we're being honest, men can act like kids in game watching mode. They yell, jump up and down, scream, and throw fits when their team isn't winning.)
Combine salad with meat and here you have a genius appetizer or meal that's completely different than a salad but the same. (I'll give you some bonus points for sneaking healthier food for adults and kids alike.)
The lettuce is really the whole inspiration behind these Korean BBQ Lettuce Wraps. When I visited Korea, this was one thing everyone ate-everywhere. Just like your mom's spaghetti, there were so many different versions but one thing remained constant: large quantities of lettuce compared to the portion of rice and meat.
Like I said, it's a SALAD is disguise. 🙂
Alright, back to those food allergies. We have an allergy to soy, so regular soy sauce and gluten free soy sauce really isn't an option for us. Thankfully, Pick 'n Save has all my favorite ingredients like beef broth, molasses, garlic and vinegar to make our own gluten free soy-free version. As for the sesame allergy… We're still looking to recreate that taste. You'll notice from the picture's I didn't use sesame seeds.
So just how did I know the quanities then? From memory. Nothing but obsessive memory of how I used to make this pre-allergy life. (Yes, this Bulgogi is that good!)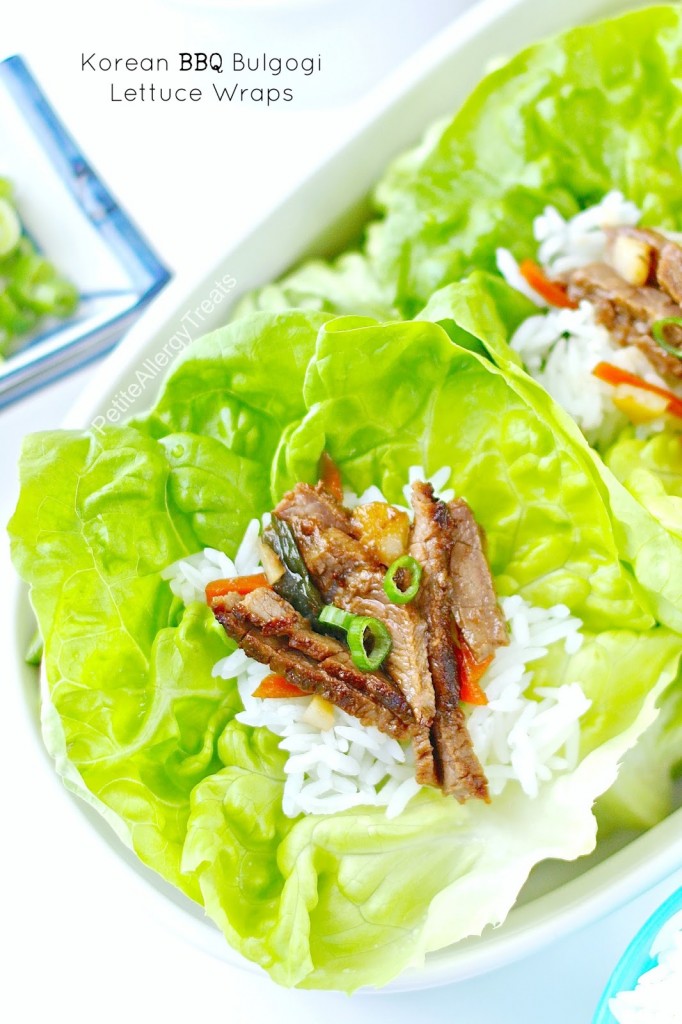 Are you hosting any football parties? I'd love to hear what your cooking up.
Korean Bulgogi Lettuce Wraps
Author: Laura @ Petite Allergy Treats
Ingredients
2 lbs Black Angus Boneless top sirloin steak
1/2 cup soy sauce (use 'Soy Free' sauce for soy allergies)
1/2 cup white sugar
3 carrot large carrots
3 garlic cloves minced
4 green onions (reserve 1 for garnish)
3 T sesame oil*
1/4 cup sesame seeds*
1 can whole water chestnuts
1/2 tsp salt (optional if using reduce sodium soy)
Boston Butter lettuce
cooked rice
oil for frying
Directions
Slice meat as thin as possible-against the grain or perpendicular to the fibers of the meat. One cheater way I use all the time is ask the Meat Department to cut it for you and if you're lucky they'll have a deli slicer to achieve that paper thin thickness.
In a bowl, combine salt, soy, sugar, minced garlic, sesame seeds and oil over meat. Stir to coat. Cover while you chop vegetables.
Wash carrots and green onions. Cut carrot into thin julienne slices. Cut 3 green onions into 2 inch thick sections. Dice water chestnuts and add all vegetables to meat. Gently stir to coat. Cover and allow to marinate at least 4 hours or overnight.
Heat a pan to high heat with oil. Use a pair of tongs to add a little meat at a time. Depending on how thinly sliced the meat it, it should be cooked about 2-3 minutes on each side or less. Watch for scorch marks since the sauce contains sugar. With a clean pair of tongs, move meat to a new bowl and allow to cool and rest. Continue this process until all meat is cooked.
After meat is all cooked, add any remaining liquid left from marinade to the pan. Cook on high for 3 minutes, liquid will slightly reduce. Pour over finished meat.
Optional– Allow meat to cool and thinly slice again into smaller strips to help encourage smaller portions of meat with each lettuce leaf.
Wash lettuce and build your own lettuce wrap with a little rice and meat. The traditional way to eat these is to fold the lettuce as small as possible and eat in one bite.
Notes: This recipe would be great with alone or over rice for more of a meal. Feel free to add or subtract vegetables. Although it lists sesame, I did not use any since we are allergic but merely recreated this by memory. I used Boston Butter Lettuce because it was on sale but any lettuce will work. The traditional cut of meat is Ribeye but it can be a bit expensive. Make this the night before and keep warm in a crockpot the day of the game, less cooking and more fun with friends.

What will you be serving at the Big Game?