This shop has been compensated by Collective Bias, Inc. and its advertiser. All opinions are mine alone. #SendSmiles #CollectiveBias
Whether you're a kid or kid at heart, these Hawaiian Minion Mango Banana Whip cups are a perfect cool treat for the hot days of Summer.  These cute Minions are allergy friendly, free of the top 8 allergens, and are a fun craft perfect for a birthday theme.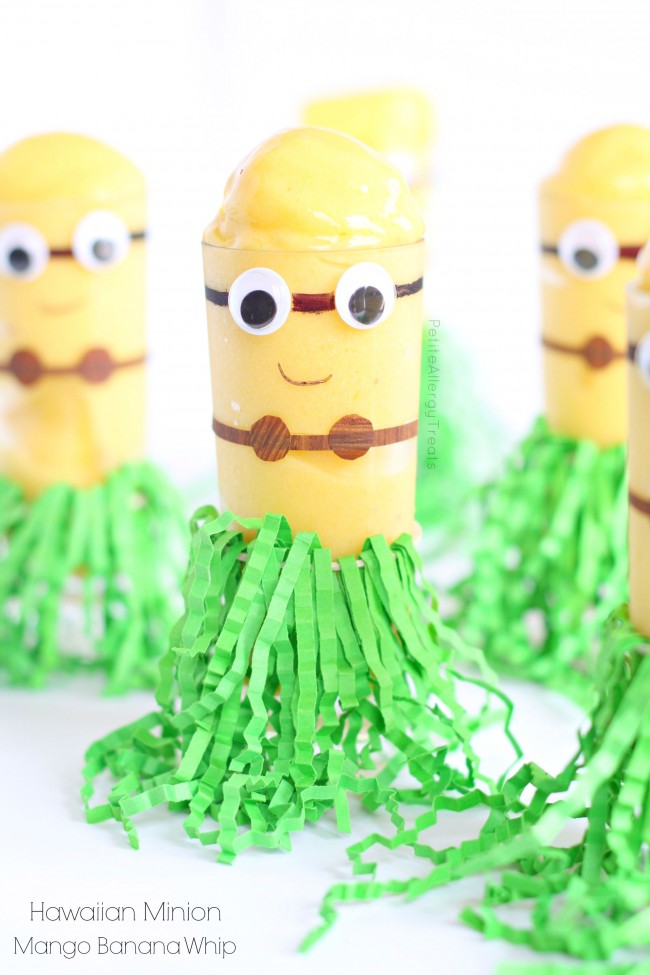 As Summer breezes past I find myself trying to slow down more and more with the kids.  This past weekend was super busy, including another birthday celebration.  It's hard to believe in just over a month, it's back to school and back to the daily grind.  I've been enjoying all of the Summer fun while it lasts.
Our time is usually filled up with lots of small day trips (usually on the weekends if my husband isn't working).  Last Monday, we did an historical boat tour of Milwaukee.  The kids had a blast watching the bridges open vertically, (the whole piece rises straight up without angling) over the river before heading out to Lake Michigan.  Little stay-cations are perfect fun and helps us stay connected to local friends and family.
BUT…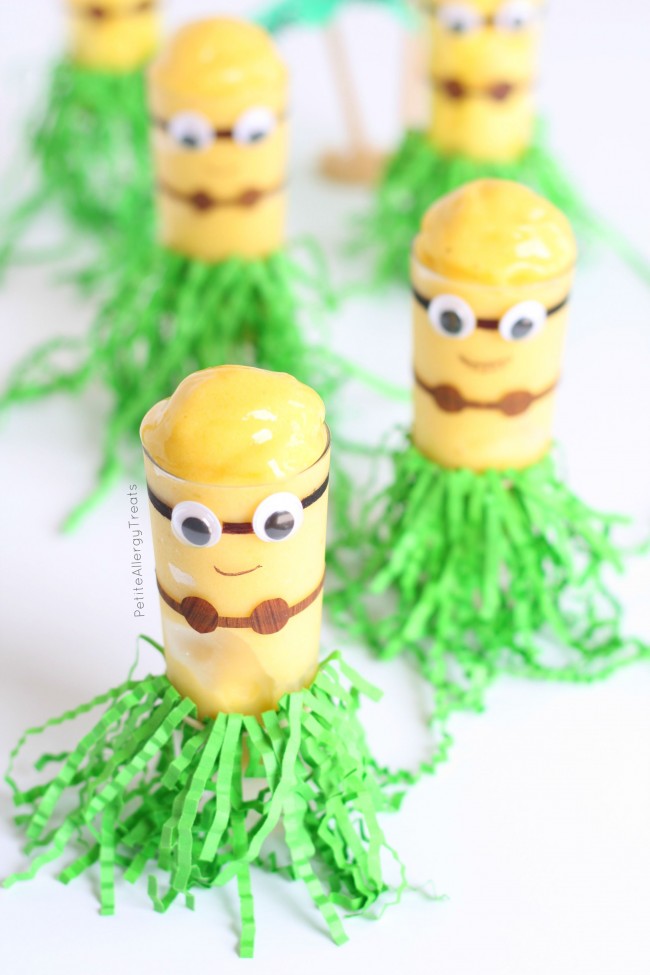 Another huge activity this Summer has been: Birthday Parties
The kids at my son's school usually don't celebrate birthdays with big parties or just quietly celebrate with a few friends and family….Not this year.  Every year is different, but this year seems to be that special year where everyone has a birthday party. Summer has always been the birthday season but lately it seems like every weekend we're celebrating someone's special day.  (And it really is special for a kid who's just turning 6 or 7. )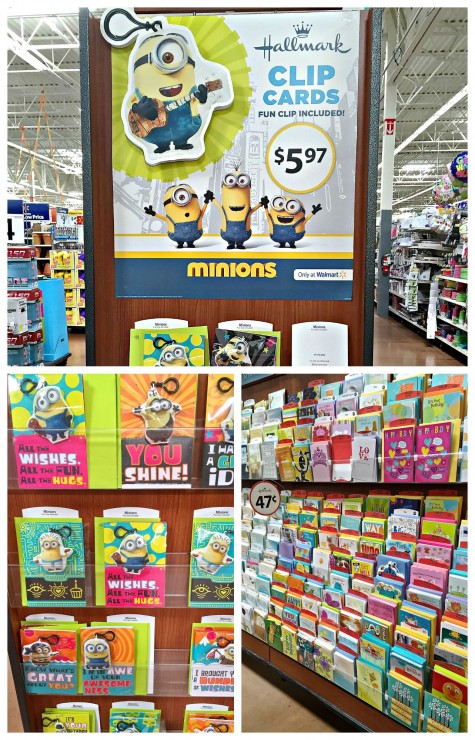 All those gifts and extras add up quickly and becomes expensive (we're attending parties almost every other weekend!)
We've made it a point to head to Walmart since everything is there, including Hallmark Cards starting at just 47 cents!  The cards are such a great deal and are appropriate for any occasion, especially birthdays.  The last time I was there, I stocked up on a ton of birthday cards to say myself future trips.  They are only 47 cents; there's always a birthday just around the corner…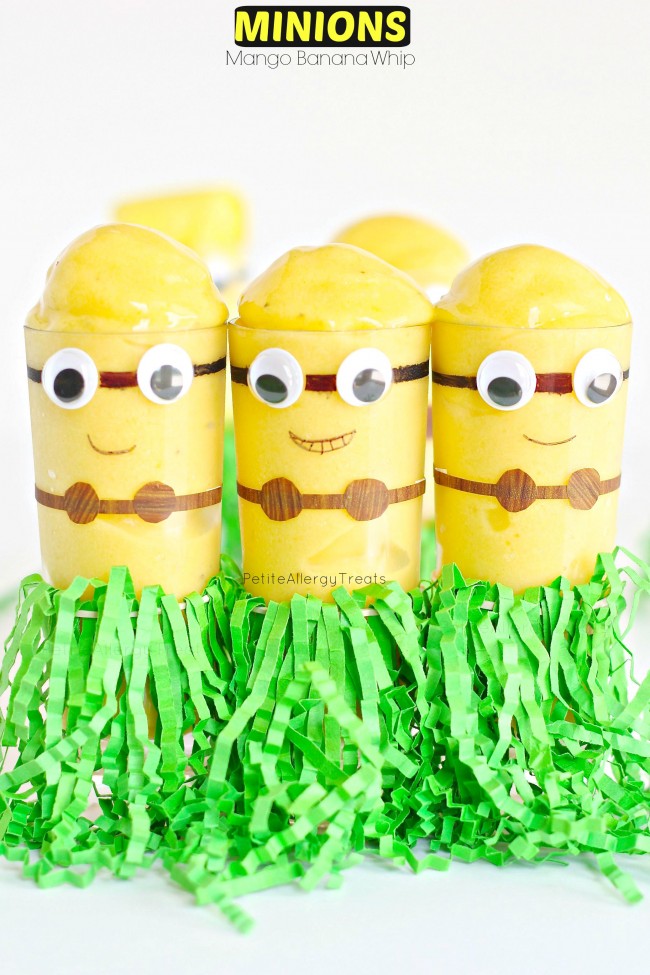 While we were there, we saw the new Minion cards… The kids adore the Minions and wanted to see all the cards since Despicable Me 2 is their favoite movie.  We still plan on seeing the Minion Movie in the big theatre, (it's part of our summer bucket list) but the timing just hasn't worked out.   The weekends are too full… Lol, too many birthday parties to attend!
All kids seem to love the army of yellow and I'll admit, ever since we saw Despicable Me, they've been a favorite of mine too.
The minions became a perfect way to keep the boys busy and out of trouble.  Play-doh used to be our fun hands on outlet but Mr. Naughty can't have play-doh with since it's made from wheat.   :-/ I have yet to create gluten free version of play-doh…possibly our next craft.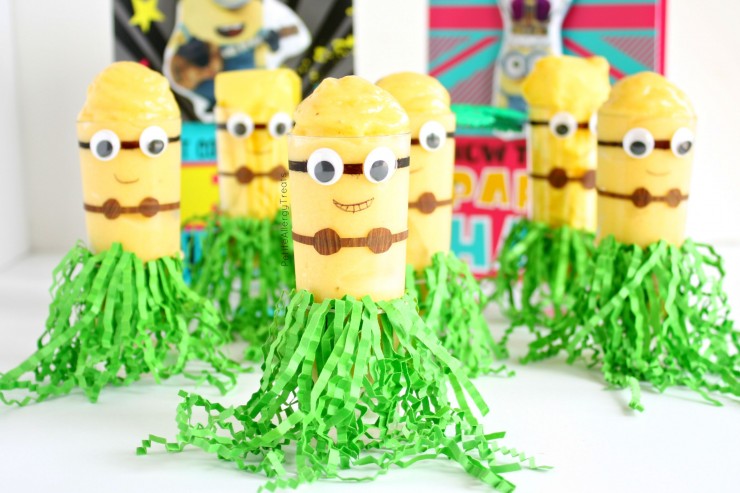 I used to love crafting and this hobby of mine has been rapidly tested over the Summer.  It's too bad I have boys, or else we'd be making tons of fun hair and accessory crafts… maybe I'll have my girl some day to fulfill this dream. 😀
Since the Minions were on our minds, we decided to make fun Hawaiian Minions and fill them with some Mango Banana Whip.  These cups were super easy and the kids loved helping.  We used plastic (or glass) shot glasses, green paper Easter grass, rubber bands, googly eyes, brown wood grain shelf liner, and a black marker.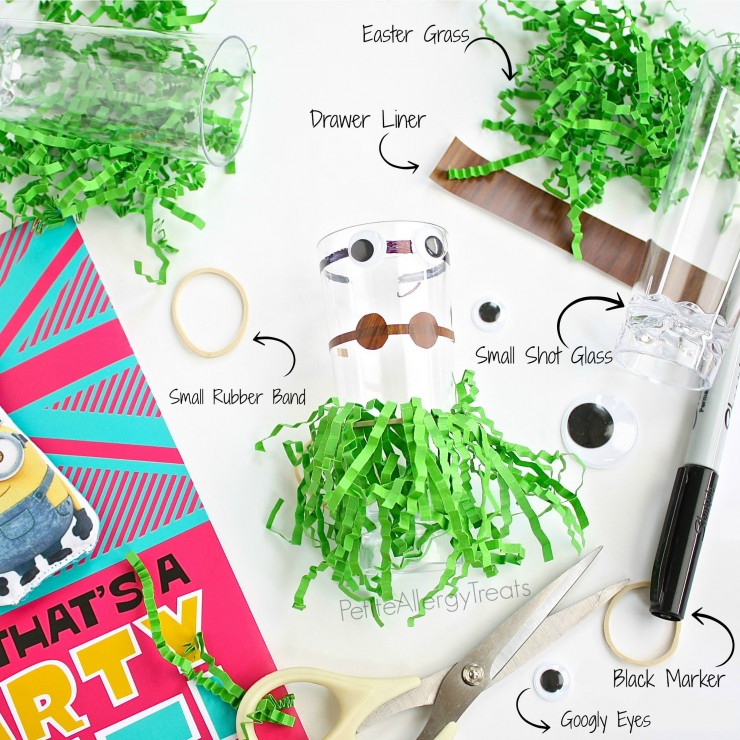 First assemble the grass skirt by creating a clump of grass and securing it to the glass with a the rubber band.  Next, cut thin strips and circles of the brown liner for the coconut bra.  Use a black marker to draw the band for the goggles and glue/tape the googly eyes in place.
Draw a cute smile and you're done!
I can just imagine a cool breeze with a ukelele playing a tune and the grass swaying… until you eat them.  Lol!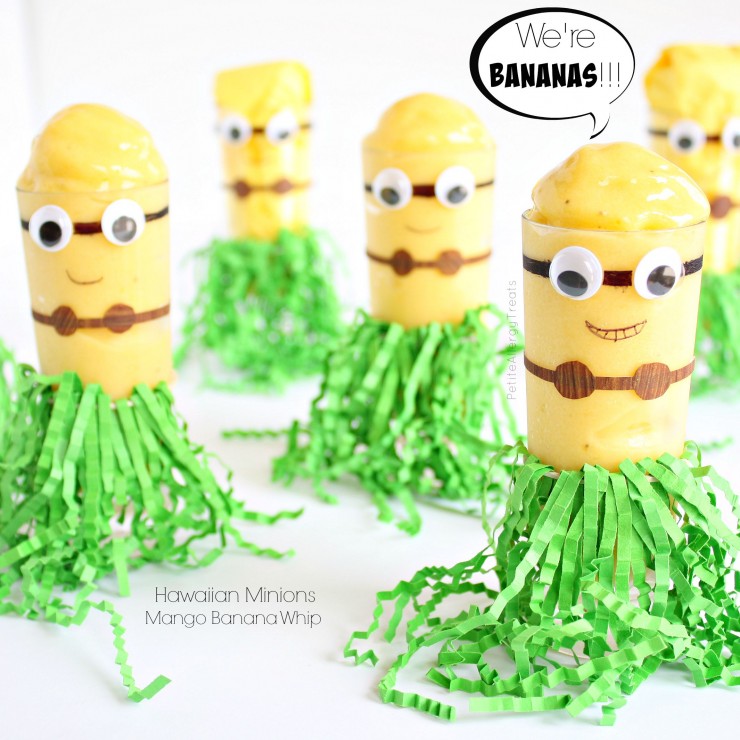 And the mango banana whip was so easy to make, throwing everything into the blender.  They are even dairy free and naturally gluten free, total win for the food allergy kids!
We'll be filling these again very soon since the heat wave continues.  We're off to another birthday party this weekend…
Find your birthday inspiration at Hallmark  and find the latest on Twitter and Facebook

Minion Mango Banana Whip
Author:
Laura @ Petite Allergy Treats
Ingredients
4 cups frozen mango
2 frozen bananas
¼ milk of choice
Instructions
Combine all ingredients in a high powered blender and mix until smooth.
Serve in a dish or DIY Hawaiian Minion cups (see instructions within post)