These Coconut Vanilla Poached Pears with Oatmeal are a simple and easy breakfast your family
will enjoy. They are Vegan, gluten free, soy free, peanut free, dairy free and egg free.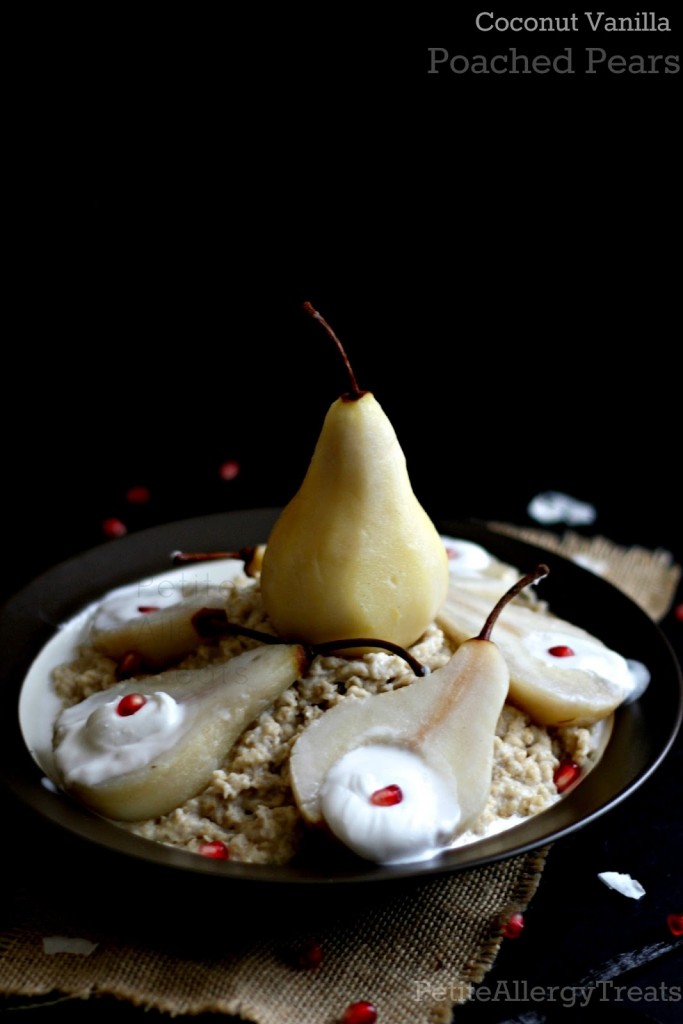 Thank you USA Pears for sponsoring this post. With fresh pear season underway, click here
to check out more pear recipes!


Cooler weather brings so many wonderful traditions like the fall harvest of apples and
pumpkins. But have you noticed another special thing that's happening this time of year?
It's fresh pear season! Being grown right here in the USA, makes these pears extra fresh and
full of nutrients.
I'm new to most of these 10 varieties of USA Pears. I remember eating only Bartlett pears
as a kid, since we had 2 large barlett trees in our backyard. One of my favorite things to do,
was collecting all the ripe pears into a basket and admiring my haul. I also remember the
day I received a phone call with the bad news that a huge storm had snapped one of the
pear trees in half by the strong winds. I didn't want to believe it. I even made my mom
send me a picture. I was so sad…
My kids also love pears. So much in fact, we usually just wash and eat them plain. I rarely
cook or bake with them but every year I see so many recipes revolving around poached pears. This
year I just had to try. I've seen plenty of other poached pear recipes using the traditional wine
and sugar liquid. But poaching pears has gained popularity with a huge variety of flavors and uses.
In theory, any liquid could be used to poach and infuse flavors from tea, coffee, juice, bourbon
or even beer. The possible are endless…
Juicy and ripe is typically the way to eat a pear…but not necessarily when poaching. Since
this was my first attempt at poaching, I had to research what makes a great poached pear. I
found the best pear for poaching is still crisp and firm. Instead of just guessing if it's ripe,
gently press the narrow part of the pear or "neck" with your thumb. If it's has a little give,
it's ripe.
This dish literally took me 15 minutes total to wash, peel, poach and serve. Poaching pears
is really simple, adds so much flavor and even looks special. I'm still finding new ways to
use coconut in practically everything we eat (still excited we passed our coconut food
challenge). Why not try using coconut cream, coconut milk and real vanilla bean to get our
poach on for breakfast?
Just bring your coconut milk and vanilla bean mixture to a simmer and add the peeled pears cut
in halves. Cover the pot and boil for about 10 minutes or until soft. Remove pears and
cover them while you add the oatmeal straight into the same hot pot. The oatmeal will thicken
in just 2 minutes and is ready to serve. Top the pears with some reserved coconut cream for
what looks to be a decadent (but not calorie dense) breakfast your family will enjoy.
Ingredients
4 Bosc pears
1 can full fat coconut cream
2 cups coconut milk
1/2 fresh vanilla bean
1 1/4 cup certified gluten free quick oats
Directions
Combine coconut milk and 2/3 can coconut cream into a pot, reserve 1/3 of the can for later and place in refrigerator.
Cut open half a vanilla bean and scrap out the inside. Add vanilla and bean husk to coconut milk. Bring liquid to a boil.
Wash and peel pears. Cut in half and scoop out seeds using a melon baller or measuring spoon.
Boil pears until just beginning to soften, approximately 10 minutes. Use a fork or toothpick to check.
Gently scoop out pears, set aside and cover to avoid browning. Add oatmeal to the same hot liquid.
Stir oatmeal until thicken, about 2 minutes total. Pour into serving dishes and top with pears.
Stir thicken coconut cream from the refrigerator and top.
I was selected for this opportunity as a member of Clever Girls and the content and opinions expressed here are all my own.