This Strawberry Ice Cream Cake is a healthy dairy free, gluten free, Vegan, raw
peanut free, tree nut free, dessert that has no added sugar with a protein packed
pumpkin seed crust.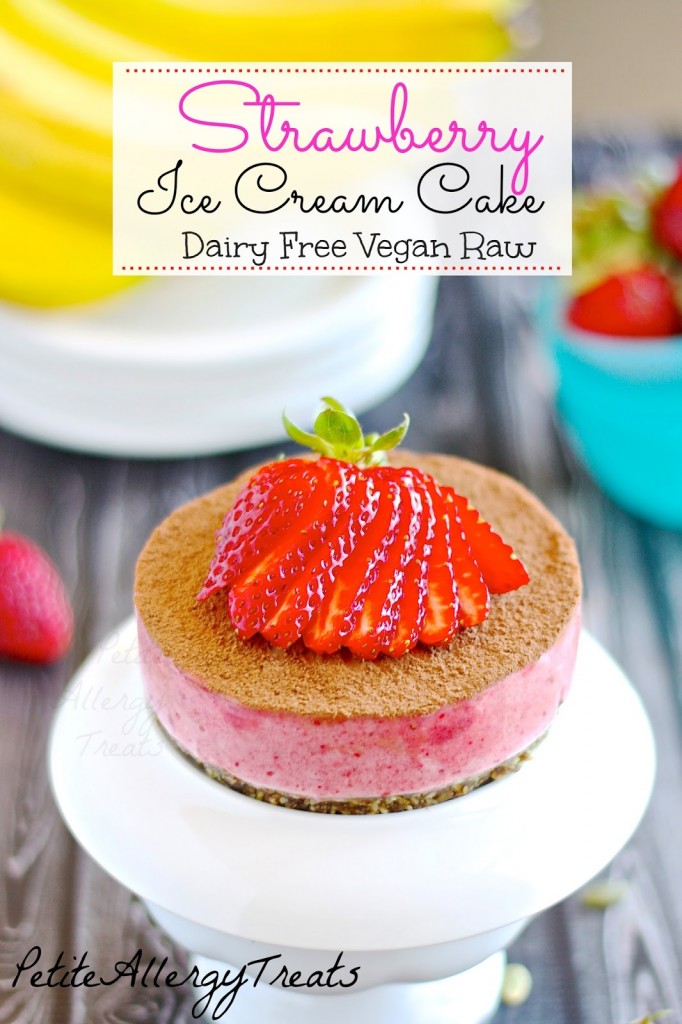 Summer heat is here I've been adjusting to having my son home from school. We
survived the first 2 weeks and got into a routine… and then we went on vacation. So now
we're busy trying to adjust again and I'm struggling a bit on how to keep current with
posting recipes here.
I was all set get this to you guys Monday and then a big storm came. And then another
reeeeally big storm came. Most of the city I live in lost power for almost
2 days. Thankfully our trees and power were spared.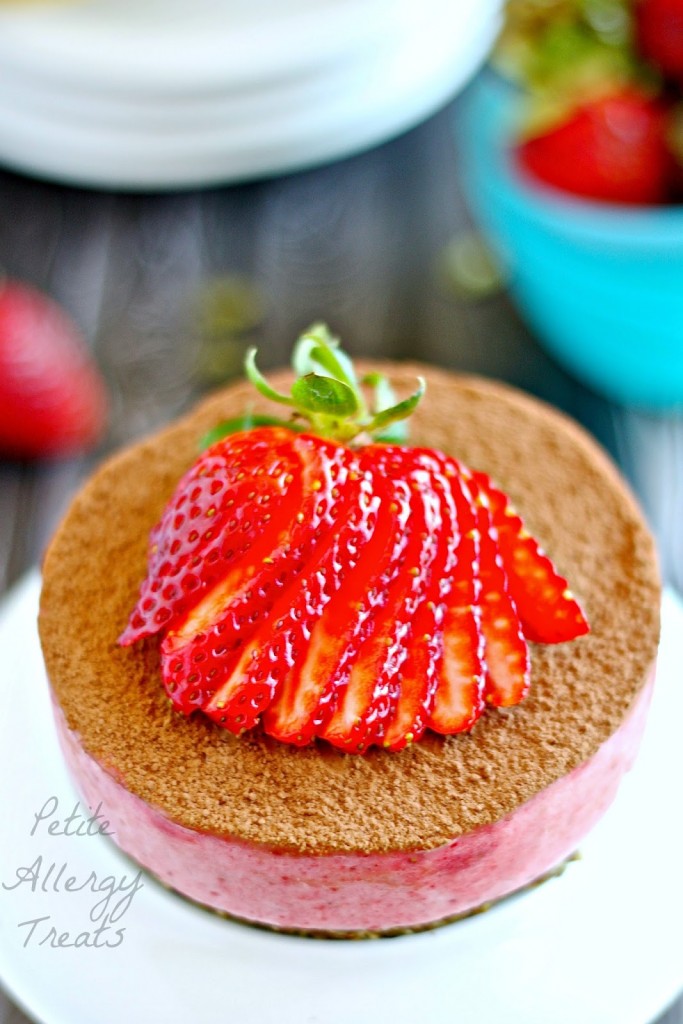 My kids are terrified of thunderstorms. I can't blame them, there only 2 and 6 years
old. Honestly, I get a little scared too. There's just something unnerving
about loud unpredictable cracks of thunder. Storms have always made
me uneasy.
Random Fact: As a kid, I remember shaking (alone) in my bed through storms.
My parents didn't allow me to come into there room. Ever. I think it's partly why
when the kids are scared; my husband and I are there for them 100%.
my 6 year old's room until he fell deep asleep around 1 am. Of course, I
was waaay too comfortable at that point to get up and go back to my bed. 🙂 It
didn't take long before I was woken up by a sad scared little voice crying "Mommy
I scared! Mommy I scaaareed!" It was Mr. Naughty, who was trembling with
fright from the cracking thunder of another storm. Off to Naughty's room. I was there
at least until 3am. 🙁 Poor guy. I felt so bad for him.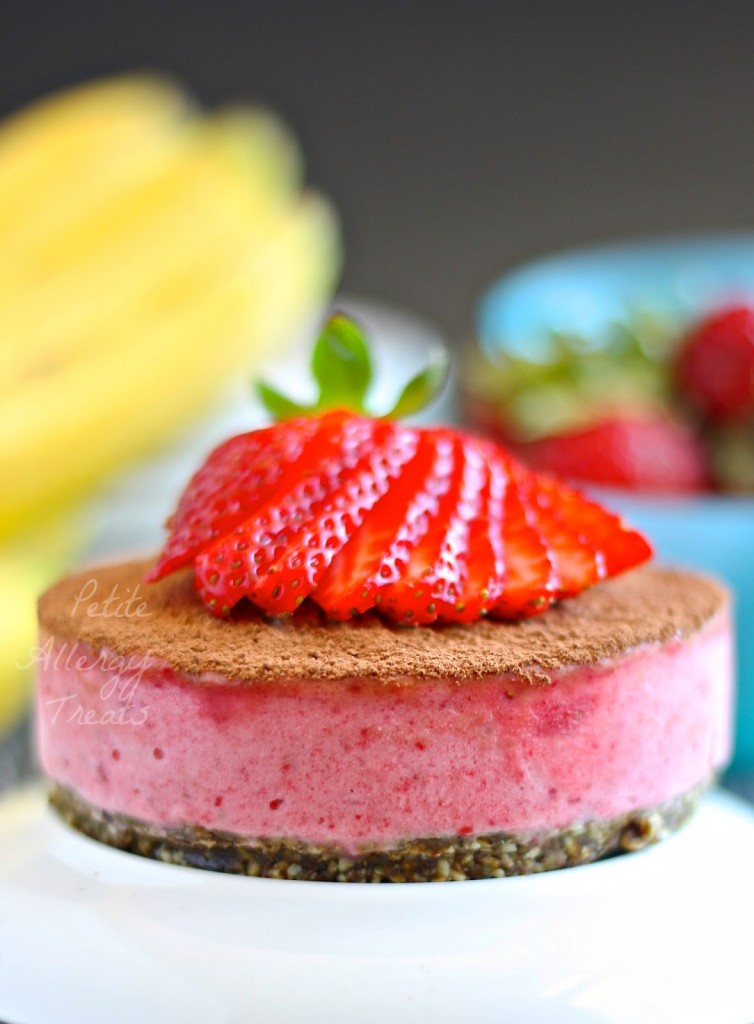 So, it's going to be a looong stormy Summer tornado season… But I'll always be
there for my kids 🙂
Here's an easy healthy frozen treat to cool off with. Just frozen pureed strawberries
and banana for the filling, dusted with cocoa powder. AND I am so excited to add
extra protein with the safe pumpkin seeds from Super Seedz. I have a few more
recipes I've been creating with these seeds so stay tuned.
Enjoy!
Strawberry Ice Cream Cake
Author: Laura @ Petite Allergy Treats
Ingredients
1 cup strawberries (freeze first)
1 cup banana (about 3-4 frozen large bananas)
1/2 cup shelled pumpkin seeds (I used Super Seedz)
1 rehydrated prune
cocoa powder for dusting
Directions
Puree frozen banana in a blender or food processor until smooth and creamy. Place in the freezer. Without cleaning the blender pureed the strawberries until smooth. Add banana back in and blend until mixed. Place in the freezer. Clean blender.
Rehydrate a prune by placing in water overnight or submerge in water and microwave for 2 minutes and let stand until soft.
In a blender or food processor pumpkin seeds until a coarse texture. Add in prune and blend until just combined.
Press mixture into a single 8 inch spring form pan lined with parchment paper or divide in half equally in 2-4 inch spring form pans.
Pour strawberry banana puree on top of crust and freeze for 4-6 hours or until set. Thaw 5-10 minutes before serving. Enjoy.
Notes: This should work with blueberries, blackberries, raspberries etc. I have not personally
tried this yet… Special note for the pumpkin seeds: Super Seedz in produced in a
completely nut free, sesame, sunflower free facility. If you havea nut allergy, the Super
Seedz with Sea Salt is safe.
Some other things you may like: