The following post is a book review. I was not compensated for this post but was given a complimentary book in exchange for my honest opinion.

I was very excited when I received this book. The book is called "Sweet Debbie's Organic Treats: Allergy-Free & Vegan Recipes". The author is Debbie Adler, who is also the owner of Sweet Debbie's Cupcakes in Los Angeles California.
Debbie knew she wanted to help more families that did not have access to her bakery (although they now ship nation wide). She wrote down all the wonderful things she learned about baking with allergies and made a book. The book features recipes that are all free of the top 8 food allergens. That means each recipe is: wheat-free, egg-free, dairy-free, soy-free, peanut-free, tree nut-free, fish-free and shellfish-free. Creating baked goods without eggs can be quite a feat, let alone with no gluten to help hold things together.

She also uses the nutrient dense flours like Teff, Millet, Sorghum and Quinoa. No mention of brown or white rice flours. She broke the traditional mold of 30% starches and she made it work using whole grains! Be still my beating heart… Someone else who loves gluten free whole grain flours. 🙂
Debbie has been a pioneer for food allergies since the birth of her son. Like every family suffering from food allergies, Debbie saw the difficulty in finding safe foods for her son. Reading labels became a way of life. She didn't want to just find safe foods; she wanted foods that were nutritious. Debbie took it upon herself to learn about whole grain gluten free flours, egg alternatives, sugar substitutes and methods to add protein without using any nuts. With all her knowledge gained, she created nutrient rich treats that tasted great, but more importantly, were free of the top 8 food allergens.
I was happy to see Teff was part of her blend. Teff is one of my favorite gluten free flours that is rapidly emerging as the next super grain. I shall now refer to Debbie as: Nutritional Ninja-Mom. 🙂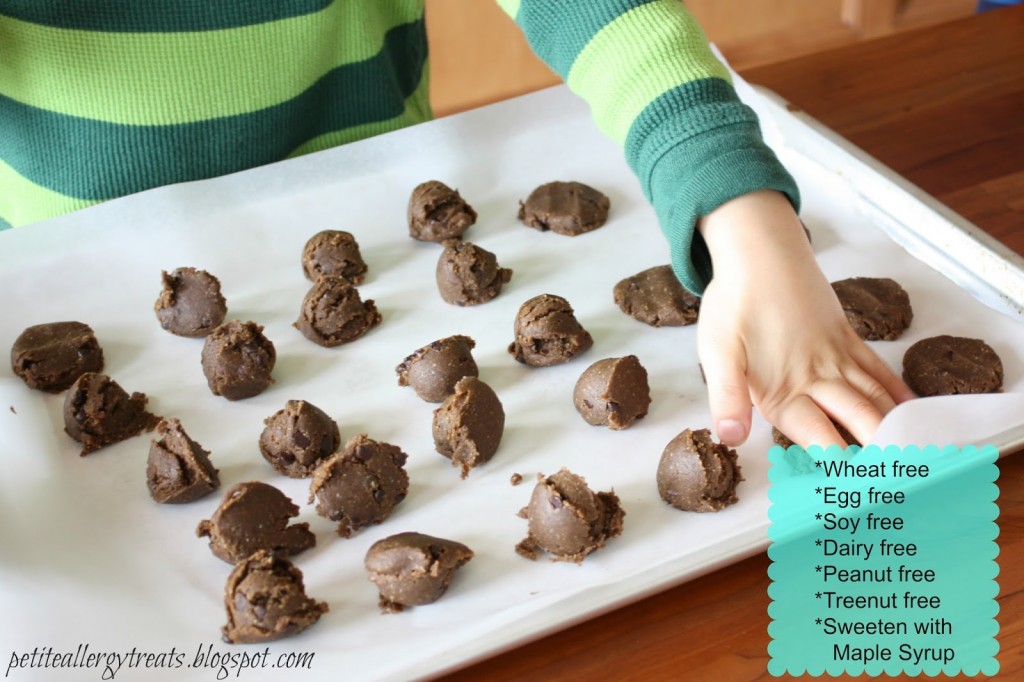 I asked my oldest son what we should make first. He immediately said "Chocolate chip cookies!" Like mother, like son. 🙂 I am a confessed Cookie Monster. Cookies are the one of the reasons this blog started. Actually, it's more like I love cookies AND I love sharing knowledge with people. I figured if I was going through the trouble of creating allergy safe meals, why not share them with all of you too, right? Sharing IS caring after all.
Because my son is allergic to Sunflower, I don't use the following sweeteners. By chance, I found all of them are very closely related to the Sunflower family. (Just thought I should mention this if you have an allergy to sunflower.)
Stevia
Erythritol
Truvia
Xylitol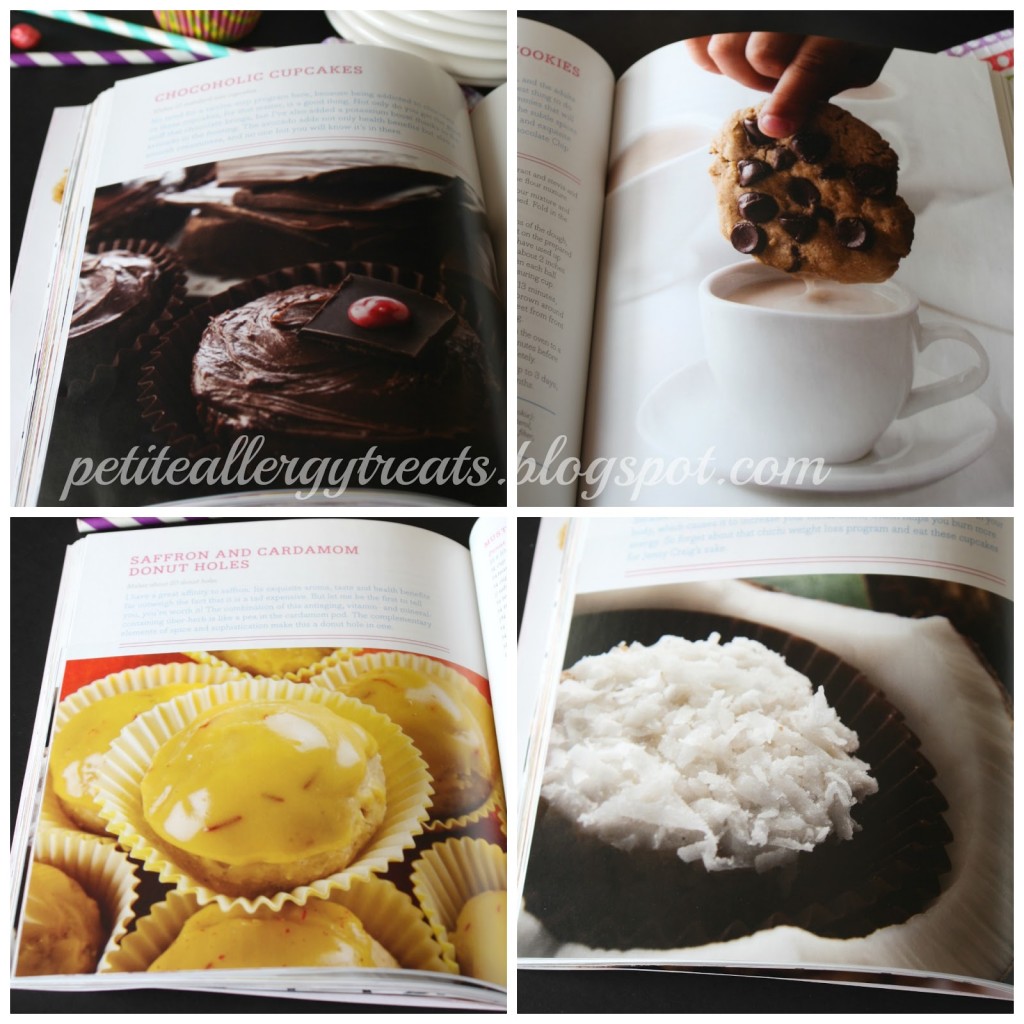 Nutritional Ninja-Mom (Debbie) also uses Coconut Nectar so I substituted maple syrup and a touch of molasses for the cookies. It was almost too sweet in my opinion. Even though we were not able to use many of the wonderful ingredients listed, they turned out great. So great in fact, there were none left for photos. I wasn't sure if the substitution would still lead to success, BUT it. did. not. matter.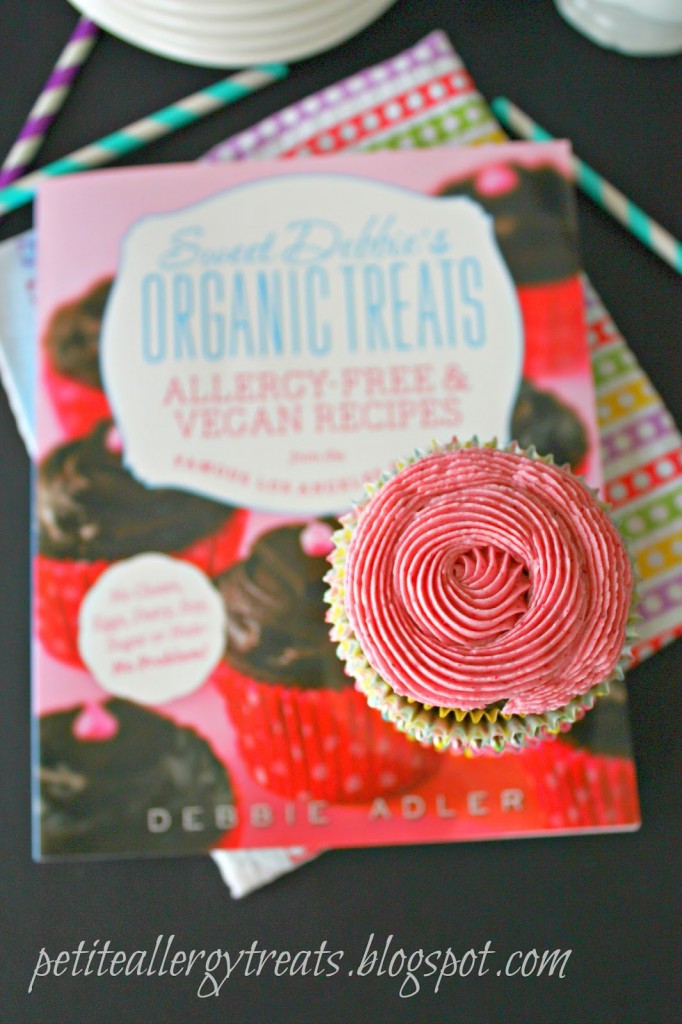 Noteworthy Recipe Features
Flours
One of the most unique features of this book is providing extra nutrtients within a treat by using whole grain flours. You won't find any recipes made in simple white rice flour or brown rice.


Sugar
All of the creations are sugar free and created using natural sweeteners. The main sweeteners used are: coconut nectar, stevia and erythritol.


Natural organic dyes
No artificial dyes at all, but great information on how to use natural colors from fruits and vegetables. She also includes tips to keep the colors vibrant.


Different treats
Not just cookies and cakes. Lots of granola power bars and some savory breads as well. Debbie has some wonderful recipes for whole grain breads containing TONS of fiber and nutrtients.


Our favorites
We love cookies, so of course we loved the Cosmic Chocolate Chip Cookies. Another favorite is the Chocoholic Cupcakes. Another huge recipe to mention is Homemade Chocolate Chips. Do you like the cupcakes in my pictures? Be sure to stop back and see my adapted version coming soon.
Where to Buy
If you can't wait to order this book try your local Barnes & Noble book store. If you don't have time or like to order online.
Amazon
has you covered and for less.
Overall
Pros: High nutrient rich flours with less starch, no sugar and over all healthy treats that are free of the top 8 food allergens. I truly admire the hard work Debbie has done perfecting her whole grain gluten free blend. I personally know how difficult this is, since I've had my fair share of epic failures.
Cons: Can't really think of any. Many flours suggested cost more but again, any flour blend will work. And you can always order flour in bulk through Amazon. The sugar substitutes may also a be harder to find.
To see the latest thing Debbie Adler is cooking up, follow Sweet Debbie's Cupcakes on Twitter, Facebook. Don't forget to enter for a chance to win this amazing book! THIS GIVEAWAY HAS NOW ENDED