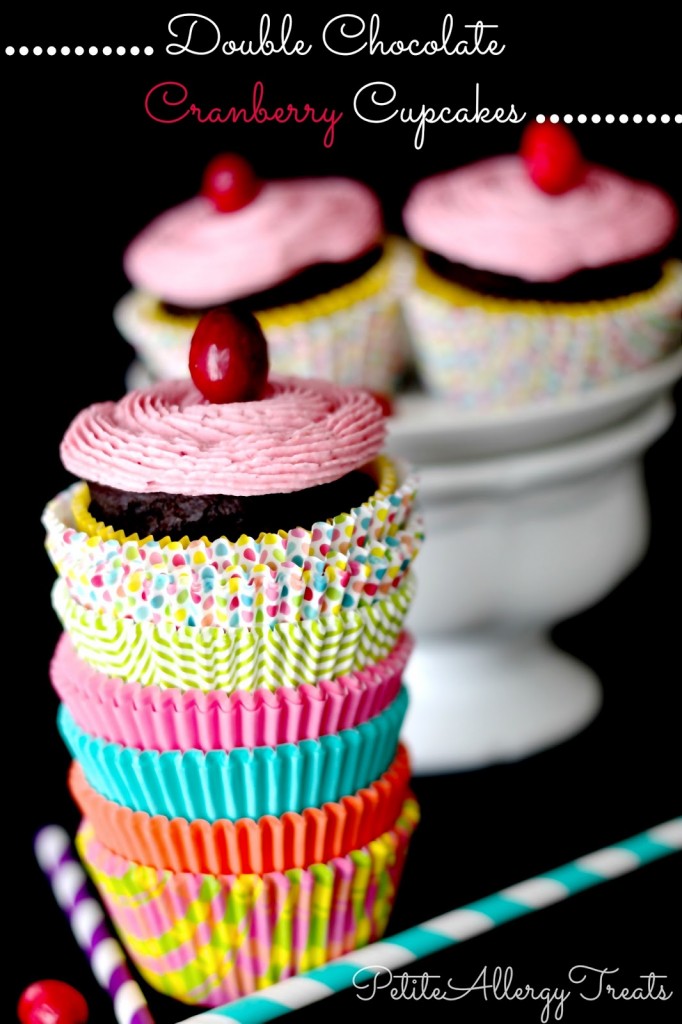 These gluten free whole grain double chocolate cupcakes with cranberry frosting, should impress
anyone. These were inspired by my previous post of the book Sweet Debbie's Organic Treats by Debbie Addler. So simple to make and the cupcakes were sweeten using maple syrup and molasses. Make sure you see my post for a full review of her book and enter for a chance to WIN your own copy.

You know I have sweet tooth, so I couldn't resist trying a bunch of her recipes. What's better to start with than a lovely chocolate cupcake? Everyone loves a good cupcake. Cupcakes should be light and airy, not gummy and heavy like some gluten free treats end up. A good chocolate cupcake is the chocolate chip cookie of cupcakes. So why not pack that deliciousness with some nutrients too? That's a win-win for me.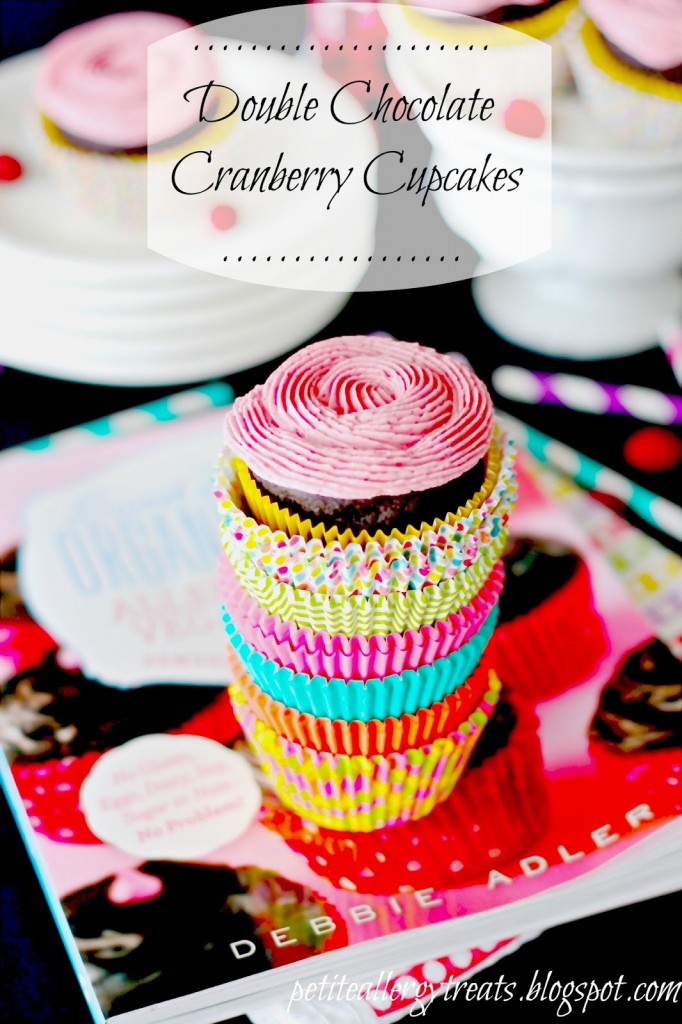 Before I share my version of Debbie's Chocoholic cupcakes, we need to sit down and chat about Dutch Processed Cocoa. If you've never baked with it, you're missing out. The dutch cocoa gives the deep rich chocolate color. If you've read the ingredients on the package it always mentions: Dutch Cocoa processed with Alkaline. Think back to your high school science class. Alkaline means: the pH is opposite of acidic or is basic.
Science and Baking Lesson:
Most cake and quick bread recipes, use leavening agents to achieve the proper texture and rise. Baking powder and baking soda are typically used, which always work best in a slightly acidic batter.
So what does that have to do with chocolate cake? Well, a lot actually.
If you use a large amount of cocoa processed with alkaline, it makes the batter less acidic or even basic. It won't make your cake flat or gummy but it won't take the batter to it's full potential either. Enter an acid. Sounds a little scary right? Nah, it just means you could add some type of vinegar or buttermilk to help the balance the pH in favor leavening agents. I've seen rice wine vinegar, apple cider vinegar and plain white vinegar added to recipes. This is reason for these. There is a need for more acidity. Joy The Baker does a great job of explaining more about cocoa powder and talks about the differences with baking powder vs baking soda and you can read her article here.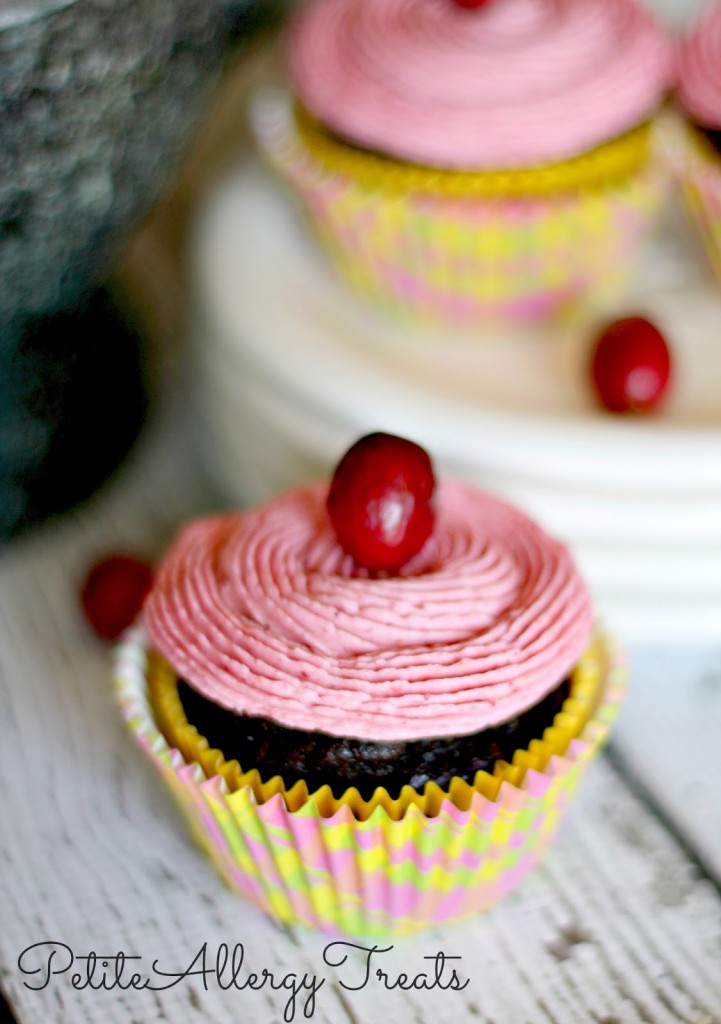 I ended up just using my own homemade gluten free whole grain blend for this recipe. This recipe was also the first time I used maple syrup as my only sweetener. I couldn't even taste the maple flavor. Since I love chocolate, I decided to add a generous amount of cocoa powder. I don't use all the fancy less pungent vinagers in my cooking but always have white vinegar on hand for cleaning. I just used a touch, in hopes of correcting the pH without giving it a sour taste.
The cupcakes turned out light and fluffy with just enough amount of sweetness with no sour taste to be found. To make the frosting, I used freeze dried cranberries. I ended up using my mortar and pestle to pulverize them. Feel free to adjust the color and flavor of the frosting with more or less cranberry. I love the natural color and added antioxidants.
Don't forget, there's still time to ENTER to and WIN your own copy of Sweet Debbie's book.
I hope you enjoy!
Ingredients
Bake at 325 degrees
1 1/2 gluten free all purpose blend (I used my whole grain mix)
1/2 cup dutch process cocoa
1 cup milk of choice
1/2 cup maple syrup
3 T molasses
2 tsp baking powder
1 tsp vanilla
1/2 tsp guar gum
1/2 tsp white vinegar
1/4 cup oil + 1T
Frosting
1/2 non-hydrogenated organic palm shortening
1 1/4 cup organic powdered sugar
8 tsp ground cranberry powder (use freeze dried cranberries)
Directions
Combine all dry ingredients and mix well.
Add wet ingredients and mix by hand until blended.
Pour into muffin tray lined with paper.
Bake for 12-15 minutes. Check by gently pressing the tops. It should be slightly firm and spring back. You could also insert a toothpick in the center and make it's clean.
Allow cupcakes to cool completely before frosting.
While the cupcakes are baking, food process or grind the freeze dried cranberries in a mortar and pestle. I started with approximately 1/2-3/4 cup whole freeze dried cranberries.
Combine shortening, sugar and cranberry powder and mix using a hand mixer.
Pipe frosting onto cooled cupcakes and enjoy now or freeze for later.
Some other things you may like: