Just about anyone would enjoy a slice of no bake blueberry cheesecake.  This is my version that is egg free (egg less) and gluten free.  This also used gelatin for the binder and is a super easy no bake cake.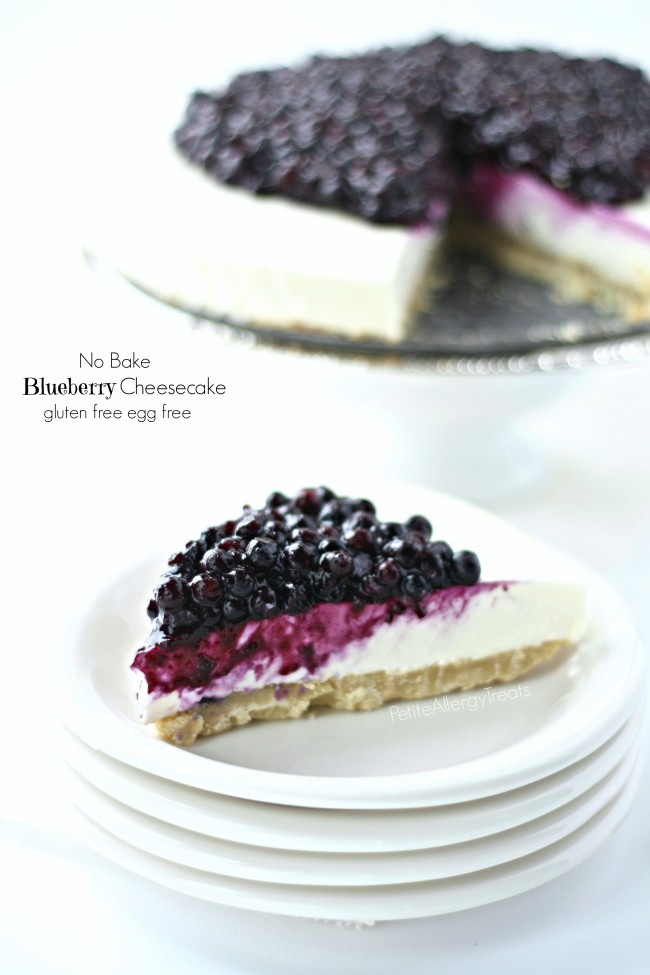 My husband does not like sweets.  At all.  He'll occasionally eat a cookie but other than that he has a teeny tiny sweet tooth.  Regular fruit can even turn him off.  Strawberries for instance are too sweet.  Yeah.  I think there's something wrong with him. 😉
So imagine my dilemma each time is birthday comes around.  Birthday and cake–it's a must.  But he doesn't like cake and since I'm the only other adult, I get stuck eating almost the whole thing… like my chocolate avocado silk pie and even most of the shark cake.

My answer: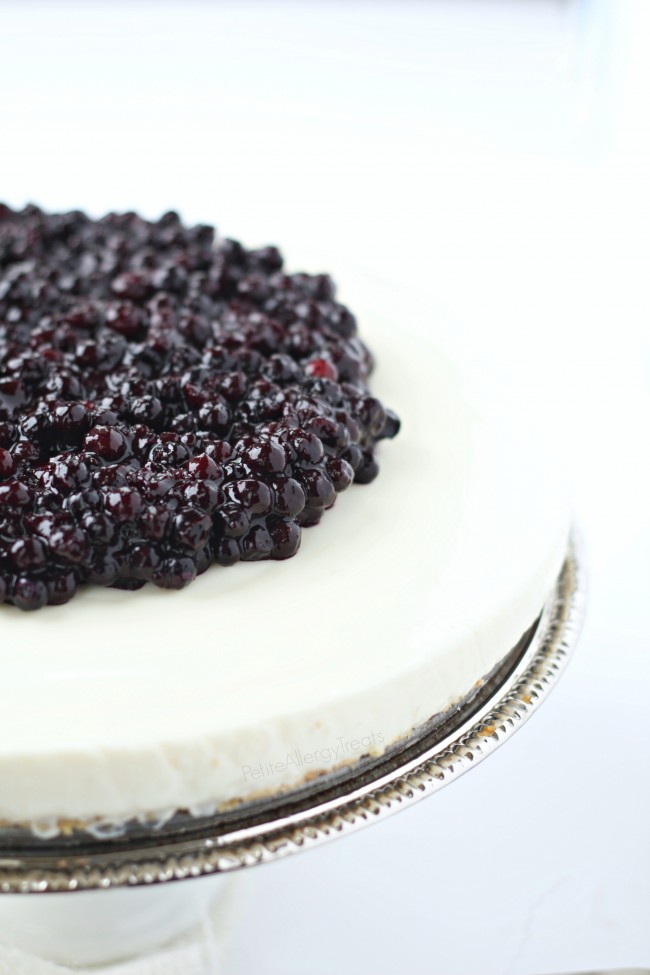 Blueberry Cheesecake.
And not just any cheesecake, he's mom's version.  Of course, I needed to modify the recipe to be egg free and use gluten free crumbs, but that was an easy conversion.
My husband's mom (affectionately referred to as my mom) used to make her decadent blueberry cheesecake for every party while my husband was growing up .  Everyone would rave about how delicious it was and beg her to make it.  If you didn't start dessert early, you'd be bound to be disappointed when the it was the first cake to go.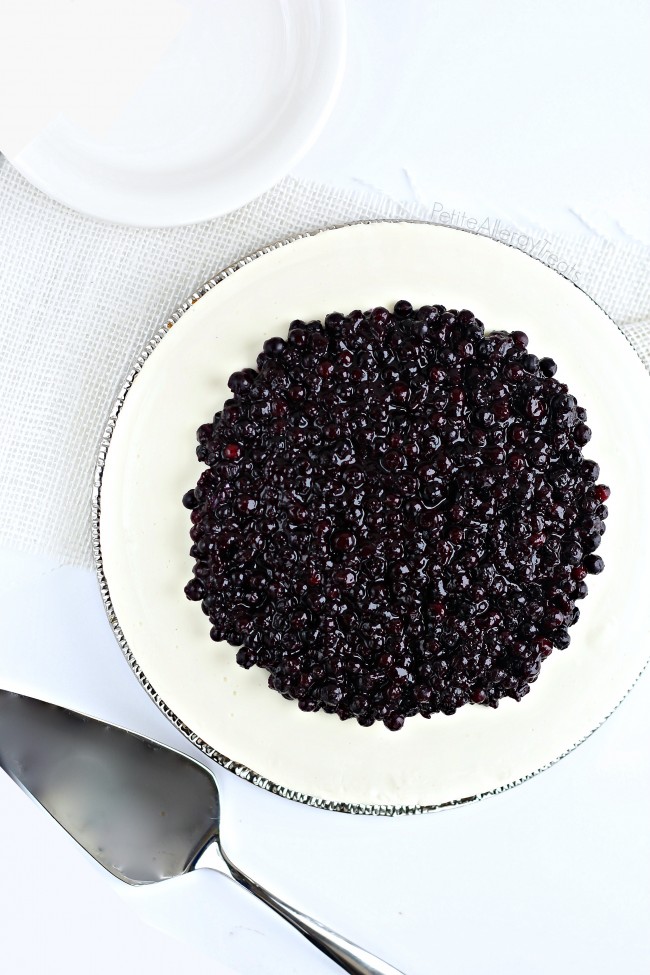 I fondly remember making this with her shortly after I got married.  She made it from memory with all it's cheesy goodness and fluffy texture from the eggs.
I figured this was the answer to my cake problem.  I decided to try and substitute a little gelatin since I wanted a softer texture than just cream cheese alone.  Don't be frightened of gelatin with cream cheese.  It's like a Panna Cotta.  Trust me, you'll love this.
I was all excited to surprise my husband with this decadent replica when he arrived home from work.
And boy was he surprised…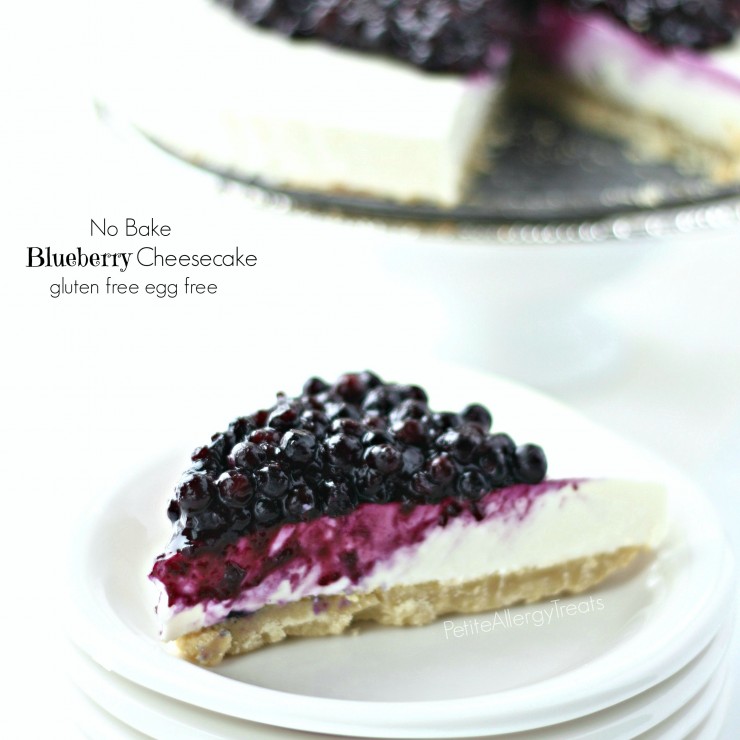 He looked at the cake, then my face and back to the cake.  He smiled sheepishly and didn't say anything.
"HAPPY BIRTHDAY!!! Don't you like the cake?  Aren't you excited, it's your favorite!", I said.  At which point he burst out laughing!!
"What?" I asked.
"I don't like cheesecake…this was everyone else's favorite.", was his response.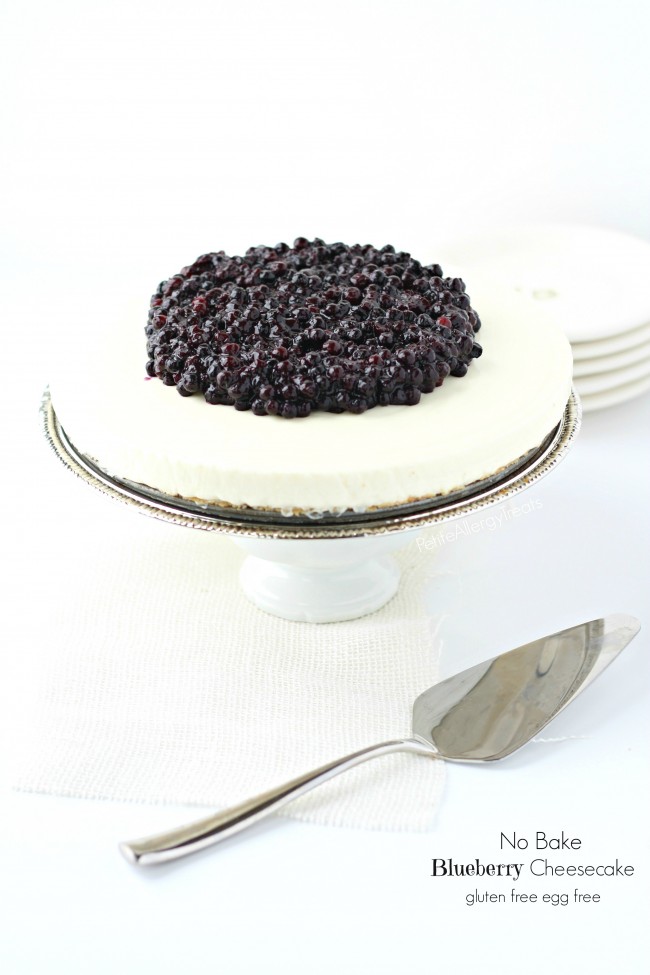 SERIOUSLY?
You can't say I didn't try… LOL.  At least he ate it.  I think he even enjoyed it.  And I'm sure you'll enjoy it too!
Gluten Free Blueberry Cheesecake
Author: Laura @ Petite Alllergy Treats
Ingredients
Crust
2 cups gluten free cookie crumbs
1/3 cup palm shortening
Cheesecake Filling
24oz cream cheese (3 blocks)
3/4 cup sugar
1 cup milk
1 envelope or 2 1/2 tsp unflavored gelatin
Blueberry Topping
12 oz bag frozen blueberries (thawed)
3 T fresh lemon juice
2 T cornstarch
Directions
Crust-Food process cookies until a fine crumb consistency is achieved.  Melt shortening in microwave and pour over crumbs.
Press crumb mixture into a 9 inch round spring form pan.  Bake at 350 degrees for about 10 minutes or until crust turns golden brown.  Allow to cool completely before filling.
Filling- Allow cream cheese to warm up at room temperature.  In large bowl, beat on high until light and fluffy.  Set aside.
Heat milk and sugar small sauce pan on low.  Whisk to dissolve sugar and sprinkle in gelatin, whisking the entire time.  Once gelatin is dissolved, remove from heat.  Allow to cool for about 10 minutes before combining with cream cheese.
Slowly add gelatin mixture to cream cheese and beat on low to incorporate.  Once all ingredients are combined, pour over the cooled crust and place in refrigerator until set. (4-8 hours or in you happened to have -25 degree freezing temperatures outside it'll only take 2 hours!)
Topping- heat blueberries with lemon juice and mix in a pan until sauce begins to thicken.  Allow to cool for 5 minutes and gently pour over cheese cake.
Notes:  This is a no bake and must be allow to set until firm.  The blueberries will stain the filling so carefully arrange in the center being careful not to drip.
Some other things you may like: