Gluten free, Vegan, Korean Glass Noodles (Chap Chae or Jap Chae) with a vegetable stir fry is an easy dinner.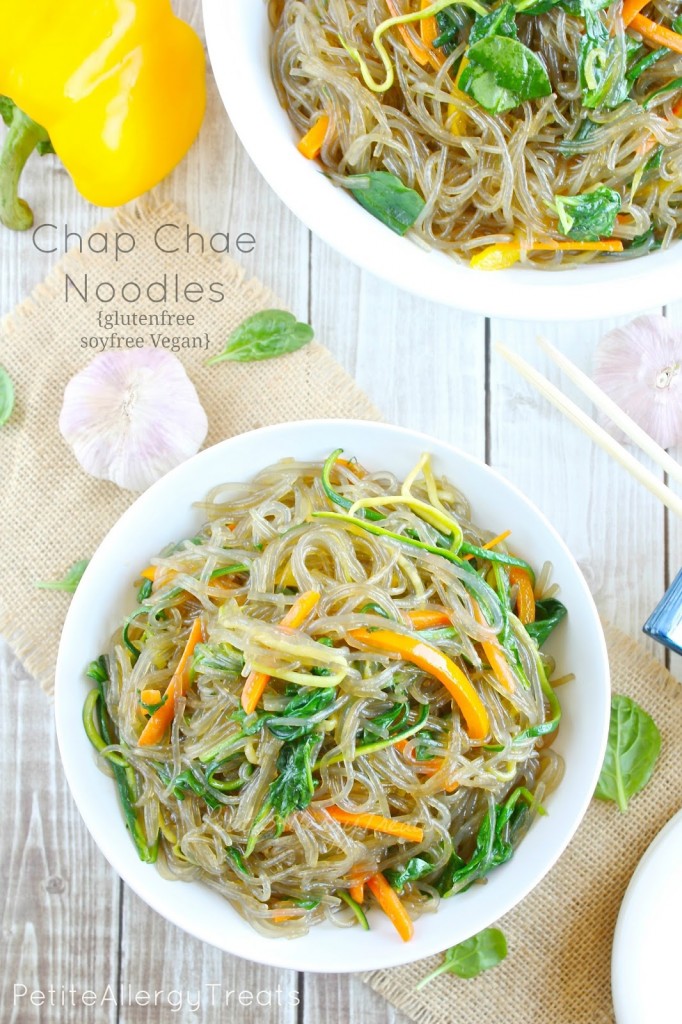 I'm still working hard on creating more gluten free, soy free, egg free, peanut/treenut free and
sesame free recipes, which I hope you'll love.  As you've read in my previous post, my goal is
to be here less and more with my family.  If you missed my last post, you can
read it here
.  I'm
trying to be more balanced with family, me and blog time.  I love all three and together they
meanwhile. 🙂
I have some news for you… (No, I'm not pregnant!)  I'm proud I've started exercising
again.  Yay!  I've been physically active most of my life but truth be told, I don't love working
out (I wish I did).  Sometimes, 30 minutes is all I can stand.  But I've learned that exercising
improves my mental and physical health.  My daily goal is 1 hour on the elliptical which can
be difficult because it's sooo boring.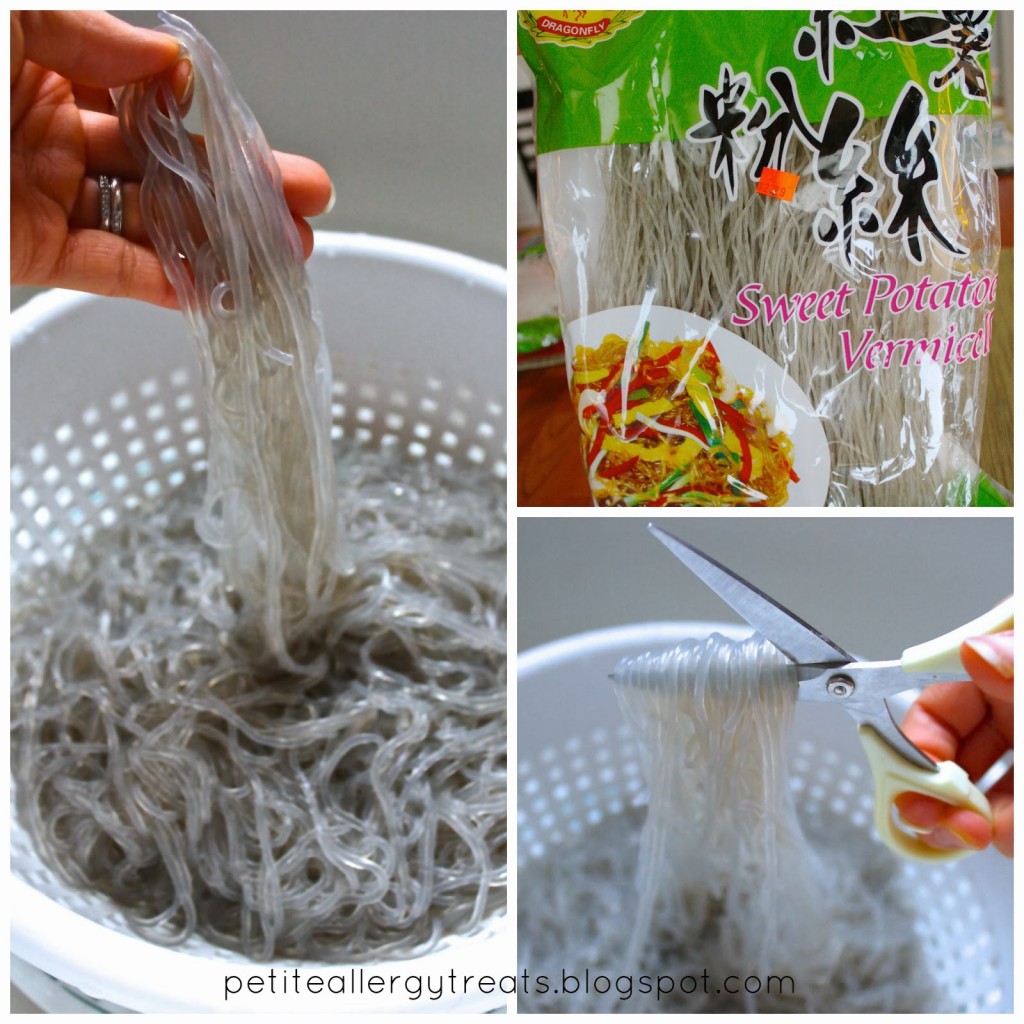 Don't you get bored exercising?  There's nothing worse than being hot, bored, tired and have no place
to go for the next hour.  Is that you too?  That's totally me.  My latest motivator  is renting
movies.  I only allow myself watch them as I workout.  This is a treat I look forward to
since I don't watch any TV shows.
I know I'm waaay behind in movies but I love the Batman Trilogy.  I got so into them,  I
didn't want to stop running.  I'm a little sad I missed all the hype when they premiered like
10 years ago…  I don't even remember that time because of college commitments.  And then
once you become a mom, forget it.   Your memory is shot…  You forget
lots of things.  Like Dory. Right?  Right.  I can't remember…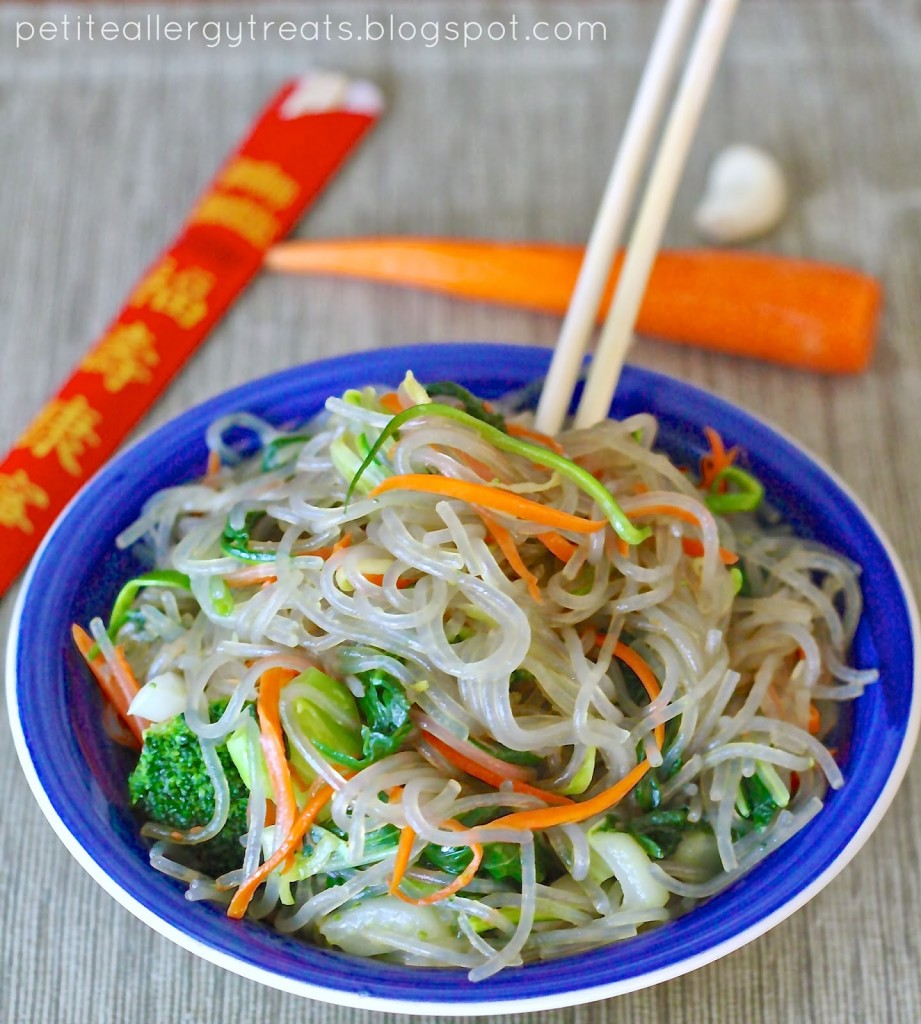 It's amazing how much better you can feel after a workout.  And it's not just feeling better
about eating a dozen cookies.  I can feel my body release stress from the day.  I will never be
a workout fanatic, but I know its good for my health.  Plus, there's something fundamentally
freeing about occasionally cranking music in your ear buds and rocking out like a teenager. 😉
Now that I've been working out, I want healthier food to fuel me.  Chap Chae, Jap Chae,
glass noodles or just vegetable noodle stir fry are all names associated with this simple dish.
The dish is traditionallyKorean, but I've changed it to be my own.  Add a bunch of thinly
sliced vegetables tossed with sweet potato noodles lightly coated in oil, and you have a
healthy vegetable based meal in under 20 minutes.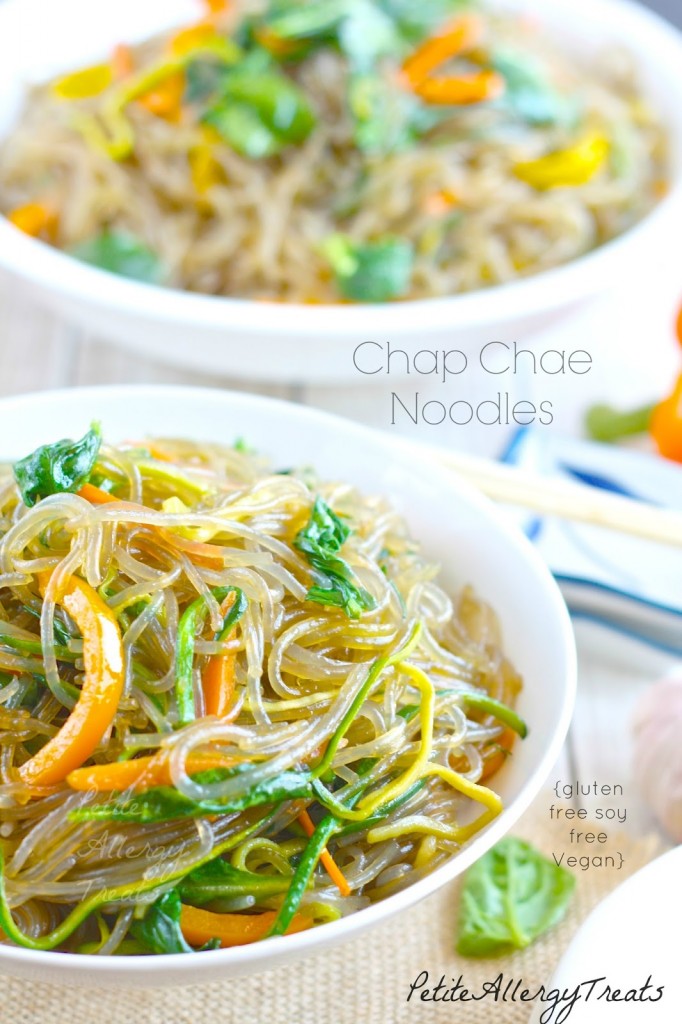 I've modified the recipe to meet our restrictions, however,  I listed the traditional ingredients
and amounts I used before allergies.  As with any dish, feel free to make changes to meet your
needs.  I think shiitake mushrooms, marinated beef and an egg on top would be fantastic
additions.
I hope you enjoy these healthy quick gluten free noodles!
Korean Glass Noodle Stir Fry (Chap Chae)
Author: Laura @PetiteAllergy Treats 
Ingredients
1/2 bag Sweet Potato Vermicelli
1 zucchini
1 large carrot
1/2 onion
1 cup broccoli florets (frozen is fine)
2-3 stalks of bok choy cabbage
2 cups fresh spinach leaves
3-4 garlic cloves
1/4 soy sauce* reduced sodium (use less if not reduced sodium)
3/4 tsp salt* (omit if using soy sauce)
2 T toasted sesame seeds* (omit if allergic)
2 T sesame oil* (omit if allergic and substitute canola oil)
1 T canola oil
*Items with an asterisk are the traditional ingredients not used in my preparation due to allergies.  Before food allergies became a way of life, I used soy sauce and sesame in this recipe.  The sesame adds so much depth and flavor but isn't' overbearing.  I highly suggest using it if you are able.
Directions
Bring a large pot of water to a boil and add half a bag of noodles.  Be sure to stir frequently to avoid sticking to the pot and each other.  Boil the noodles for about 5-8 minutes or until soft and transparent.  (While the noodles are cooking start your vegetable preparations.)
Pour boiling water and noodles into colander.  Immediately rinse with cold water to stop the cooking process.
Using a clean dedicated pair of kitchen scissors, cut the noodles into manageable bites.  I suggest 3-4 inches in length.  (If you have small children or toddlers (like me 🙂 make sure to cut them even shorter or else they can choke or gag if they don't chew.)
Wash all vegetables.   Be sure to keep vegetable separate when chopping since they will be added at different times.
Thinly slice the onion.
Using a modified potato peeler (see picture) julienne the carrot and zucchini.  Cut broccoli florets into bite size pieces.  Cut the bok choy stalk (thick white part) into 1/2 inch pieces.  Keep the green leaf part of the bok choy separate and cut leaves into 1/2 inch by 1/2 inch pieces.  Add to the pile of spinach to be cooked last.  Peel garlic and crush with your knife.
Heat 1 T canola oil on low in the same pot used to boil the noodles.  Add crushed garlic cloves to oil.  Allow the garlic to infuse the oil on lower heat for 2-3 minutes.  Watch the garlic to make sure it doesn't burn.  Garlic become bitter if cooked at too high of heat.  Once the oil is infused, remove the garlic.
Turn heat up to high.  Have all vegetables ready to quickly add.  This is where constant stirring is needed so vegetables don' t burn or get overcooked.  The vegetables should be bright in color and still have a bit of a crunch to them.
First add the onion, cook 1-2 minutes stirring frequently.  Next add carrots and bok choy stalks, cook 1 minute.  Add zucchini and broccoli, keep stirring.  Cook for 2 minutes  Season with salt (or soy sauce) and remaining 2 T oil (sesame if using).  Add the noodles back in pot and cook 2-3 minutes.  Lastly add in bok choy greens and spinach leaves.  Cook until wilted 1-2 minutes at most.
Remove from heat and transfer to a serving dish and garnish with toasted sesame seeds.  Best served immediately.

Some other posts you may like: