These Gluten Free Pumpkin Raisin Cookies are soft with a crispy outside. They are also Vegan, dairy free, egg free, peanut free, tree nut free and soy free.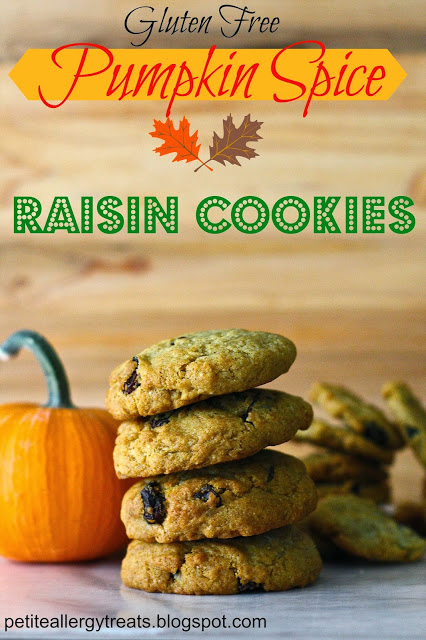 I can't believe how time is flying by. Halloween is here and before you know it, Christmas and New
Year's will be upon us.
By now, you know how much I really love pumpkin. I'm excited the grocery stores are still carrying a lot of pie pumpkins. For the first time ever I made my own homemade pumpkin puree. Wait… Second time ever. I forgot I used to make baby food. Anyways, I made pumpkin puree and couldn't wait to invent more recipes.
I haven't been posting as often as I like but I have been busy baking and cooking. For a sneak peak of what I've been up to with pumpkin, and all other things happening now go to my Facebook page and Instagram. While you're there you can always hit the "Like" button 🙂 and hopefully Facebook will let you see the posts 😉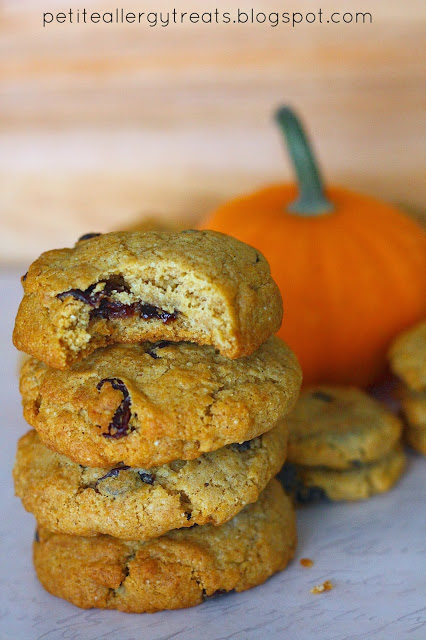 I have to say these cookies are full of awesomeness. (At least I think so. ) I've never made a pumpkin cookie so I wasn't sure if I would like them. I'm more of a traditional chocolate chip kind of girl. These cookies exceeded my expectations because of the great texture. The combination of spice and raisins made me think I was eating an oatmeal cookie. That's a big deal to me, since I cannot bake with oats anymore.
The cookies were slightly dense and chewy but also light enough that you'd want to eat the whole batch like the brownie cookies. (I know you what your thinking… No, I did not eat another 20 some cookies… Just because it happened that one time doesn't mean it happens all the time.) 😀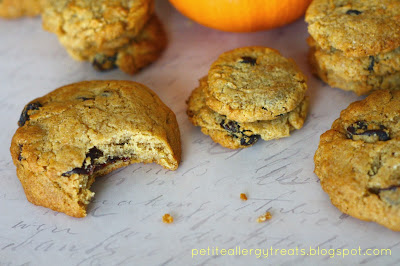 I hope you enjoy these as much as I do!
Ingredients
preheat oven to 350 bake 8-12 minutes depending upon size
1 cup pumpkin puree
1 cup palm shortening
1/2 cup sugar
1 cup raisins
1 tsp baking powder
1 tsp baking soda
1/2 tsp xanthan gum or guar gum
Directions
Combine all dry ingredients and mix well.
Cut in palm shortening with a fork until less than pea size pieces are left
Add pumpkin puree and raisins. (you may need to adjust the moisture slightly. I used homemade pumpkin puree which contains more water than a canned puree.)
Drop spoonfuls on a baking sheet lined with parchment paper.
With wet hands, slightly flatten dough and shape to make smooth.
Bake until golden brown.
Some other things you may like: