This S'more Chocolate Crepe Cake is gluten free and egg free. Enjoy this with a super easy
homemade chocolate sauce that is peanut free, tree nut free, dairy free and Vegan.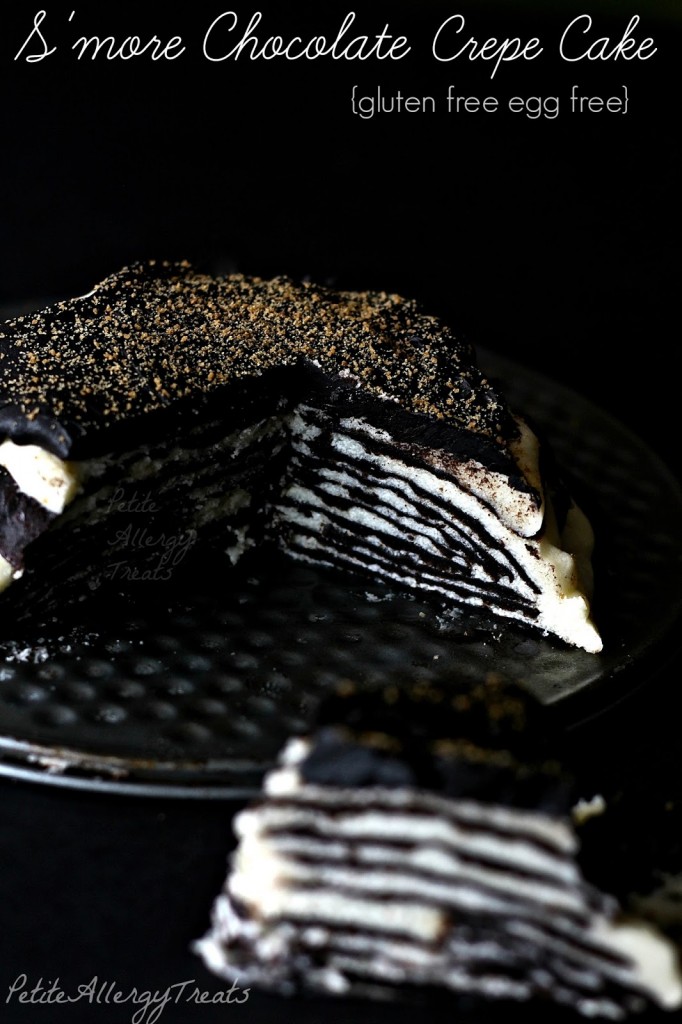 Things have gotten very busy for me this summer. Easy but impressive looking recipes are
always great to have on hand since there are sooo many parties and picnics to attend this time
of year.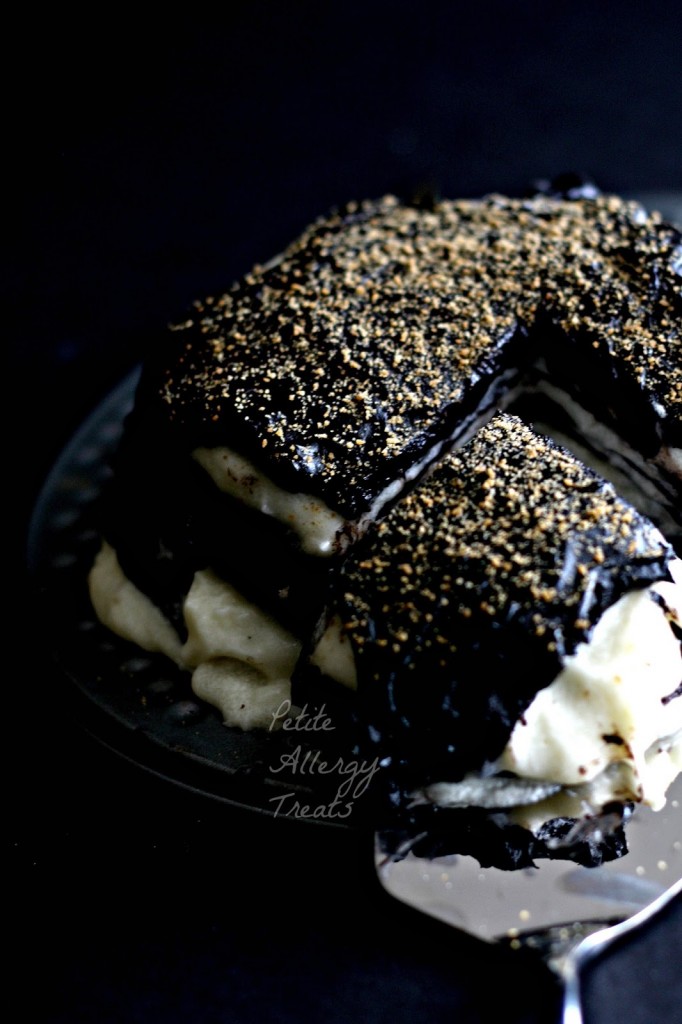 The simple beauty of all the layers is what originally got my attention on Pinterest. It's more of a
Happy cake in my opinion. Since the layers aren't all going to be perfect, it's more of a free formed…
mess?? Well…not exactly. But it was super easy to assemble since I didn't need to make it look perfect. 🙂
The part that took the longest was waiting the 2 hours for the batter to rest. I read some where
that crepe batter needs to rest so it can relax and let out all the air bubbles. Makes sense. I was all
set to skip this step (I'm all about cutting corners in the kitchen) but got distracted with the kids
and running errands. I don't actually know if this step is necessary for a gluten free crepe…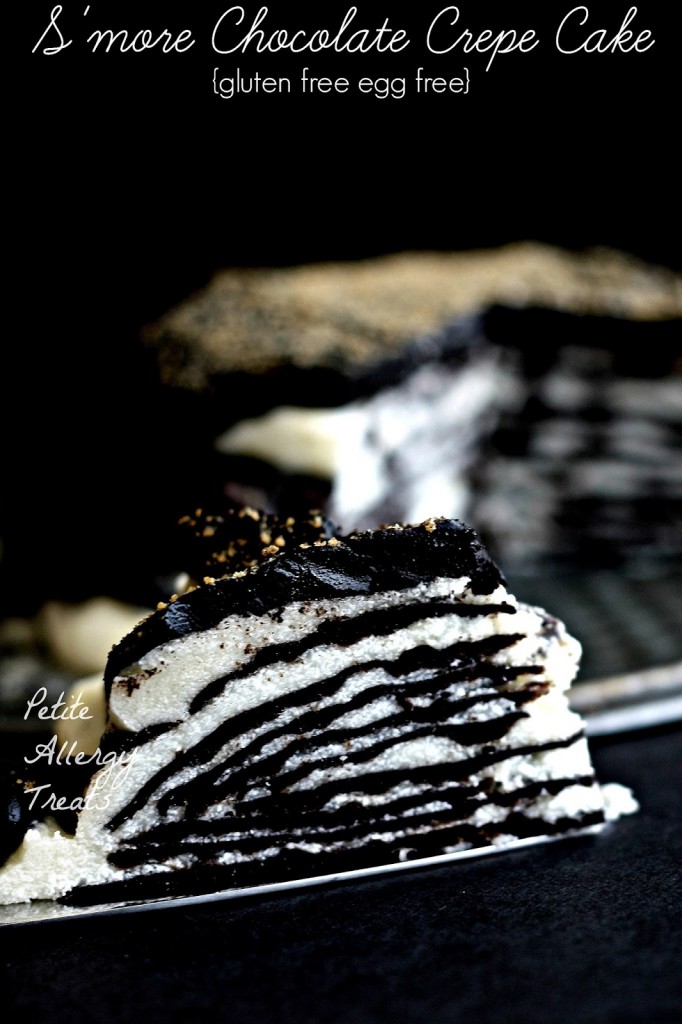 The mascarpone cheese is lighter than cream cheese with much less sodium. You could totally
use cream cheese but… it won't be as good. I really should taken the time to whipped the cheese
and marshmallow after it cooled. If you get the chance and decide to do this let me know how
it's turns out.
Ingredients
Chocolate Crepes
3 T cocoa powder
1 cup + 3 T milk of choice
1/4 tsp guar gum
1 T sugar
oil for pan
Filling
8 oz mascarpone cheese
half 10 oz bag of marshmallows
Chocolate Sauce
4 T cocoa powder
3 T palm shortening or coconut oil
2 T maple syrup
Graham Cracker crumbs
Directions
Filling: Microwave marshmallows for 40-1 minute to soften and melt.
Mix in mascapone cheese. Filling will seem thin. Place in refrigerator until cool (about 15 minutes). Mix to soften.
Crepes: Combine all ingredients for crepes and mix well. Place in refrigerator and rest for 2 hours.
Heat a small amount of oil in pan at medium heat. Drop 1-2 T of batter in pan a quickly spread as thin as possible with the back of a spoon.
Cook until edges are crispy (1-2 minutes) flip and cook another 1-2 minutes.
Repeat steps until batter is gone. Allow crepes to cool.
Cracker crumbs: Food processor graham crackers until a fine crumb is achieved.
Assembly: Place a small dab of filling on the bottom of a plate, place the first crepe. Spread a small amount of filling on each crepe (hold in your hand and then place on top of stack) and sprinkle with graham cracker crumbs. Repeat until crepes and filling are gone. Place in refrigerator to chill.
Chocolate sauce: Melt oil in microwave and mix with cocoa powder until smooth. Add maple syrup by gently stirring. Sauce will almost immediately thicken, quickly pour on top of cake.
After cake has chilled for at least 1 hour, cut, serve and enjoy!
Notes
: Allow both the crepes and filling to cool before assembling. The filling needs to cool or else it will be thin. It's much easier to hold each crepe in your hand to spread the filling or risk the entire cake sliding on to the floor. After assembly, make sure to chill cake before slicing or else it will slide off the plate when sliced (trust me I did this the first time). If you aren't going to enjoy the cake on the first day, wait to make the chocolate sauce and add just before serving. This cake is best enjoyed the first day.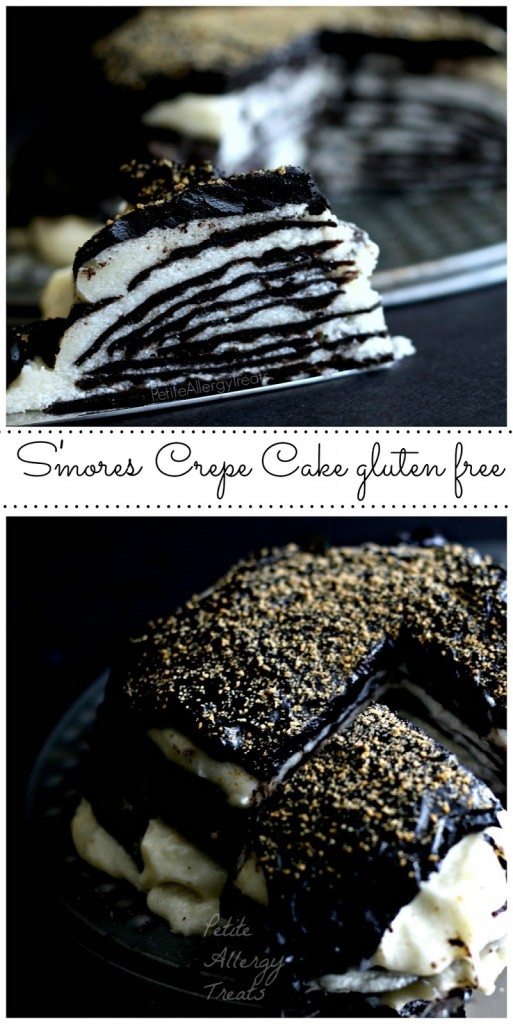 Stay tuned for more S'more themed goodies all this week!! And see more at the bottom now.
Here are some other things you may like: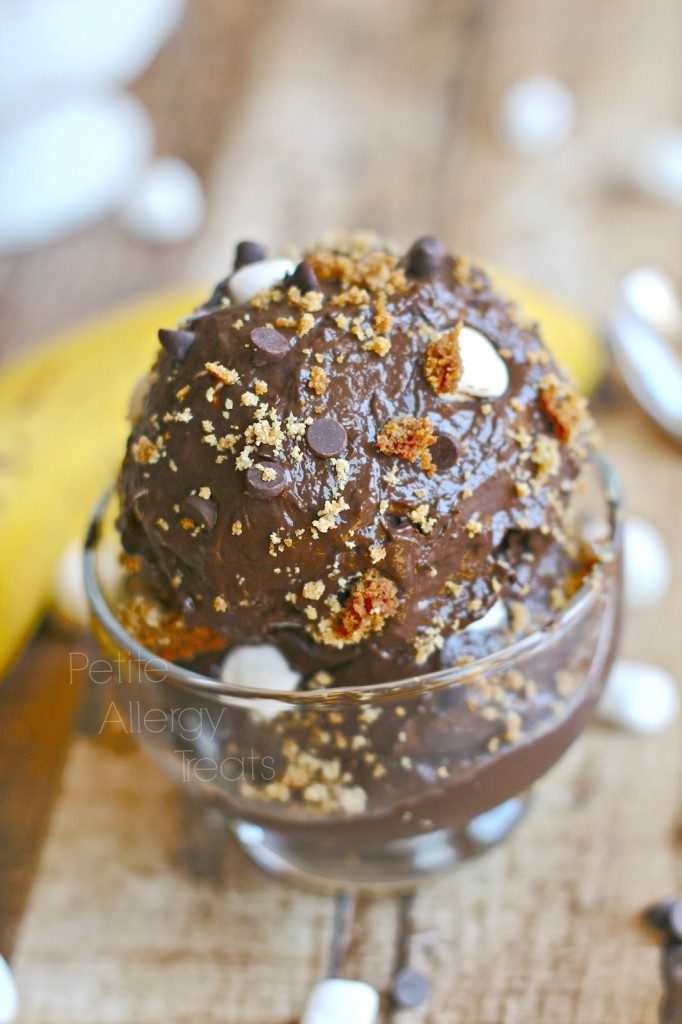 S'more Chocolate Ice Cream (gluten free dairy free)
Brownie In a Mug (gluten free Vegan eggless)
Want more S'mores? Here's what some other talented bloggers have created special for
this week. You can see more on my social media Facebook | Instagram | Twitter | Bloglovin.
Search using the hashtag S'mores Week- #smoresweek