Get into the fall season with these Pumpkin Cinnamon Rolls.  They are gluten free, egg free,
Vegan, dairy free, soy free, peanut free and tree nut free.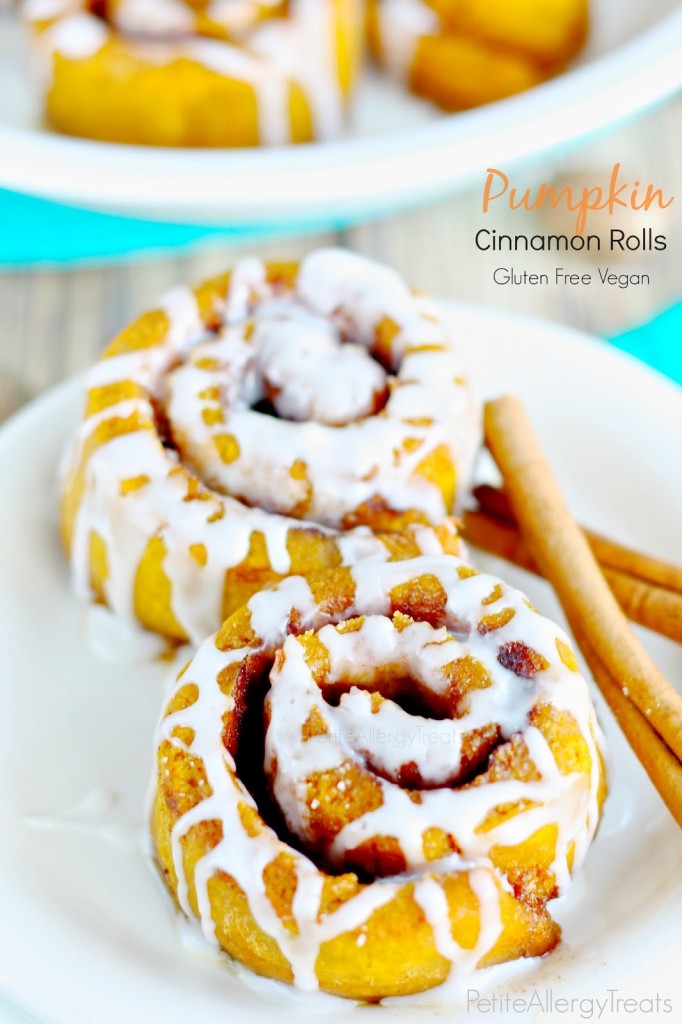 Have you gotten into your school routine yet?  I sure haven't!  Getting up early all last week
seemed SO hard.  As much as I'd love to be,  I'm just NOT a morning person.  Totally wish I was
but I just can't seem to make the transition.
Starting off the school year always seems to be tough on us.  Not just early wake ups but germs seem
to looove Sir.  Last year, Sir was sick 2 days the first week.  (All those kiddie
cooties!)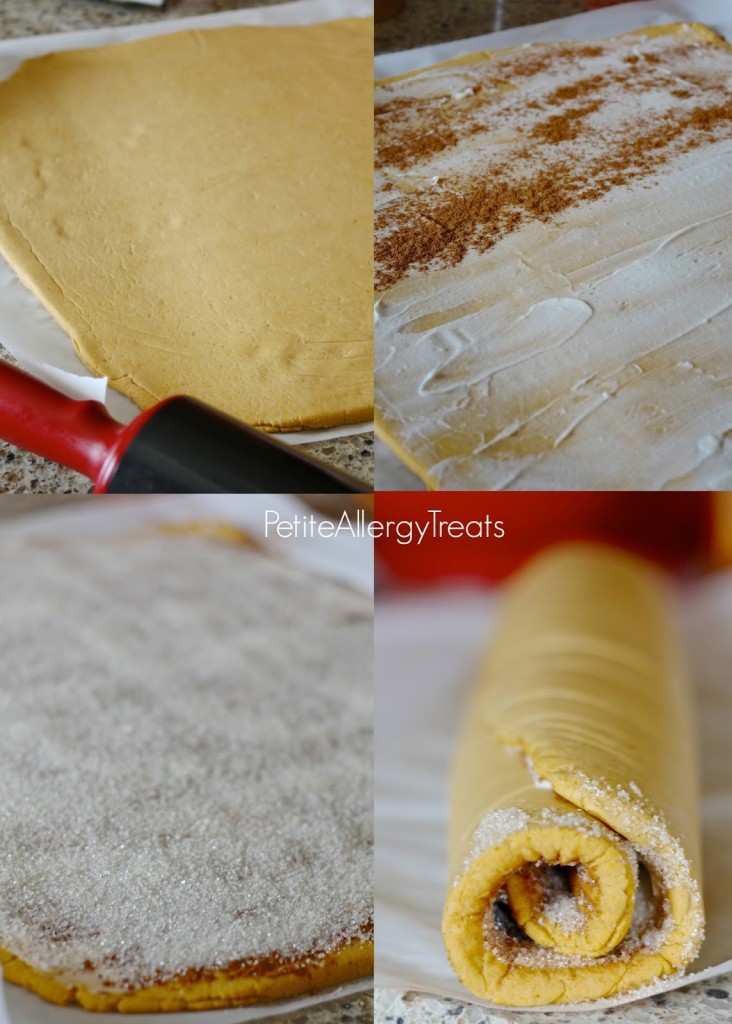 This year has been better…and worse…  Sir starting coughing just a bit Friday and woke
up Saturday a little warm.  He seemed perfectly fine otherwise.  My husband was concerned he
was sick but I brushed it off as just a little bug.  He was playing Star Wars as usual, being loud
and happy.  He couldn't be that sick right?
I was so wrong…
Moments later, he was in the living room (over our white carpet) and let out a large burp… which
was followed by the rest of his breakfast. 😮  I spent almost of the rest of the day trying to scrub the
carpet clean, making homemade soup and giving a little extra TLC.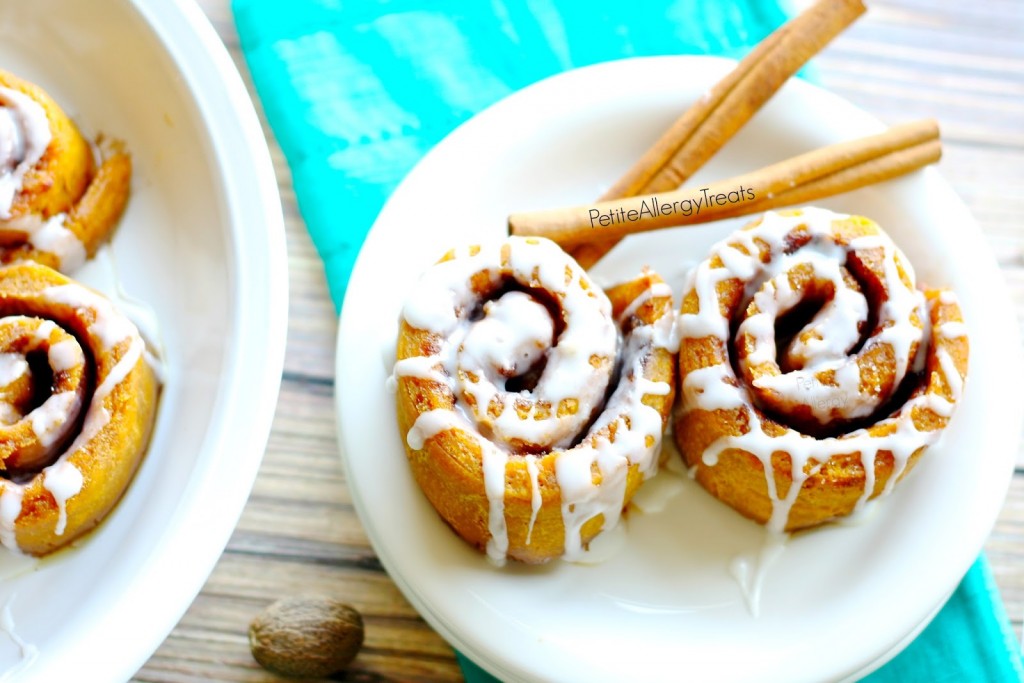 As dramatic as the morning events were, there was nothing to follow up with.  Sir was fine the rest
of the day.  Better than fine, actually.  I let my kids watch movies as a special treat whenever they
are sick.  We don't have a large library of movies so I pulled out the big guns…Star Wars.  I let
him watch Episode V- The Empire Strikes Back (which is really the old-new Star Wars
movie.  It was the second movie in the original series.  I don't even know the newer movies
which are really older in the timeline movies. Confused?  Yeah, me too.)
Sir was completely fine by Sunday and said it was the Best Weekend Ever!
Me: Really?  Throwing up is consider great huh?
Sir: No, but I got to watch STAAAR WARRRSS!
Me: Ok… I'm just glad you're feeling better. 🙂
Sir: Star Wars makes everything better.
He's right you know.  But I think pumpkin makes anything better too.  Like these pumpkin rolls.
I'm excited to share these with you!  Pumpkin for me is Star Wars to Sir, so watch out since I can
be a little obsessive.  Making gluten free pliable dough is tough.  Then try making it without egg!
I've mentioned it before but powdered pectin is great for gluten free bread.  Especially without
egg.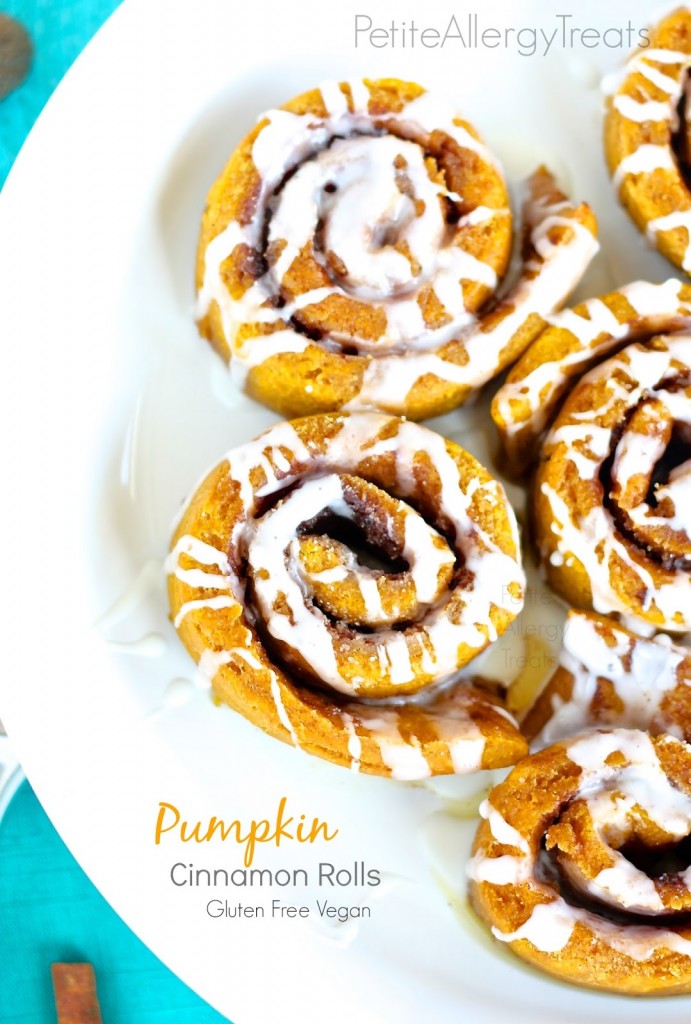 This dough was sticky as the beginning but after mixing it was easy spread using a rolling pin
without it falling apart.  I hope you love these!
Gluten Free Pumpkin Cinnamon Rolls (vegan egg free)
Author: Laura @ Petite Allergy Treats
Ingredients
Bake at 375
Dough
2 1/2 cup gluten free flour white blend
2 1/2 tsp or one yeast packet
1/2 cup pumpkin puree
1 cup + 1 T milk of choice
2 T maple syrup
2 T palm shortening
1/2 tsp pumpkin spice
3 tsp guar gum
3 tsp powdered pectin
Filling
3 T palm shortening or coconut oil
1/2 tsp pumpkin spice
1 tsp cinnamon
1/2 cup sugar
Glaze
1 1/2 cup powdered sugar
1 T milk of choice
Dough
Heat milk to 110 degree F, add yeast and maple syrup. Set aside for 5 minutes.
Add all dry ingredients in a bowel and mix well.
Melt shortening.
Add milk, shortening and pumpkin purée.  Mixed with a spoon by hand for 5 minutes. (Or use a stand mixer, not a hand mixer or risk burning your motor out.)
After 5 minutes, lightly oil hands and knead inside the bowl.  The longer you mix, the less the dough will stick to your hands.  If the dough is extremely  dry, add 1 tsp water at a time until dough is pliable enough to knead without cracking/crumbling.
Use a rolling pin to spread evenly into a rectangle that's about 1/4-1/8 inch thick.
Filling
Spread shortening evenly through the entire surface leaving about 3/4 inch border.
Evenly sprinkle with pumpkin spice, cinnamon and sugar.
Gently begin rolling the dough away from you starting at the bottom, use the parchment paper to help begin rolling.  (Rectangle should be longest right to left and shortest top to bottom).
Evenly cut into about 16 slices.
Bake for 15-18 minutes.  Rolls will be golden brown.  Allow to cool at least 5 minutes before icing.
Glaze
Mix powered sugar and milk.  Drizzle over warm buns.  Best enjoy immediately.
Notes:  Pectin is need in here and won't work without it.  These rolls could be made without the pumpkin too, just substitute apple sauce.  If you can't enjoy these buns immediately, allow to cool completely and freeze.  They won't last long in the refrigerator.  
Some other things you may like: