Muddy Buddies or Puppy Chow was a childhood favorite of mine.  This classic treat can now be enjoyed by my kids with this allergy friendly peanut free, tree nut free gluten free, dairy free, soy free in a Nut Free Muddy Buddies Monster Munch.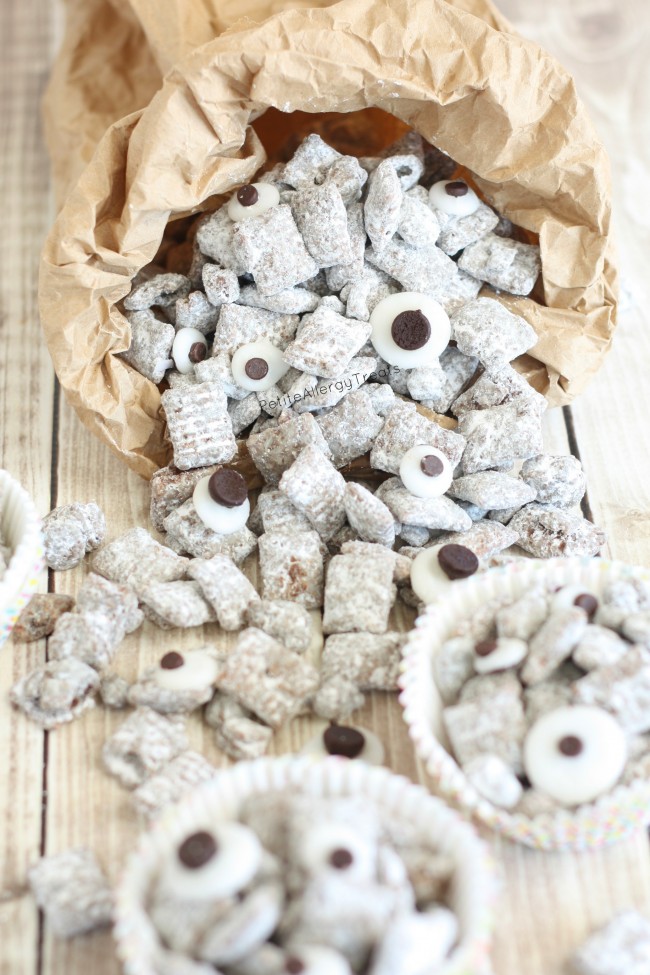 Do you guys have special memories with foods from your childhood?  I sure do.  These memories can fuel some of the recipes I recreate for my boys.  One thing I often ate was Puppy Chow or better known as Muddy Buddies.
We would eat this at practically every Saturday from late November through February, or also known as the gymnastics season.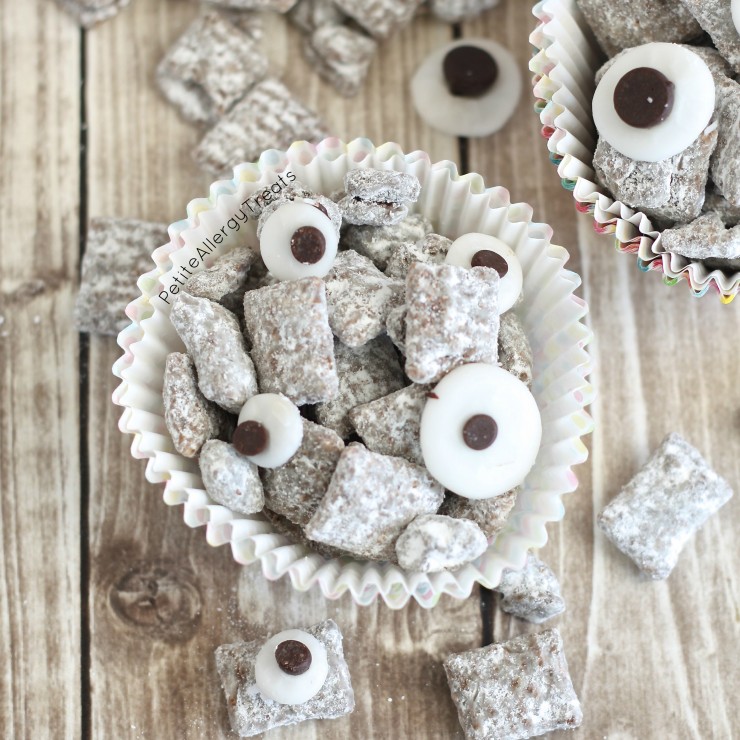 Yep.  I was a gymnast.  For almost 15 years.  Gymnastics was such great learning experience and shaped much of who I am today.  Not only was I physically stronger than most boys my age, the mental focus and toughness was something instilled in the sport.
Where else would you be expected to flip on a 4 inch wide beam, while in your leotard (practically underwear) performing in front a crowd of a few hundred people all under the age of 10?  And not to give you the wrong idea about my ability since I wasn't an outstanding gymnast…  I wasn't terrible either.  I continued to improve throughout high school and could have gone to a small local college (not on scholarship) to try out for the team.
But I'm a realist.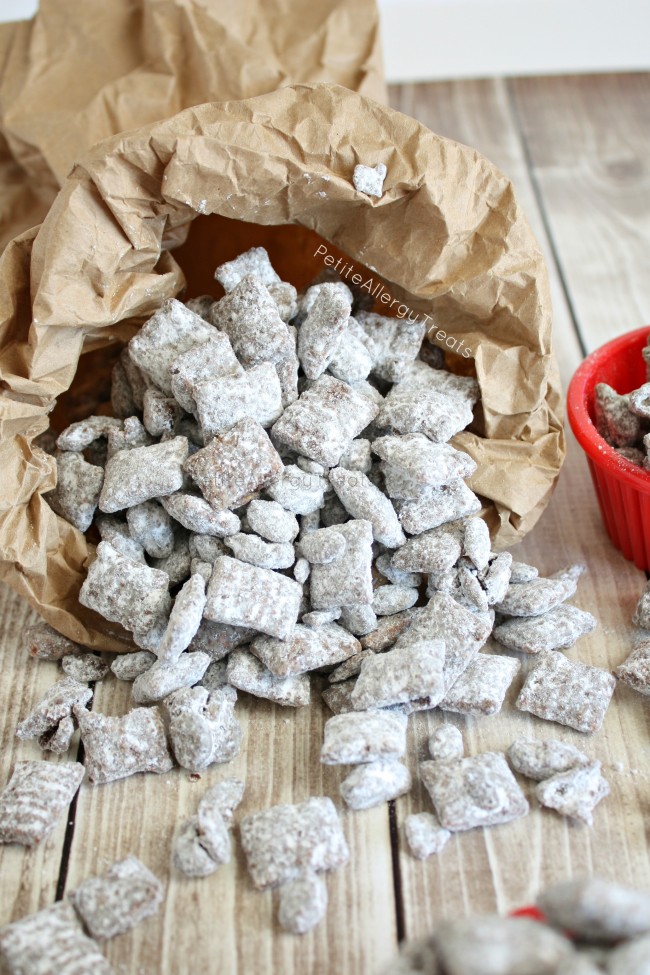 I knew I wasn't good enough for college and wanted to focus on school and not spend 40 hours a week in a gym training.
Instead, I majored in Athletic Training which took up about 50 hours (unpaid) in a various gyms and fields to cover athletic events.  Much smarter, huh?  Not at all.  Buut it all made sense at the time.
So what does this have to do with allergy friendly nut free muddy buddies?
The gymnastics meets always had concession stands filled with muddy buddies.  This was a way for the hosting team to raise money.  There was always puppy chow, as well called it, for about 50 cents a bag.  Puppy chow was synonymous for my lunch.  My mom never planned ahead (at least for me) and while the rest of the family ate regular meals during meets, I was forgotten about since I stayed with the team for the duration of the meet.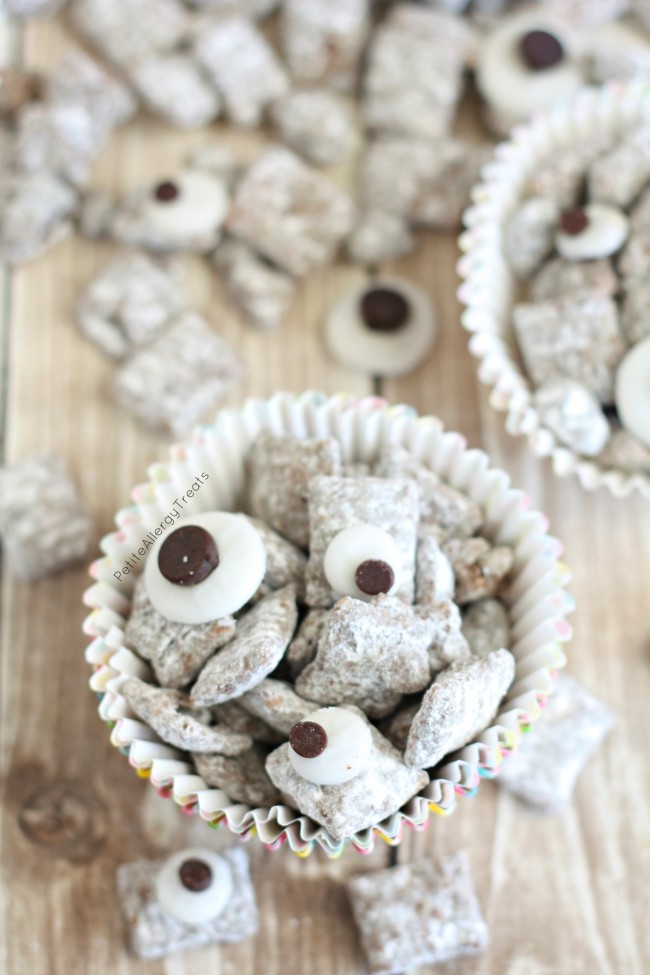 I would essentially inhale my puppy chow/dinner the moment the events ended.  I remember practically sprinting to the concussion stands for my fix of muddy buddies.
Here is my allergy friendly conversion of the traditional recipe.  This uses real pumpkin seed butter and coconut oil in place of peanut butter and dairy.  Just make sure to use soy free dairy free chips to make this dairy free and soy free.  I also added some raisins and pumpkin seeds.  Feel free to make any substitutes to fit your allergy needs, like with coconut oil.  (The FDA classifies coconut as tree nut although it is much debated since it is really a fruit and seed and not a true 'nut'.)  
Enjoy!

Nut Free Muddy Buddies Monster Munch
Author:
Laura @ Petite Allergy Treats
Ingredients
7 cups gluten free Rice Chex cereal
1 cup pumpkin seeds
1 cup raisins
½ cup pumpkin seed butter of favorite seed butter
1 cup chocolate chips (soy free & dairy free)
¼ cup coconut oil
1½ cup powdered sugar
Instructions
Combine pumpkin seed butter, coconut oil and chocolate chips in a bowl and microwave until just melted.
Pour mixture over rice cereal, pumpkin seeds and raisins. Gently stir to evenly coat every piece.
Pour half of the mixture into a gallon size ziplock bag with half the powdered sugar. Shake to evenly coat. Repeat with remaining cereal.
Pour into individual muffin cups and sprinkle googly eyes on top.
Notes
This recipe has been adapted from the
Original Muddy Buddies
by Chex. To make it truly nut free substitute coconut oil for palm shortening. (Coconut is classified by the FDA as a tree nut but truly is a seed.)
Some other things you may like: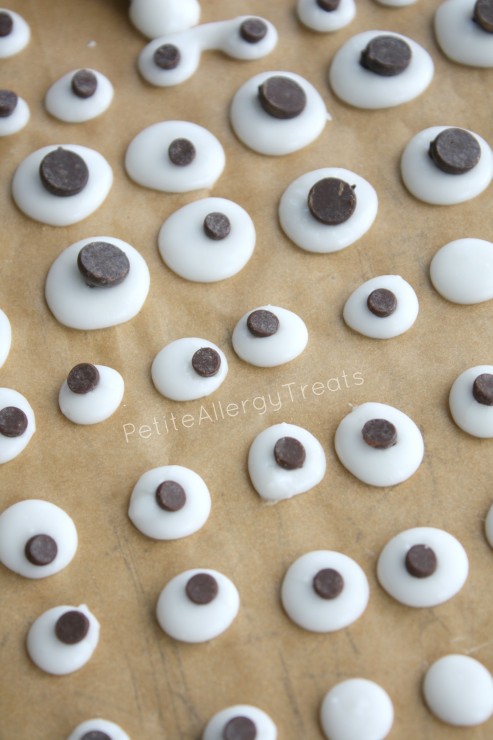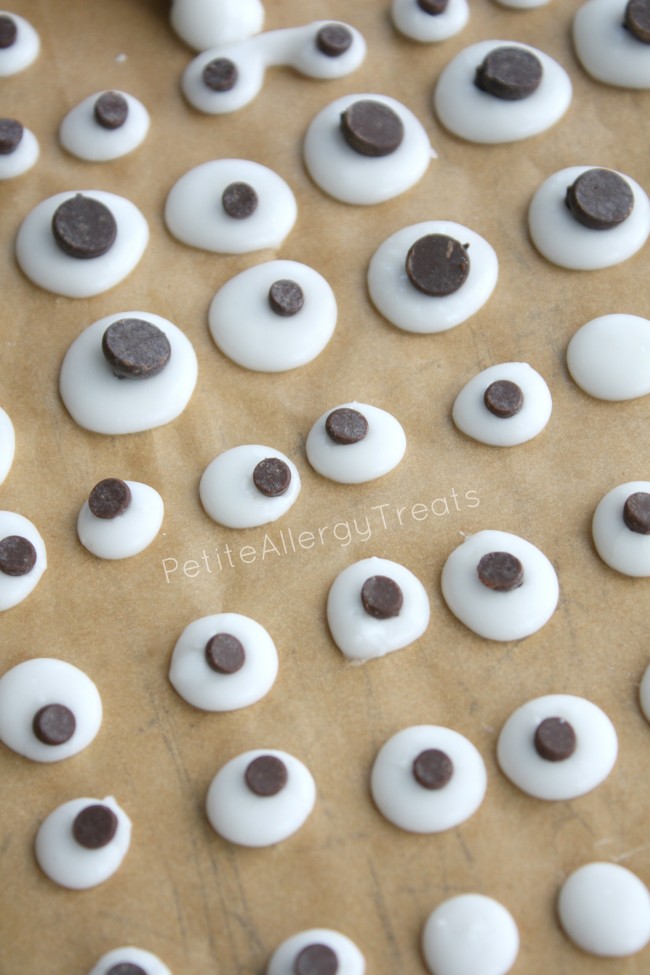 Homemade Googly eyes- 2 ingredients  dairy free vegan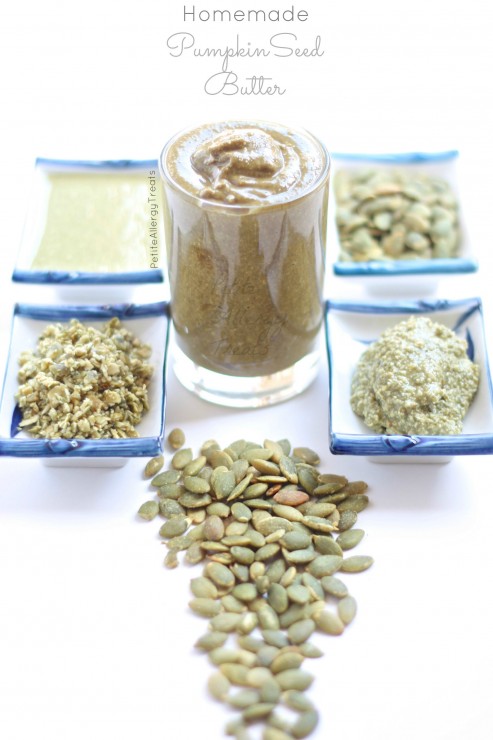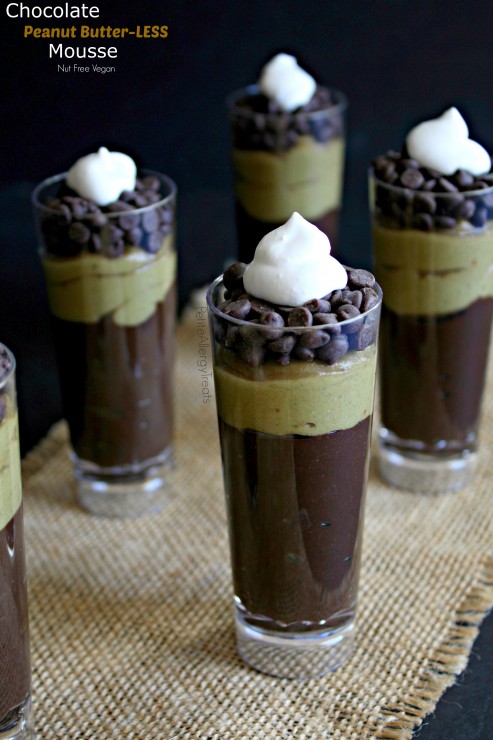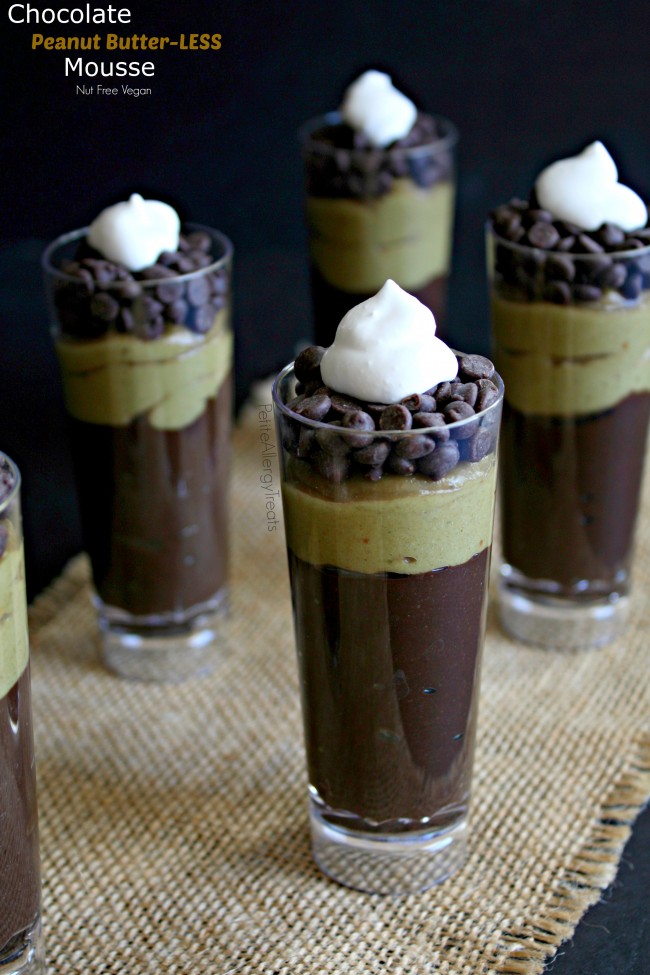 Peanut Butter-LESS Mousse- nut free dairy free vegan