Enjoy a classic easy Strawberry Shortcake (gluten free and vegan).  This Summer cake uses real fresh strawberries with an egg free shortcake topped with a dairy free creamy coconut cream.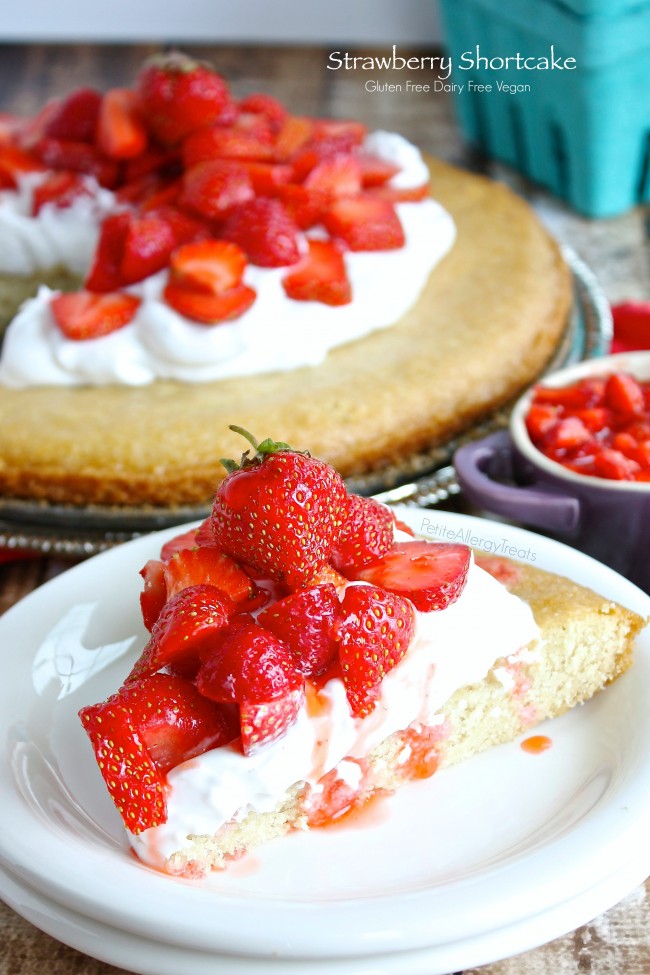 Strawberry picking season has arrived!  Have you ever gone to one of those pick your own fruit farms?  This is something I have always wanted to do with my kids.  I have fond memories heading out to our local strawberry farm every year this time to pick the freshest berries.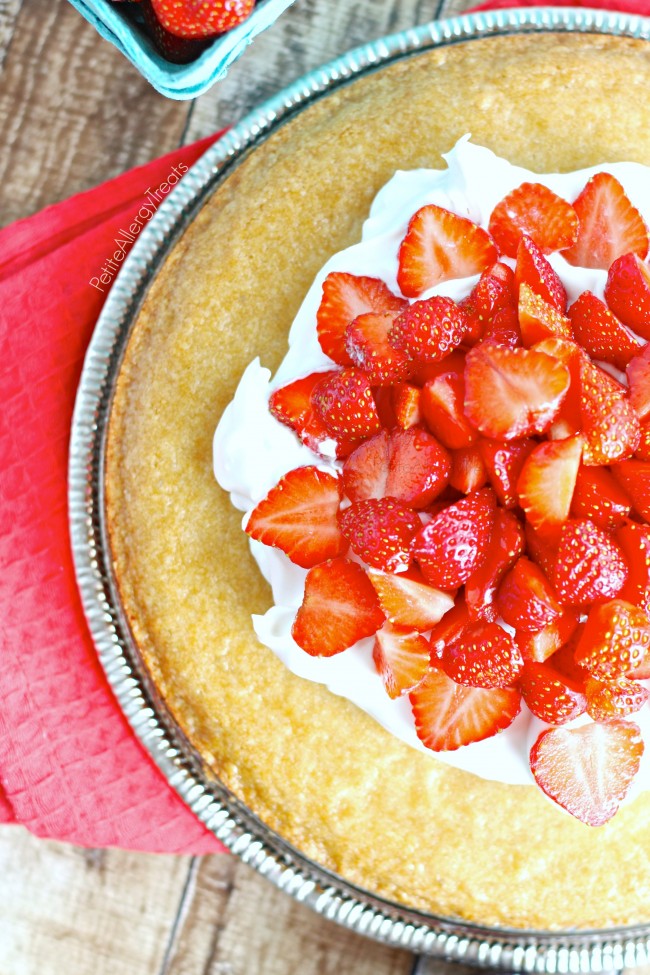 The place I went picking as a child,  truly was a real farm with cows, horses and big tractors.  Big wagons would show up and take us out to the strawberry fields.  What was really unique about this ride was it wasn't pulled by a tractor or regular horses.  Instead, HUGE working Clydesdale horses would pull the wagon.
If you're not familiar with a clydesdale, there are know from the Budwiser beer commercials.  These enormous beasts tower over a regular horse, which as a kid already seems like a giant animal.
After getting out the fields, we'd go crazy finding strawberries.  Searching for the one perfect one.   We'd get on our hands and knees a search for that perfect bright red berry.  It was such an exciting thing to see how strawberries (or any food for that matter) was grown.
Of course, if you've ever berry picked, you know most of the strawberries are super tiny compared to those found commercially grown for the stores.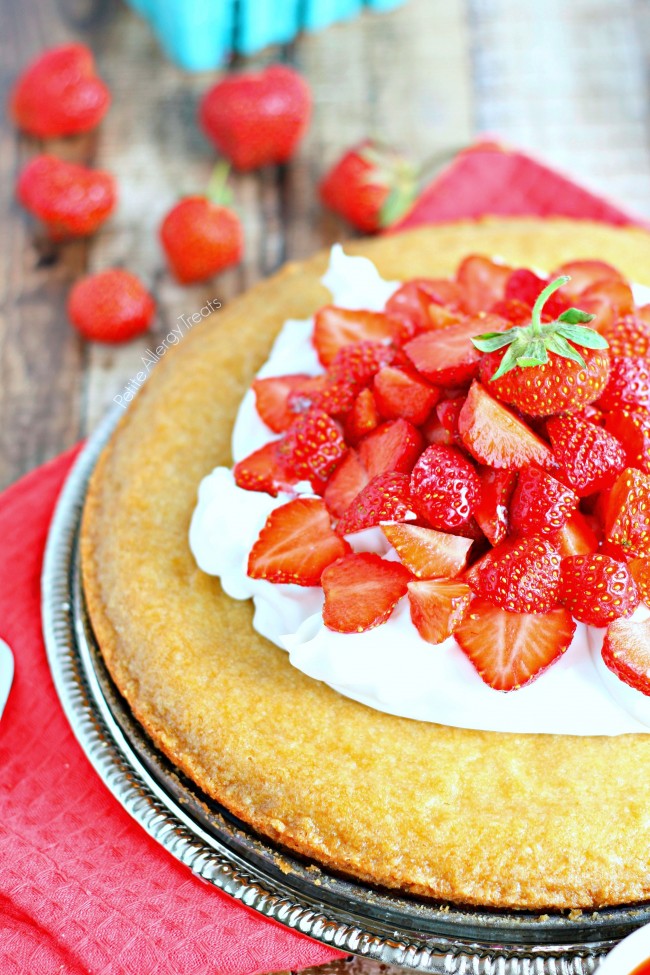 But that didn't bother us one bit.  We were plenty happy sampling the berries (dirt, dust and all) straight from the bush to our mouths.
Great memories…
Another great memory is eating strawberry shortcake from some of those berries we picked.  My mom never baked so she always bought the small sponge cakes from the grocery store and the canned whipped cream that you shake.  (a little gross but still good!)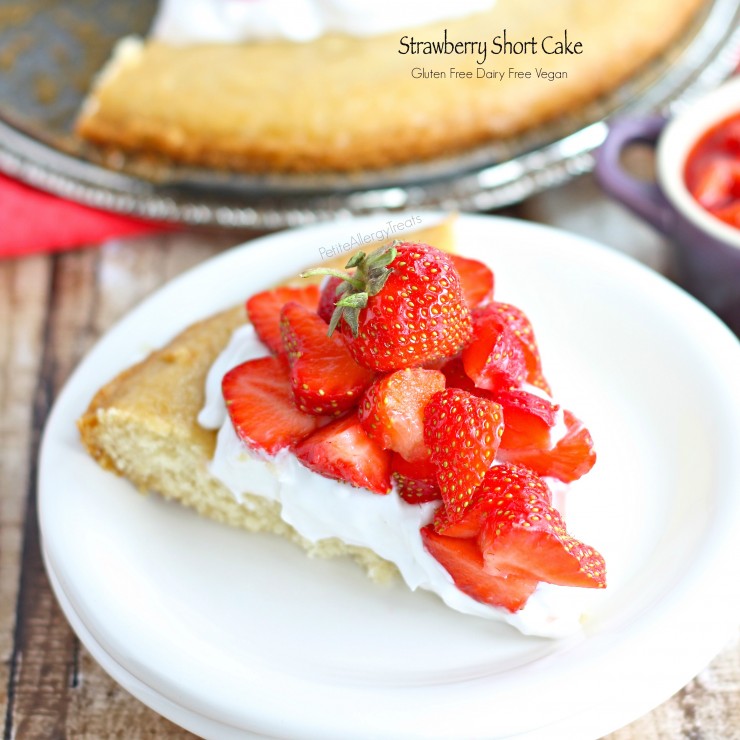 This strawberry shortcake replaces the wheat based one with a new baking technique.  I've heard of using seltzer water a long time ago to aid the rise in gluten free bread from Jules Sheppard of GF- Jules.  I still haven't tried it for breads (in part since I always forget to look for plain seltzer water).  I used a sugar based white soda since this was all I could find.  It makes this cake very sweet, like a bakery… and since I'm replicating that childhood memory, I'd say a little extra sweet is more authentic. ;-D

Easy Strawberry Shortcake (gluten free Vegan)
Author:
Laura @ Petite Allergy Treats
Ingredients
CAKE
¾ cup sugar
½ cup + 2 Tbsp white soda or seltzer water
¼ cup oil
½ tsp baking soda
1 tsp baking powder
⅛ tsp salt
1½ tsp vinegar
1 tsp vanilla optional
Topping
1 pint fresh strawberries
Instructions
Cake
Preheat oven to 350 degree for 20 minutes. Grease or line a 8 inch round cake pan.
Combine all dry ingredients and mix well.
Quickly add all liquid ingredients and mix vigorously until smooth. Pour into pan and bake 15 minutes or until a tooth pick come out clean in the center.
Allow to cool completely before adding topping.
Topping
Throughly wash strawberries and pat dry. De steam and chop into bite sizes.
Take ½ cup strawberries in a bowl and crush using a fork or masher. Set aside.
Top with coconut cream, fresh strawberries and serve with strawberry sauce.
Notes
This cake is best served fresh the day it is made and must be refrigerated or else the cream will turn to liquid and cause the cake to become soggy. If taking to a party, bring the topping separate front the cake and assembly right before enjoying.
Follow me for the latest news!
  Some other things you may enjoy: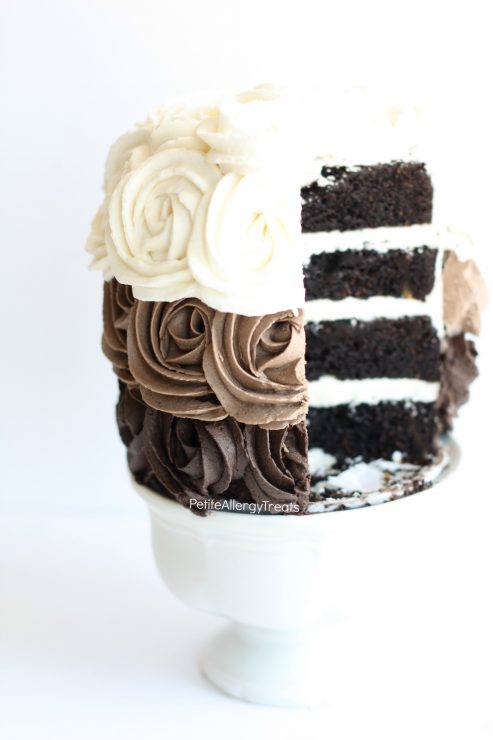 Gluten Free Vegan Chocolate Cake (Dairy Free)– egg free, nut free, soy free
Strawberry Ice Cream Cake- dairy free gluten free vegan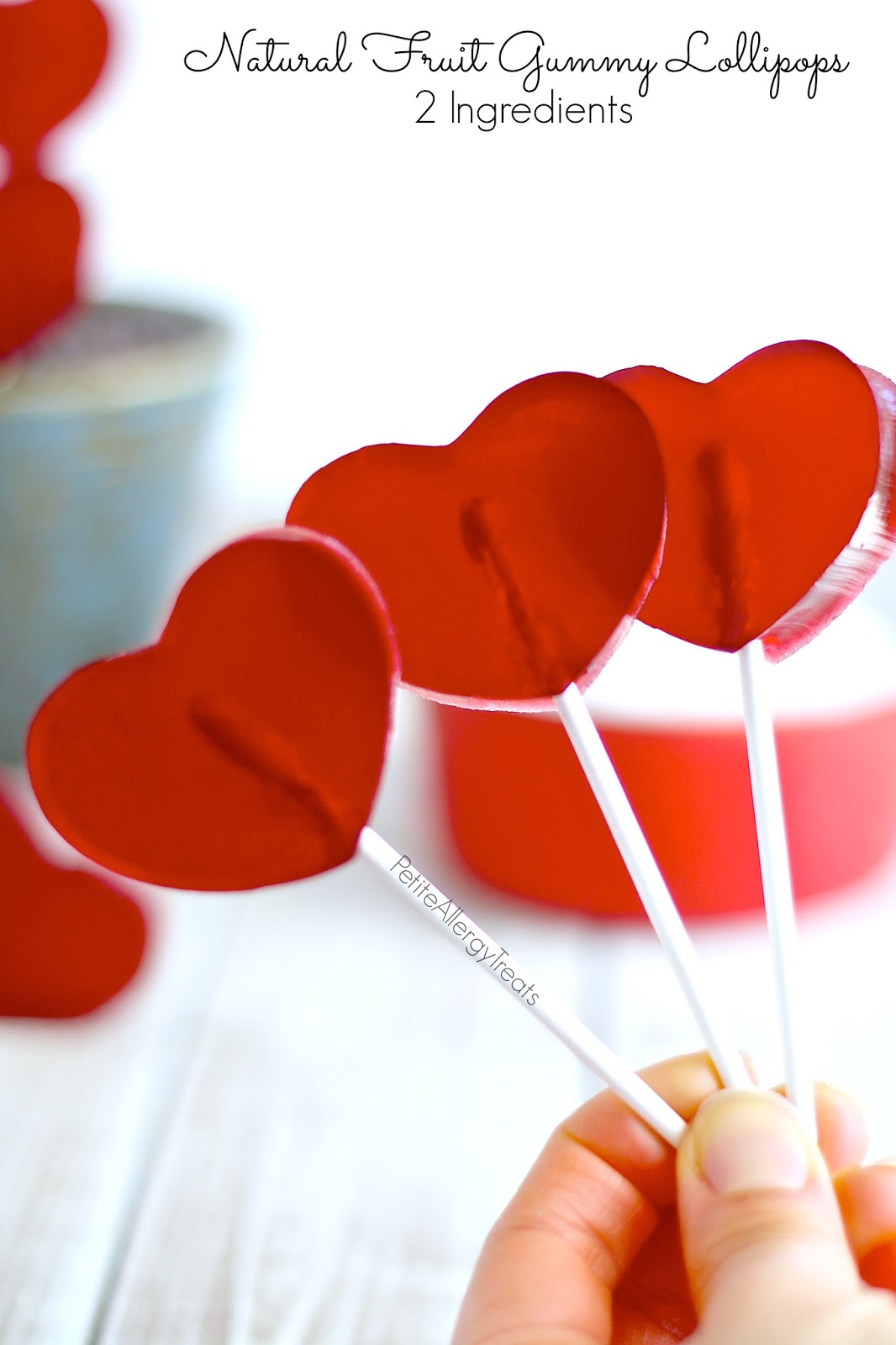 Fruit Gummy Lollipops- dye free gluten free dairy free