The Best Gluten Free Pizza Crust- (Vegan Egg Free) EVER.  This gluten free crust reminds me of chewy wheat based take out pizza.  This gluten free pizza crustcrust is soft, chewy, and crispy all at once.  It is also gluten free and egg free makes it even better for those with food allergies.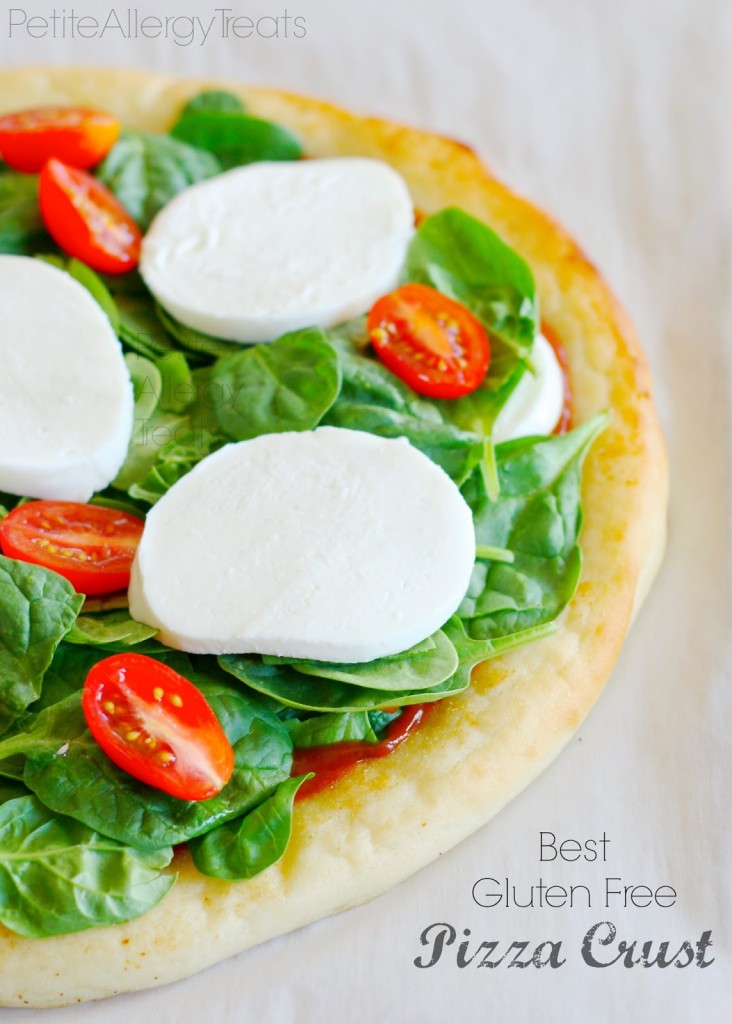 Pizza is another staple that gluten free living loves to thrown a wrench in.  There are plenty ofoff the shelf pre-made gluten free pizza crusts available…but…they just don't…um…have much appeal.  If you like them and they work with your list of food allergies ignore me… But if you don't, keep reading. 🙂
It's not that I wouldn't jump at the chance to use a pre-made crust.   We food allergy moms (and dads) have to make everything.  It's mainly in part because I haven't found one that is egg free.  Or soy free.  Or sunflower free…  It's just easier to make it myself with piece of mind that will be safe.
Another thing I would have to confess:  I am a pizza SNOB.  I can't help it.  My family ate pizza at least 3 times a week growing up.  I even worked at a pizza place briefly in high school.  The best pizza in my option has a slightly thicker crust (not too thick),  is chewy, soft and crispy all at the same time.  The trifecta of great textures, gluten free or not. 😀
And there you have it, a The Best Gluten Free Pizza Crust or blank canvas to create any type of pizza you like.
(aaannd now there's a THIN crust to add to the BEST category)
The Best Gluten Free Thin Crust Pizza- egg free vegan crust
The Best Gluten Free Pizza Crust- Vegan Egg Free
Author: Laura @ Petite Allergy Treats
Ingredients makes 2 large crusts
2 1/2 cup gluten free all purpose hybrid flour
1 3/4 cup water or milk of choice
1 packet or 2 1/2 tsp of dry active rapid rise yeast
1 tsp sugar
2 T oil
1 tsp salt
3 tsp guar or xanthan gum
3 tsp powdered pectin
Some other things you may like: