Grab some healthier nut free protein packed Gluten Free Gingersnap Granola Bars for all your snacking needs.  If you love the spice of gingerbread or gingersnaps, this Vegan granola bar is for you!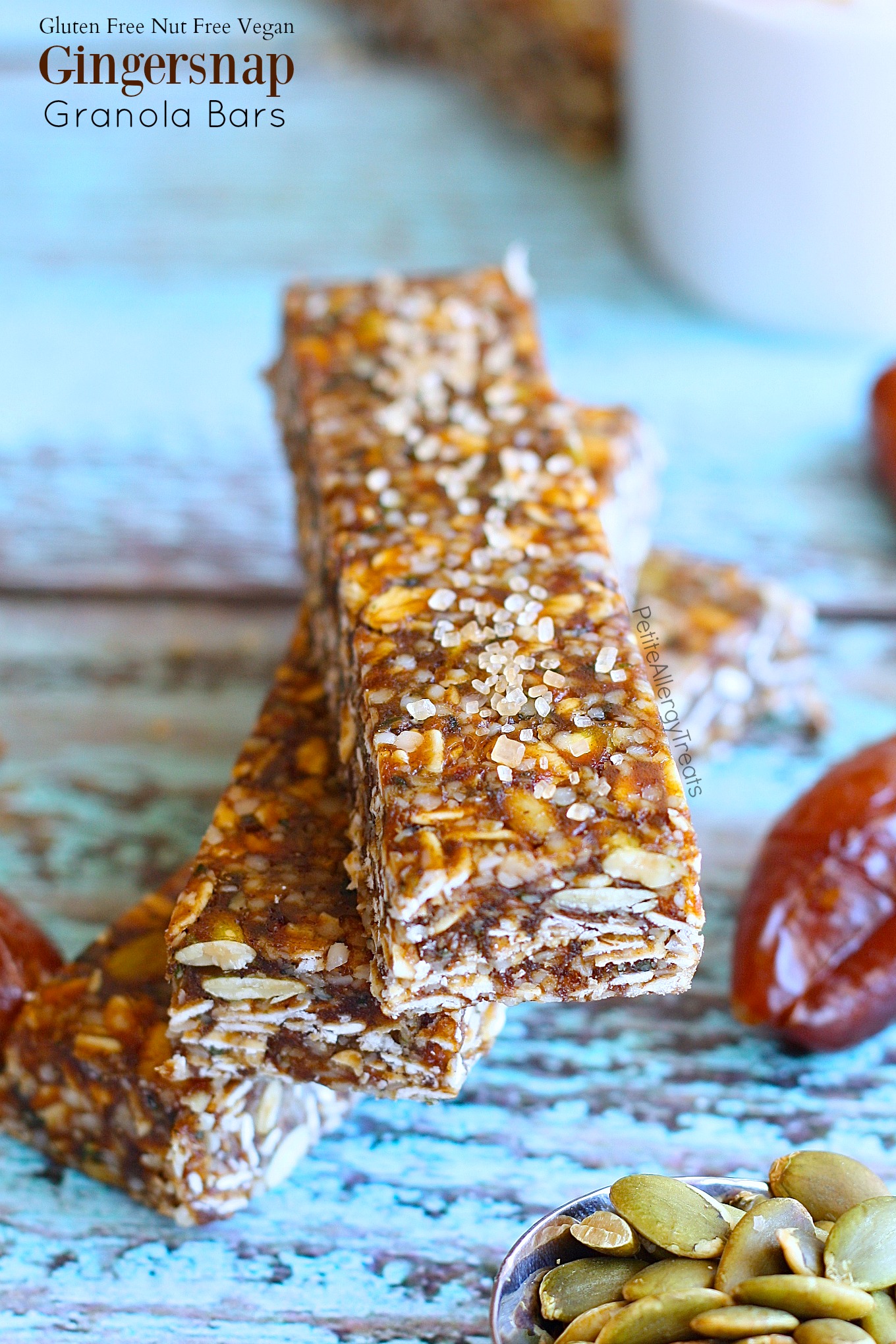 Hey hey!  Start with the New Year fresh.  Do you feel like the new year is a reset button?  I love the idea of starting over.  I know.  Resolutions made and broken… all within a month.  But. Resolution making is still important.   The whole resolution process can be cleansing. Look around your bubble of a world.  See what you like.  See what you don't.  Decide to make it better.  It's a win-win to organize your thoughts at least…
So.  Going forward.  My resolution thoughts gravitate towards following:
-Sleep more
-Exercise more
-Eat more healthy foods
Good ole everyday goals.  Attainable goals, I might add. Everyone knows healthy foods are better.  The term 'healthy', varies to different people.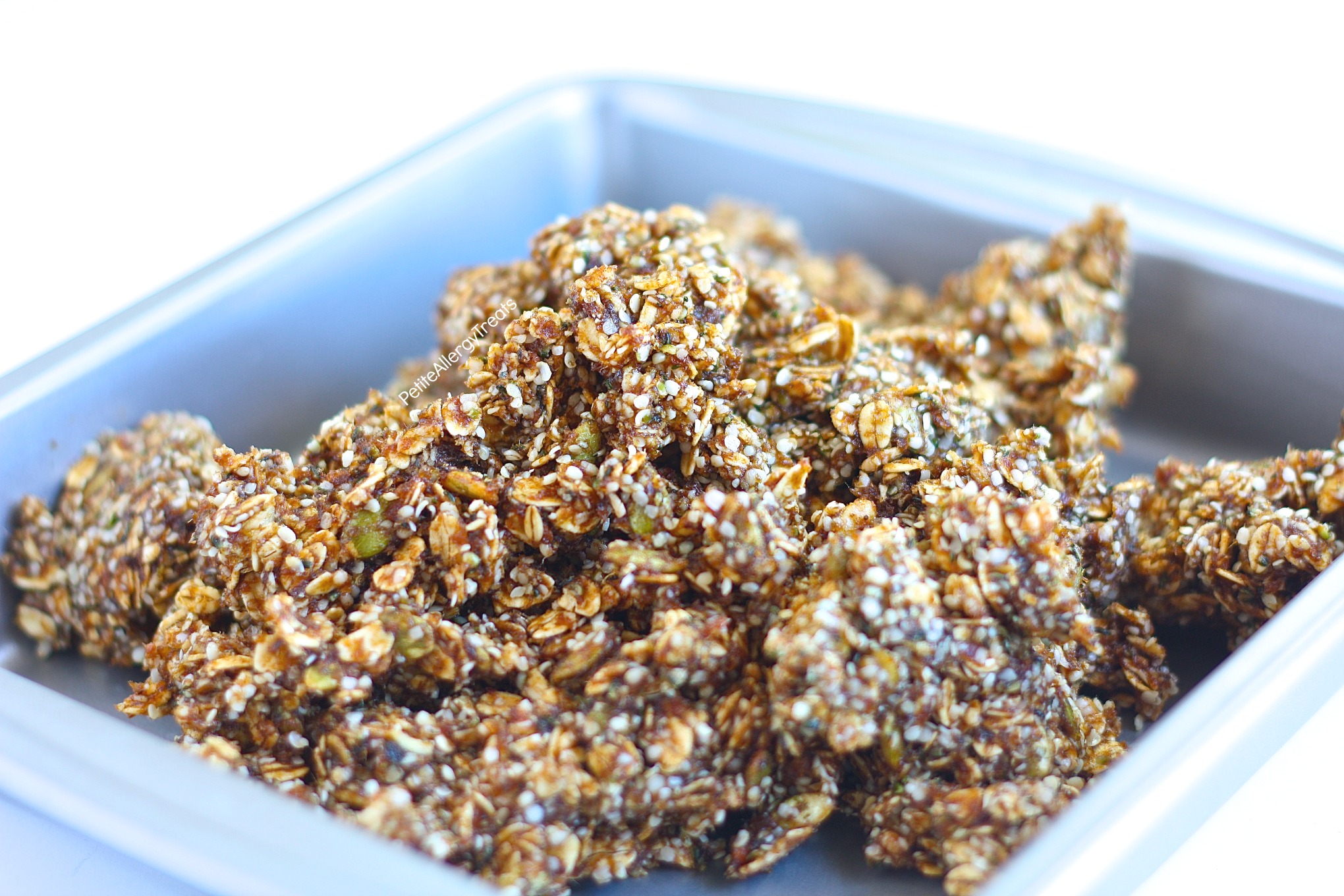 My ideal 'healthy' looks more on overall nutrition, things like protein and fiber content.  Less refined sugar is an added bonus too.  Most ready made bars contain nuts for protein.  Nuts are our greatest nemesis for safe granola bars.  So where can you get more nut free protein?
Say hello to SEEDS.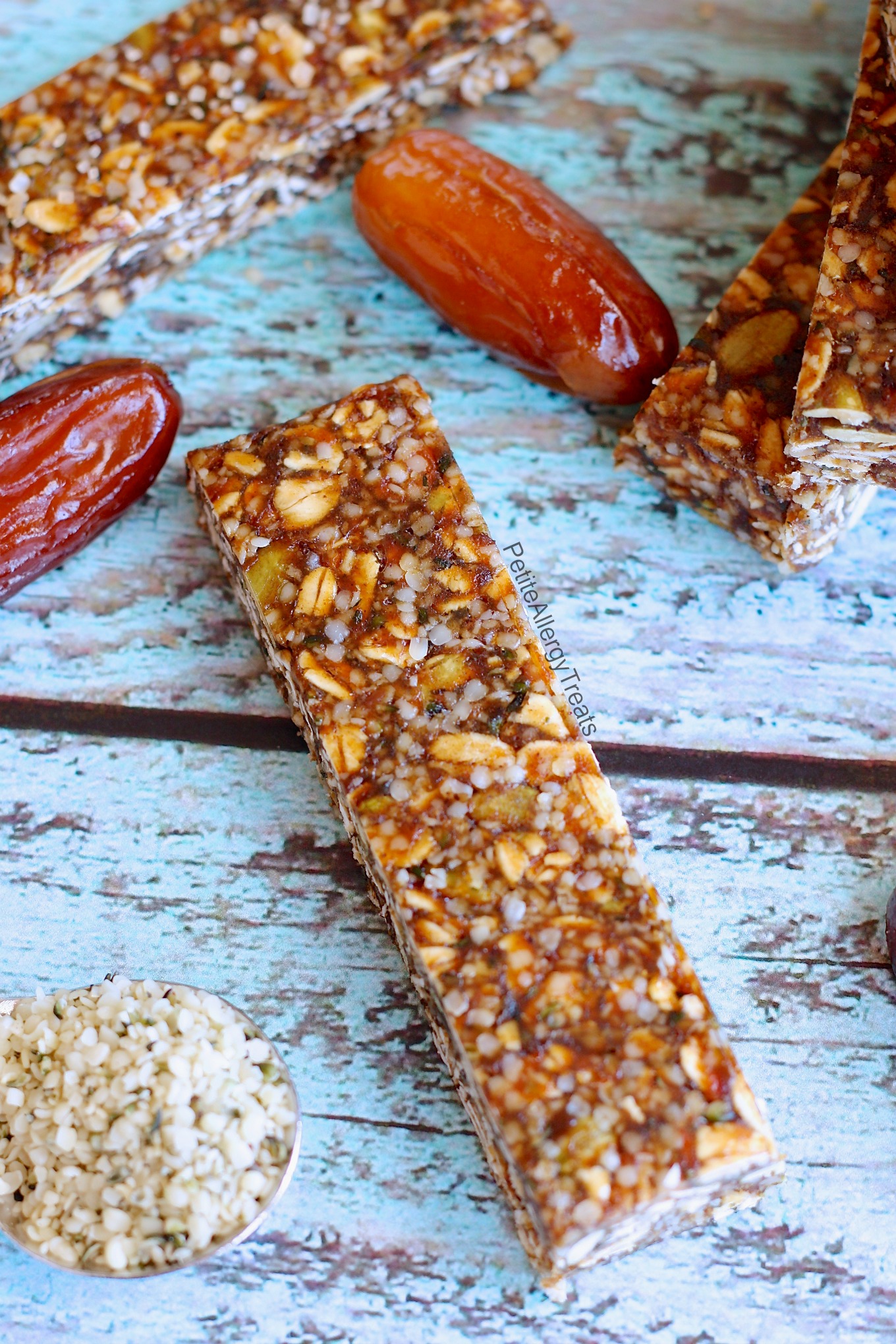 Seeds are a great alternative to nuts.  Many seeds contain the equivalent mineral, protein and fiber benefits of nuts.  We have found Mr. Naughty tolerates hemp seeds well.   As always, I read labels and called the brand about cross-contamination.  Companies many times have shared equipment with nuts.  So call the brand and inquire about the production line.  Safety first and then open the flood gates for food possibilities.  All those peanut butter and nut recipes you see on Pinterest?  All fair game.  Use seeds instead of nuts.  Ready made recipes, easily adaptive to food allergies?  Sign me up.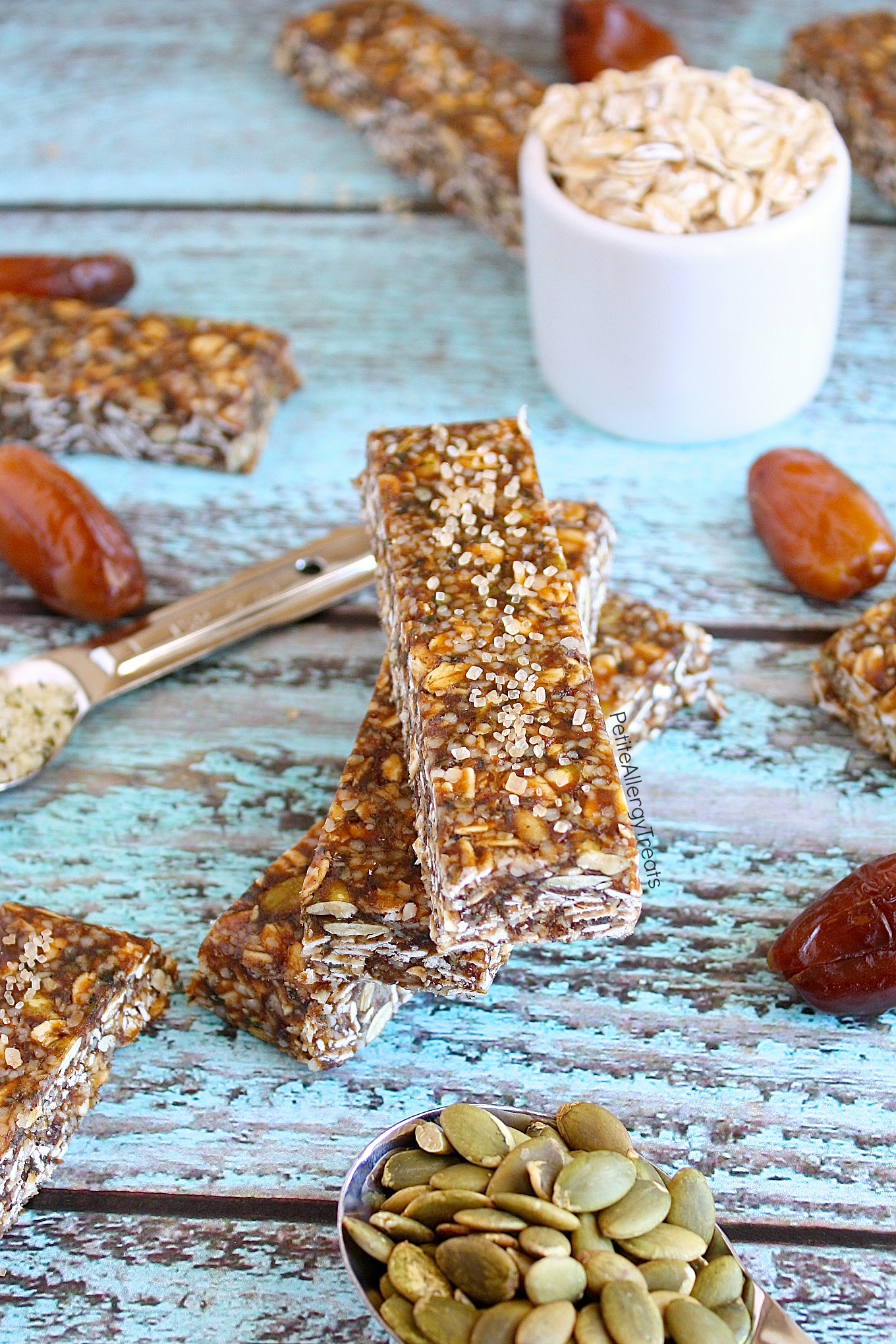 Here's a nut free recipe your kids will love:  Gluten Free Protein Gingersnap Granola Bars made with hemp seeds, pumpkin seeds and dates.   My boys love our mild gingersnap cookie flavor.  These granola bars are almost refined sugar free, sweetened with dates and maple syrup.  The touch of molasses really brings the gingersnap flavor!
Enjoy!

Gluten Free Gingersnap Granola Bars (Vegan)
Author:
Laura @ Petite Allergy Treats
Ingredients
1½ cup gluten free rolled oats
1 cup hemp seeds*
½ cup pumpkin seeds*
1 cup deglet noor pitted dates
¾ cup water
¼ cup maple syrup
1 tbsp molasses
3 tbsp coconut oil
1¼ tsp ground ginger
½ tsp ground cinnamon
½ tsp ground cloves
optional- demerara sugar topping
Instructions
Combine oats, hemp seeds, pumpkin seeds and spices in a large bowl. Mix and set aside.
Combine water dates in a sauce pan. Bring water to a boil, mix and smash dates with a wooden spoon (dates will still be hard and won't fall apart yet) . Reduce heat to a simmer cover for 5 minutes.
Smash dates more with the spoon. If dates are soft enough to fall apart, use a handstick blender to puree dates in the same pot. (If the dates are still too dry to break, simmer an addition 5 minutes or until hydrated and tender. Add a little more water if needed)
Add maple syrup, molasses and coconut oil. Continue to stir until bubbling and hot.
Carefully pour over dry ingredients and mix to evenly coat. Allow to cool 5 minutes.
Press granola mixture into an 8 x 8 pan. Sprinkle with demerara sugar.
Chill in refrigerator and cut into 16 equal bars.
Notes
The granola bars are best straight from the refrigerator. The bars become soft at room temperature but still taste amazing!

Be mindful of the source of hemp and pumpkin seeds. Many manufacturers use shared equipment with nuts. As a precaution, I suggest calling the brand of seeds to find their manufacturing habits.
Follow me for the latest news!
Some other thing you may like: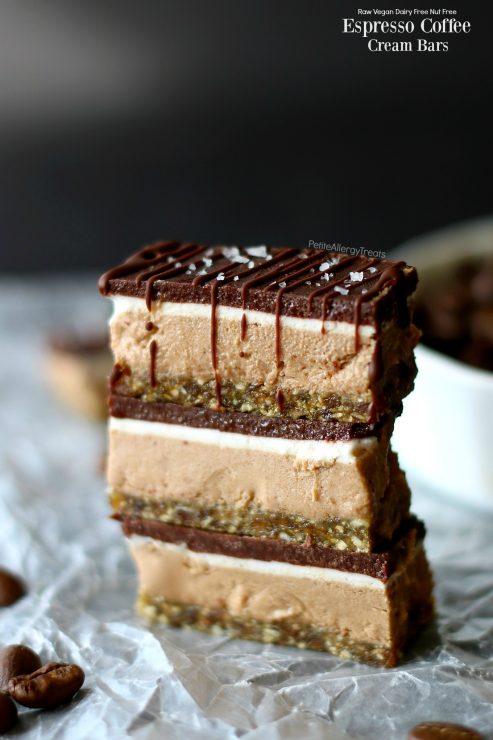 Raw Espresso Coffee Cream Bars– Vegan dairy free gluten free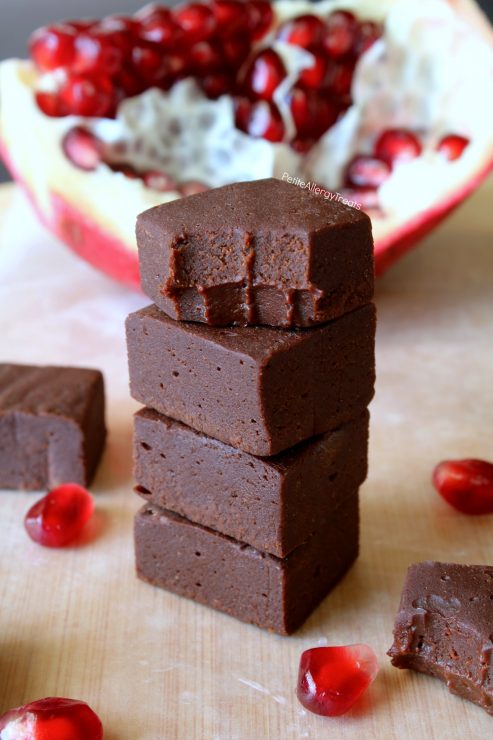 Healthy Dairy Free Fudge (Vegan)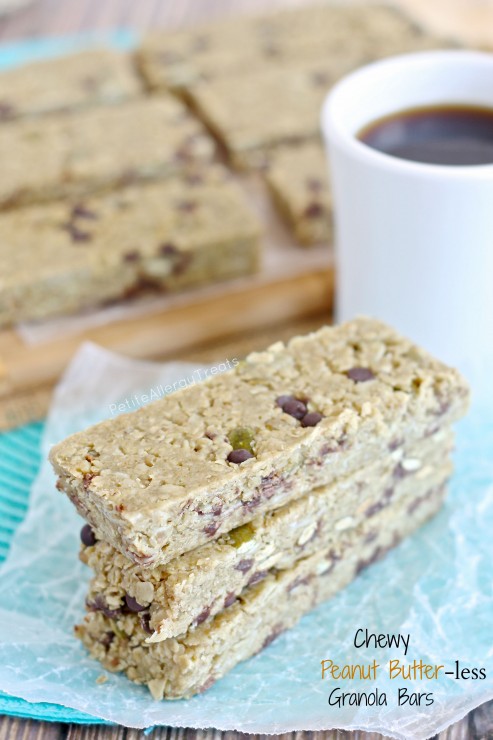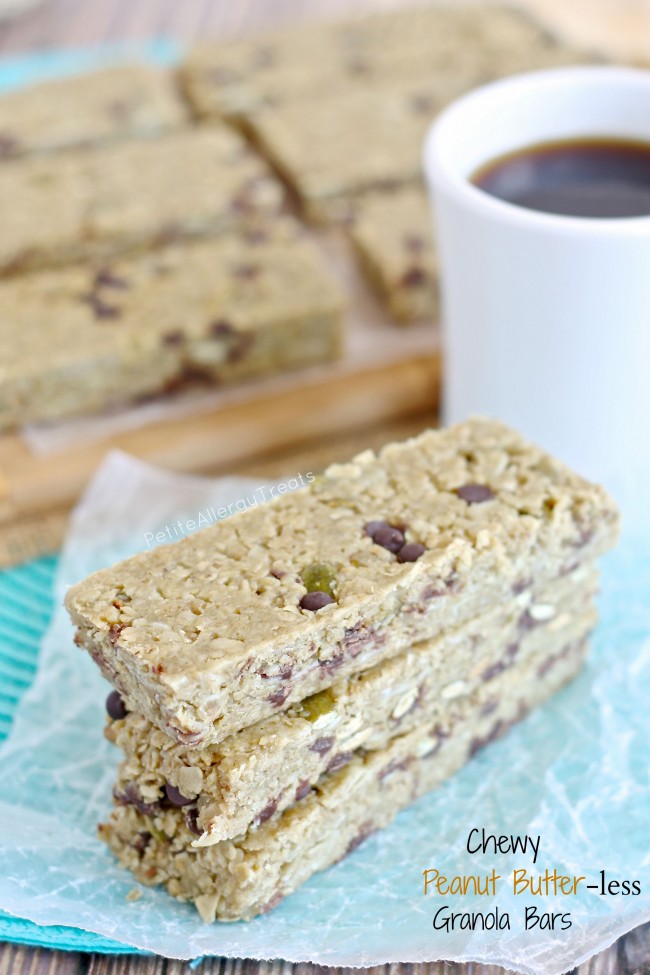 Chewy Peanut Butter Free Granola Bars (nut free gluten free vegan)