For an easy dinner winner, make these easy Cilantro Lime Chicken Tacos (gluten free).  Use ready made rotisserie chicken to make these easy chicken tacos come together under 30 minutes!  Add Taco Tuesdays to your weekly meals.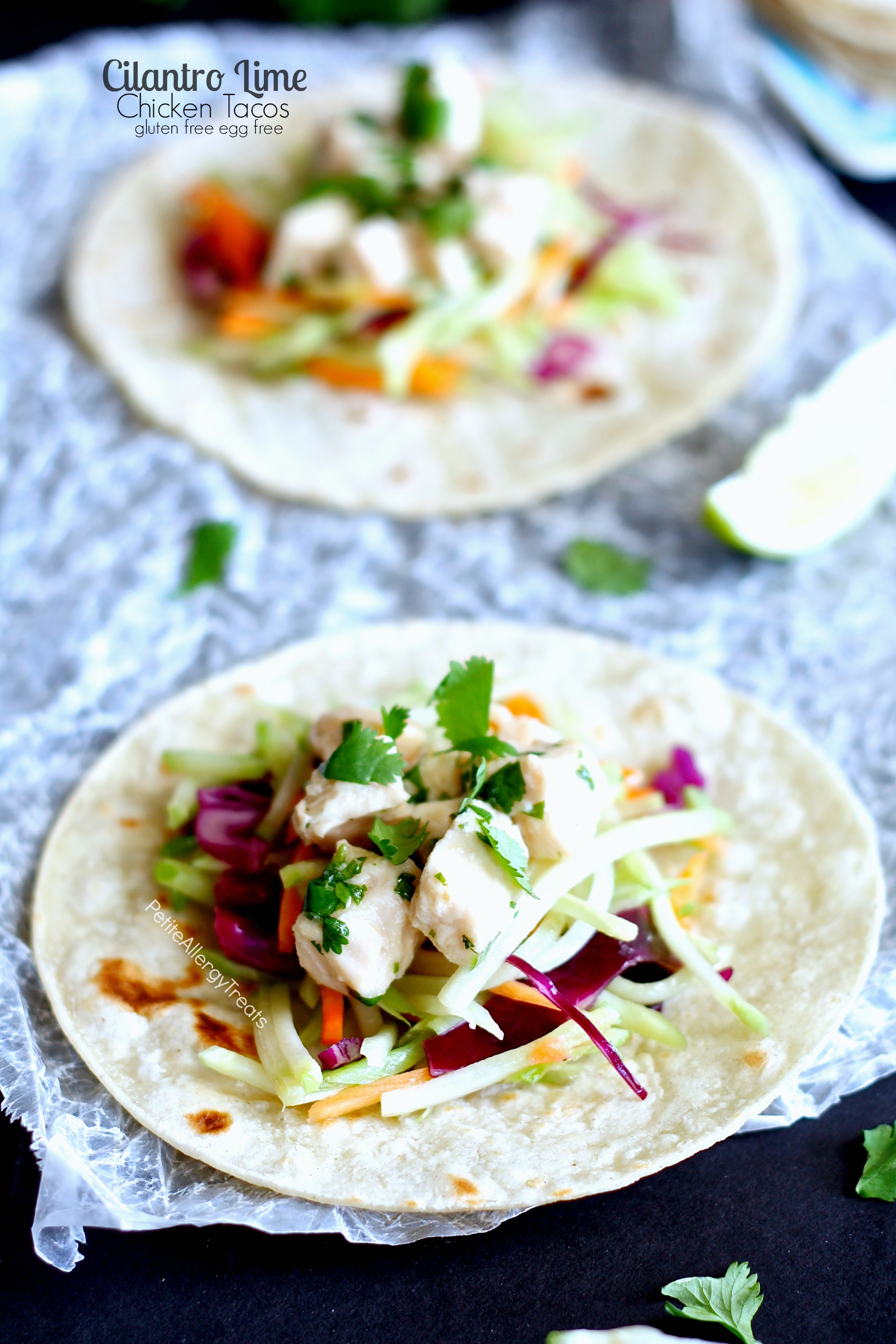 Some days are just not worth living where it snows.  Don't get me wrong, I do love the change in seasons.  And what is December without the chance of a white Christmas.
But still.  It's March and yet another large snow storm has hit.  Chilling winds and slushy flurries.  It all reeks havoc on things that should seamlessly happen through out the week.  For example: garbage day.
Tuesdays are out regular recycling and garbage pick up.  Regular has nothing to do without garbage though…
I am constantly searching for those darn recycle bins and garbage cans.  We live at the cross section of where one street meets another, in the center of a "T".  The hill behind our house leads to large open soccer fields.  Those combinations lead to extreme winds.  Our house is constantly bombarded by whipping winds so violent in fact, our chimney covers have been ripped off on more than one occasion.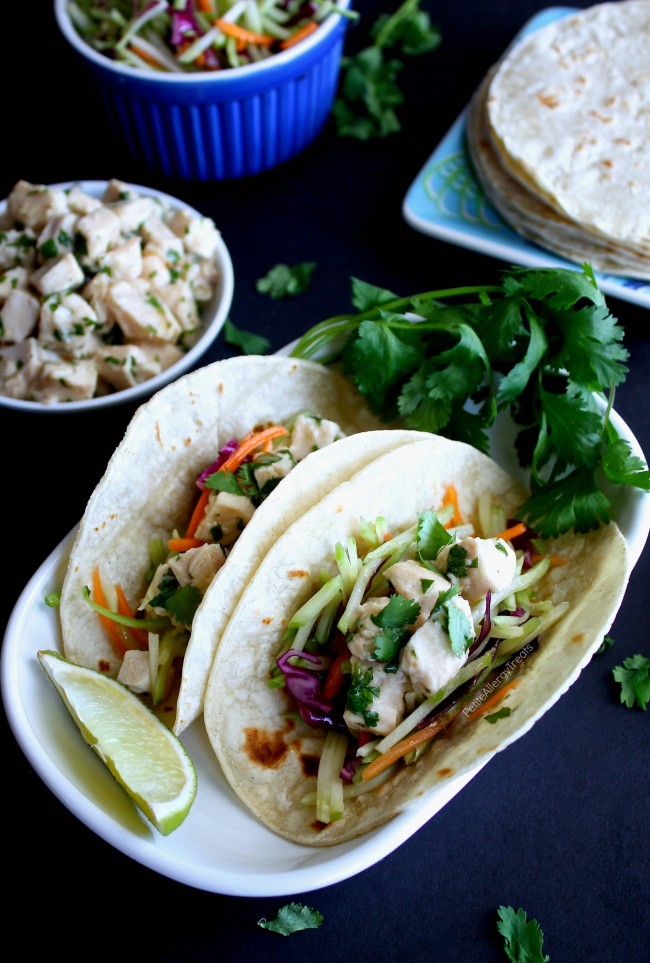 Go figure an empty garbage can can easily be transported several houses down the street in either direction.  When it's time to collect the cans, it's almost like a game, which way did the winds blow today…
I had a tip today as I heard a large crack followed by a scraping noise along the south side of the house.  Sure enough, that darn recycle bin had been airborne and thrown against the house.  Moments later it was lifted again and decide to go sledding down our hill.  Thankfully it came to a rest along a tree and not our neighbor's house.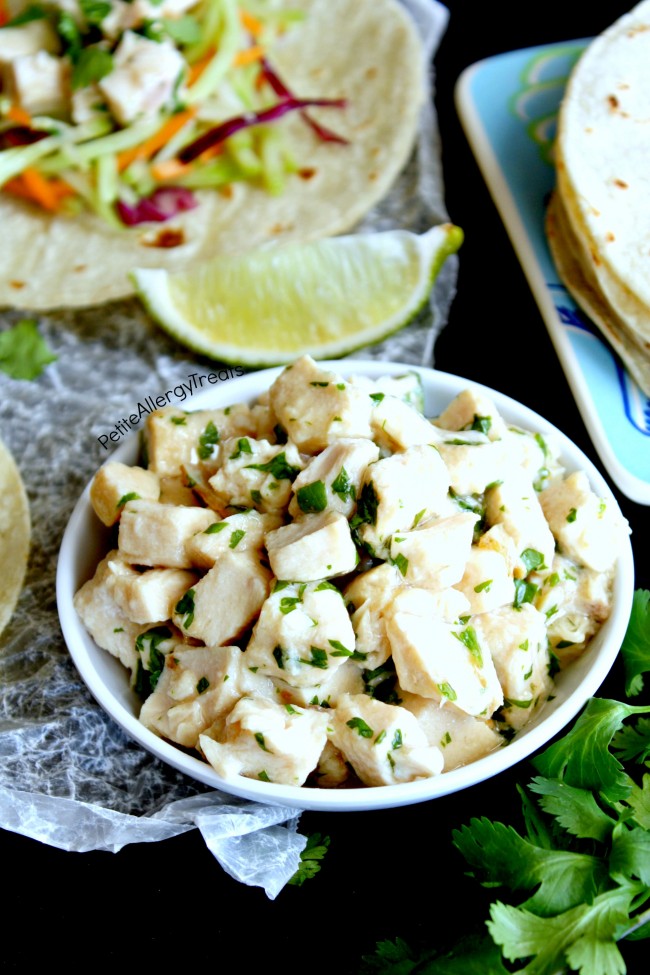 I'm packing up Mr. Naughty to pick up Sir from school when all of this happens.  I can't just leave the bin.  It's bound to hit the neighbors house or disappear forever.
I ran all over trying to collect the garbage can first and saved the bin for last.  (The garbage top was no where to be found.) But that hill.  It gets me every time.  I had just grabbed the bin when another gust of wind blew almost ripping it out of my hands.  I'm now running as fast as I can through the snow before the next gust hits.  The wind whips again, and all of a sudden I'm gagged with a mouthful of hair.  My hair.  My super long hair I've been growing out for donation that is so long it almost reaches my butt.  In the messy hair confusion I dropped the bin, only to have it lifted yet again to the bottom of the hill…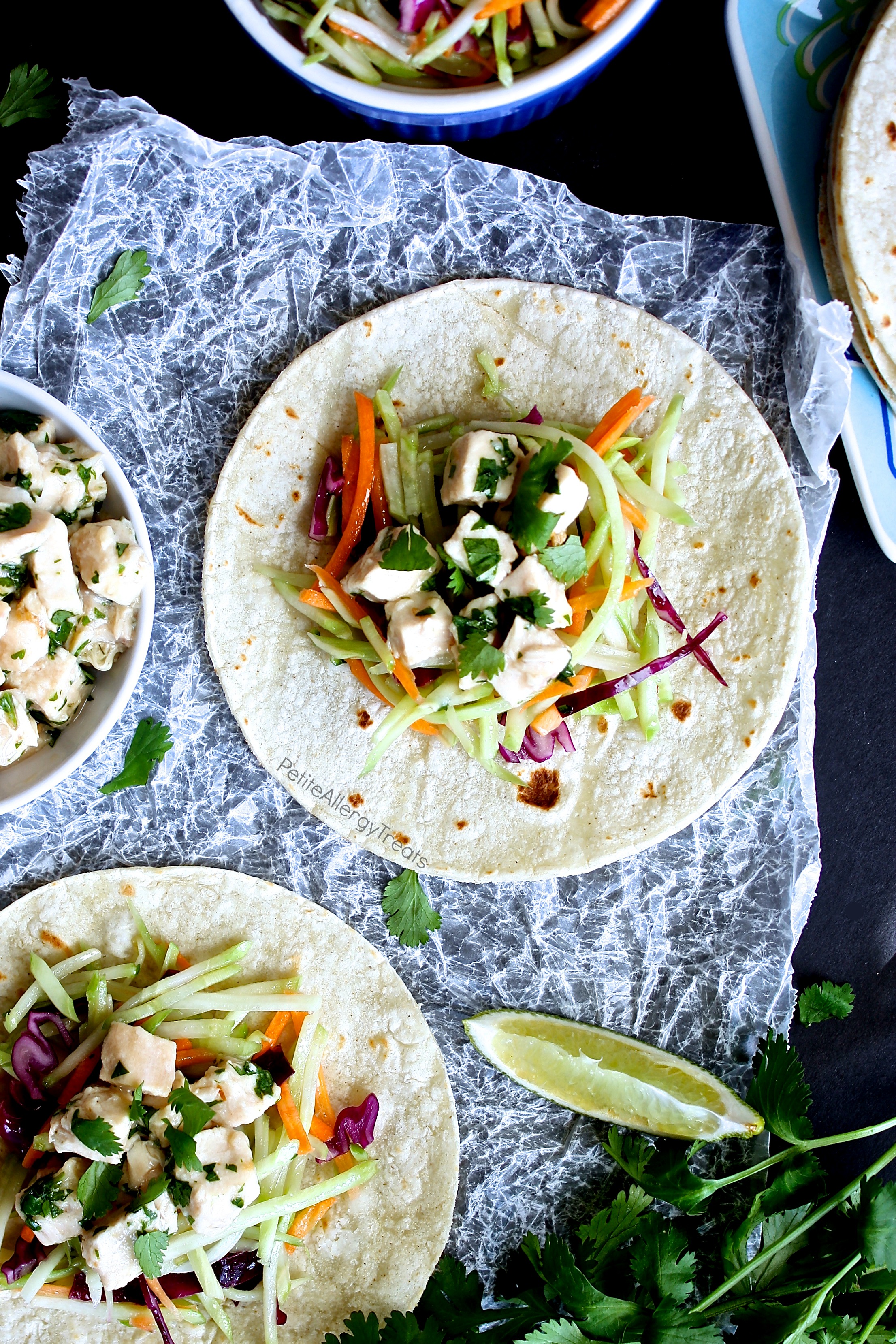 In the end, I wrestled the bin back up the hill without more problems.  But the garbage top?  No idea where.  It'll turn up eventually.
My husband came home and asked if we went sledding.  Um, no…
In the meanwhile, I give you Cilantro Lime Chicken Tacos!  These easy chicken tacos are made from a rotisserie for less work and mess to clean up.  If you aren't a fan of cilantro (my kids actually like this herb) simply omit or leave the cilantro on the side so everyone can decide how they want their taco.  We've been going a bit crazy for taco everything. The easiest chicken taco was to use rotisserie chicken since we often buy those and make soup with the bones later.
Feel free to add other veggies your family might like.  My boys love broccoli but alas, not broccoli slaw.  Theirs did not have broccoli slaw but real broccoli florets instead.  Mix thing up to make everyone happy.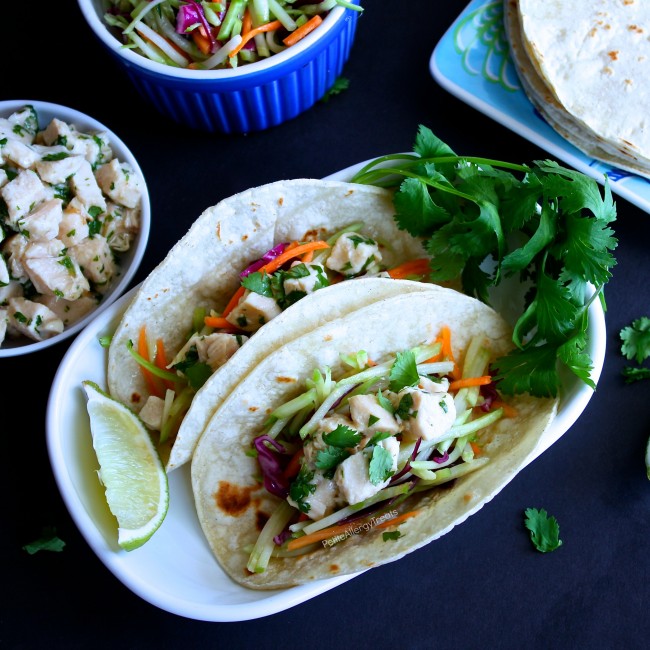 BTW, You might remember I found these safe, Top 8 Free gluten free corn tortillas awhile back from Mission.  If you cannot tolerate corn you could always try these paleo tortillas from Allergy Free Alaska or these grain free tortillas from Fork And Beans.

Cilantro Lime Chicken Tacos (Gluten Free)
Author:
Laura @ Petite Allergy Treats
Ingredients
2 cups cooked rotisserie chicken
3 Tbsp oil
2 tsp maple syrup
½ tsp salt
½ fresh lime juiced
½ bunch of cilantro
12 corn tortillas
1-2 cups Broccoli slaw (optional)
Instructions
Cut rotisserie chicken into cubes.
Wash and destem cilantro. Coarsely chop.
Combine oil, salt, syrup, lime juice and cilantro with chicken and toss until coated.
Heat tortillas in a dry skillet until they begin to bubble, filp to toast other side. Continue with remaining tortillas. Stack to keep warm and avoid drying out.
Assembly tacos with 1-2 Tbsp broccoli slaw and cilantro lime chicken.
Follow me for the latest news!
Some other things you may like: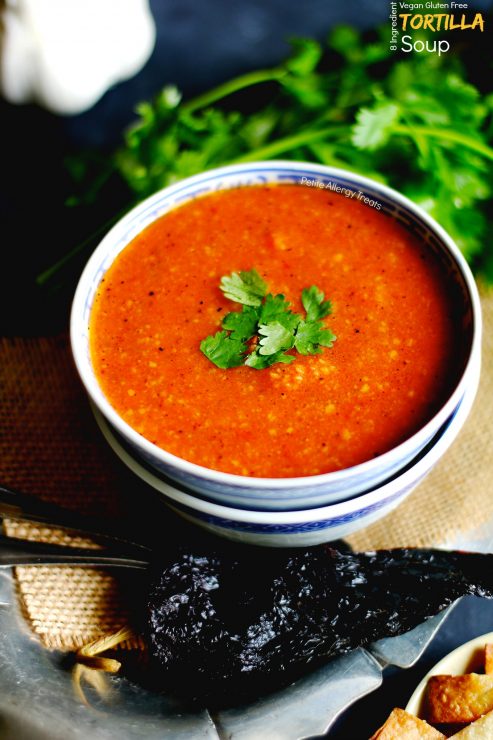 Vegan Tortilla Soup (Gluten Free Dairy Free) Just 8 ingredients!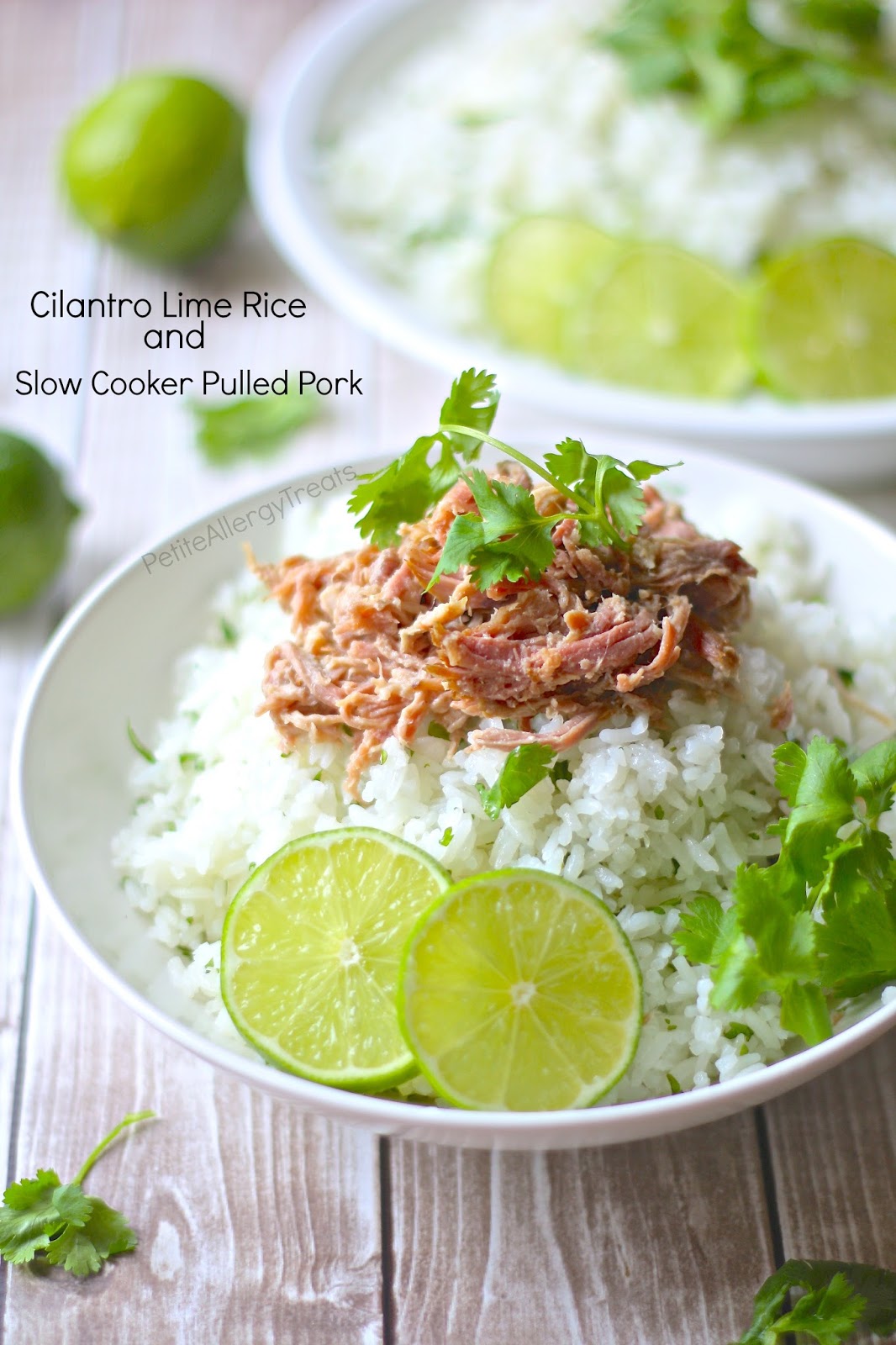 Cilantro Lime Rice with Slow Cooker Pulled Pork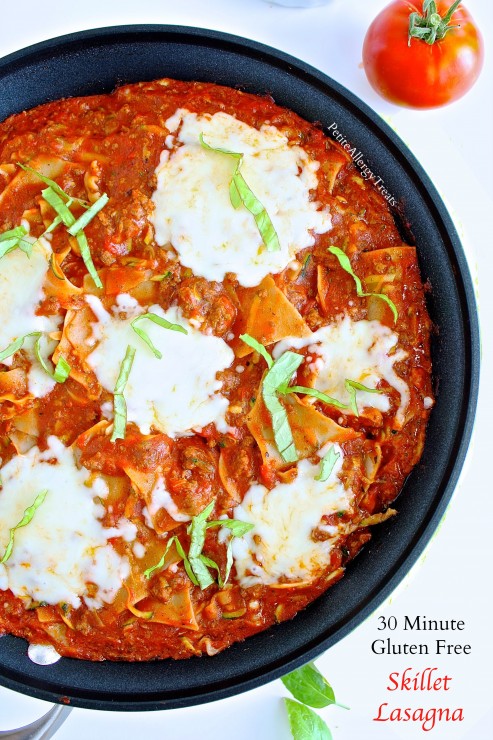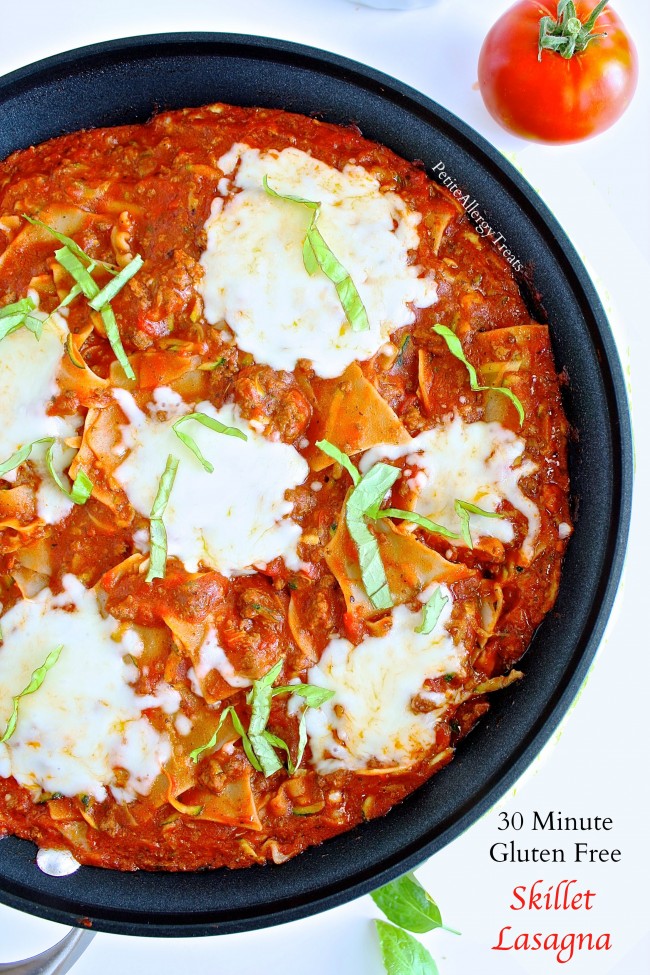 Gluten Free Skillet Lasagna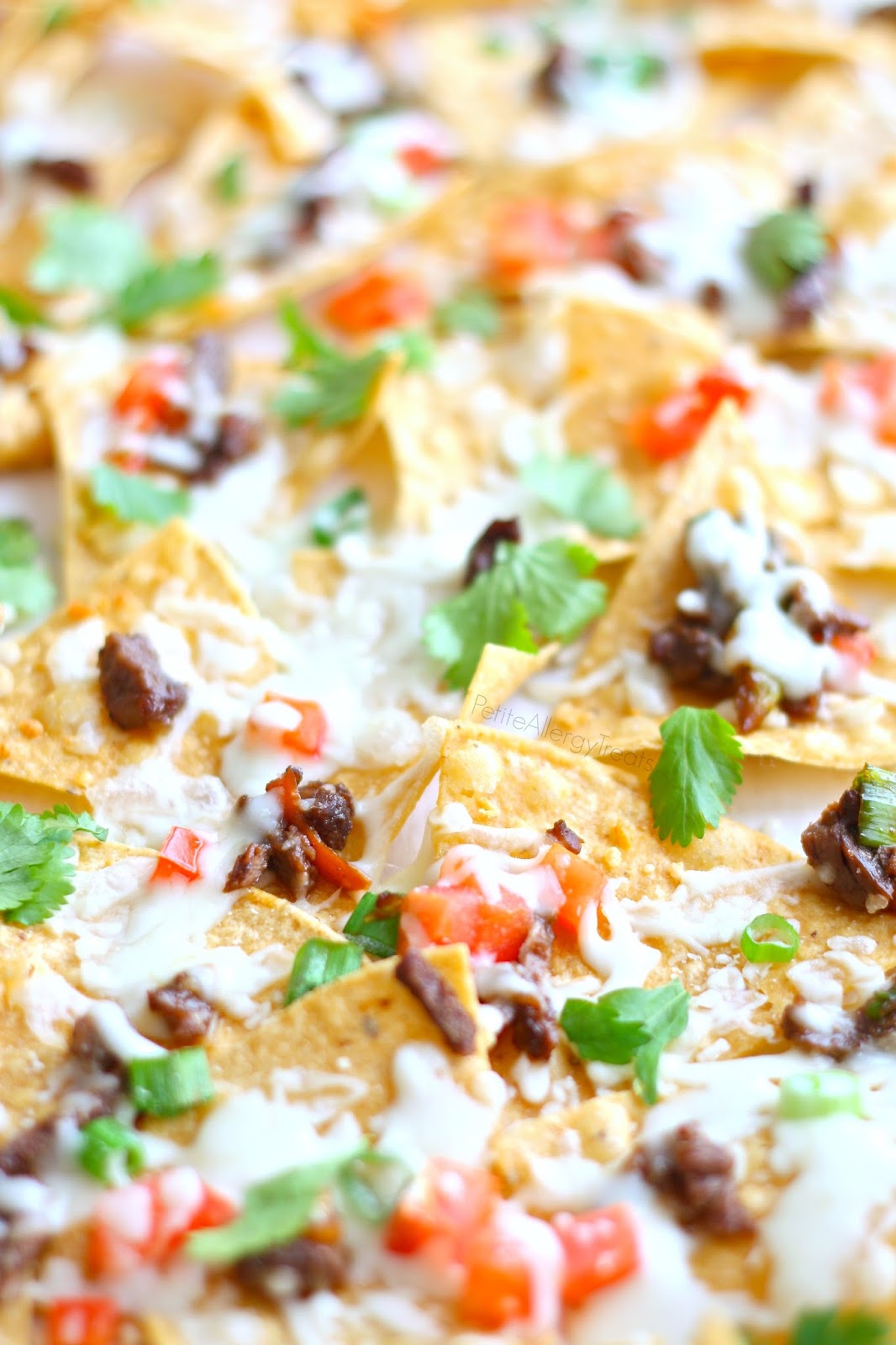 Korean Bulgogi Nachos- gluten free, soy free, sesame free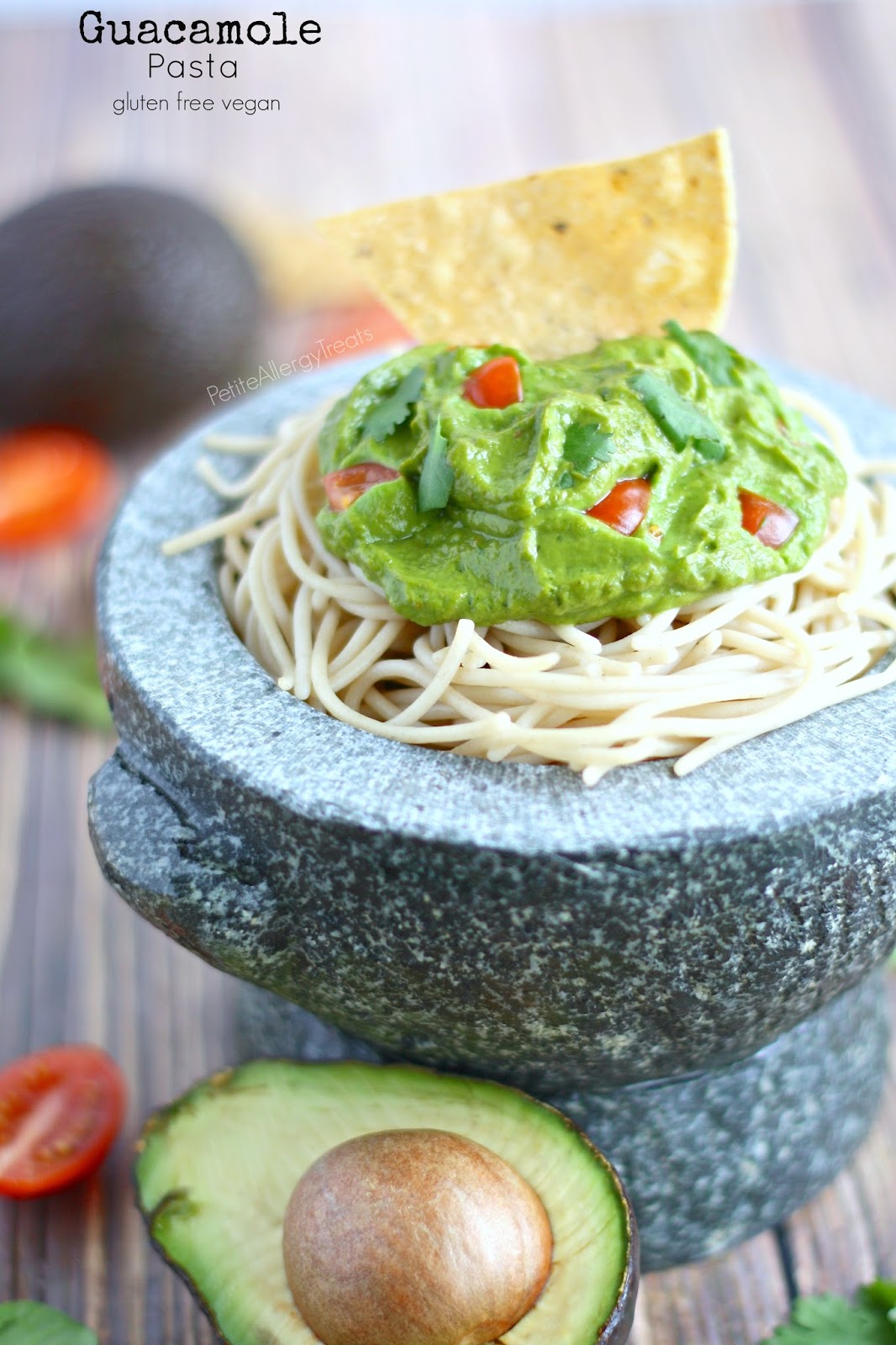 Gluten Free Avocado Pasta- vegan